Sky Sports Scout - Alex Sandro
Sky Sports Scout is where we scour the globe looking for the best talent, next up is Alex Sandro.
By Sky Sports Scout
Last Updated: 21/05/14 10:56am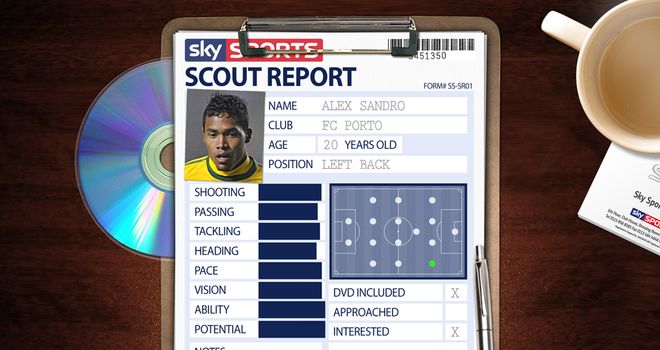 Sky Sports Scout is our exciting feature where we scour the globe looking out for the best talent and bring you a report on what we find.
Our Scout will report back and you can comment on what you think of our appraisal.
Also, in association with Football Manager, we give all readers the chance to win a copy of the latest game by nominating a player.
You can only nominate a player by emailing here, including the word 'Scout' in your subject line and please check to make sure we have not already covered the player, you can see over 100 previous reports to the right of the page.
Should your player get reviewed by our scout, and you were first to send in his name, then you will win a copy of Football Manager 2012.
You can also now interact with the scout via his all new Twitter feed! You can get in touch with him and interact here or just search for @skysportsscout!
Latest under our scout's gaze is Porto starlet Alex Sandro - recommended by Sky Sports reader Lowell Stephens.
The scout reports...
After moving to Porto in the summer, Brazilian starlet Alex Sandro has only just been able to make his debut.
Following his starring appearances in the FIFA Youth World Cup and South American Youth Championship, where Brazil were triumphant on both occasions, Sandro was soon on the move.
Porto paid just over £8million to fend off rivals Benfica and land him from Santos, but injury has seen him sidelined until recently.
Sandro is very much an archetypal Brazilian full-back, all pace and power and often his first instinct is to attack rather than defend.
The 20-year-old began his career with Atletico Paranaense and came through their youth system.
He made his first-team debut in late 2008 and within 12 months he established himself as first-choice.
But in 2010 Santos flexed their financial muscles and secured Sandro, adding him to their star-studded squad.
Sandro soon settled into life at Santos, becoming one of the most feared wing-backs in Brazil, which saw him cement his place within the country's youth sides.
After clinching double glory with Brazil this summer, he was strongly linked with Europe, but as with illustrious team-mates Ganso and Neymar, Santos hoped to keep him until after the World Club Championship this December, at the very least.
But instead Porto pushed hard and secured a deal paying over £8million for his signature.
Full of pace and power, he loves to get down the flank, but he does not shy away from a challenge and his tackling is more than solid.
The scout says...
Porto look a good choice for him, where he can settle to European life for a few years at least.
If he progresses as expected, then he could have his pick of any club when the time is right and could start for Brazil at 2014 World Cup.
The Scout rating...
Shooting: 6 out of 10
Passing: 7 out of 10
Tackling: 7 out of 10
Heading: 7 out of 10
Pace: 9 out of 10
Vision: 7 out of 10
Current ability: 8 out of 10
Potential ability: 10 out of 10
OVERALL SCOUT RATING: 61/80
Current value: £8million
Potential value: £40million
Your opinion...
You have read our opinion of Alex Sandro - now we want your views. Have you seen Sandro in action? Do you agree with our assessment? Do you think he will make it?
Get in touch, either using the form below, email or the scout's Twitter feed - @skysportsscout
And if you have spotted anyone you think we should feature then please get in touch using the same form. We will look to send out the Scout to follow up your leads.