Football Expert & Columnist
Liverpool 0-3 Real Madrid: Mario Balotelli will be sold before next season, says Jamie Carragher
'Reds must sacrifice attacking style and focus on defence'
Last Updated: 23/10/14 4:07pm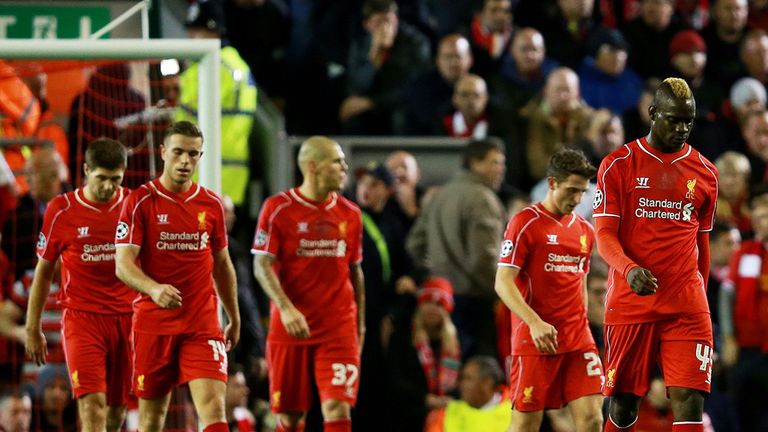 Jamie Carragher expects Liverpool to sell misfiring striker Mario Balotellli before the start of next season.
The Italian – who has netted just once in ten games for Liverpool – had little impact in the 3-0 defeat to Real Madrid on Wednesday night before being withdrawn at half-time.
The often controversial striker drew criticism for swapping shirts with Real defender Pepe before entering the tunnel, but Carragher says his on-field contributions are the major problem, with the former Man City and AC Milan man not working hard enough for his team.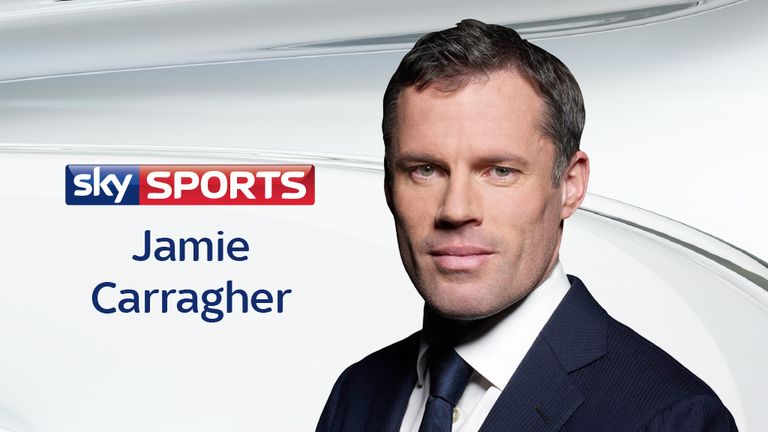 Last year Luis Suarez's goals got the back four out of jail. They haven't got that this season.
Jamie Carragher
And the Sky Sports pundit reckons Liverpool will look to offload their £16m summer signing in one of the next two transfer windows.
"I can't change the way I feel about Balotelli, and that's nothing to do with what he's done in a Liverpool shirt. It's what he's done at Man City, what he's done at AC Milan," said Carragher.
"Do I think he's going to be here long term? No. I'd be surprised to see him here next season if I'm being honest. These players, who are continually moved on, it's for a reason.
"I wouldn't say that was the worst I've seen Balotelli play. I wouldn't say he was by far Liverpool's worst player. He's taken him off because he wanted more intensity. Well, we spoke about that before the game. I don't think what he did in the first half was a surprise to anyone or the manager."
Clean sheets
At the other end of the field, Carragher says Liverpool boss Brendan Rodgers must sacrifice his favoured attacking style to focus on defence and end an 18-game wait for a clean sheet.
Although the star-studded Spanish giants are renowned for their goal-scoring ability, Carragher says Liverpool's frailties in defence have been apparent all season – and, unlike the 2013/14 campaign, they do not have Luis Suarez's goals to outweigh the number they're letting in.  
"It's not so much about tonight, I'm looking at the whole season for Liverpool and they're continually conceding goals," Carragher told Sky Sports after the game.
"Brendan Rodgers has a philosophy, he wants his full backs to play high and wide, he wants to play attacking football. We saw that at its best last season. It was fantastic. They were the most exciting team to watch. But that's one clean sheet in 18 games now.  
"If you're a coach or a manager and you're on a run like that of conceding goals, when every game you go into your players are expecting to concede goals, you have to change it. You have to be more defensive, more solid.
"Maybe sacrifice your way of playing, your principles for two or three games and get some clean sheets. Forget about the attacking side of your game. I played plenty of games in runs when we were conceding goals and I remember saying 'I don't care about the next game in terms of if we score or win, we're just keeping a clean sheet'. Get that mentality in your head of 'clean sheet'.
"You can nick a game 1-0 – but at the moment Liverpool have to score three or four goals to win a game. They had to score three at QPR, who are bottom of the league, to win the game.
"Last year Luis Suarez's goals – and Daniel Sturridge's goals – got the back four out of jail. They haven't got that this season. I'm not being defeatist but you're not going to get the goals Luis Suarez got [this season]. Liverpool scored over 100 goals last season and you're not going to get that so you have to be better defensively and at this moment in time they look worse and they've spent over £30m on the back four."
Impressive Real
Graeme Souness had plenty of praise for Real Madrid, though. The Champions League holders withstood an early Liverpool onslaught to emerge as comfortable winners and cement their place at the top of Group B.
And former Liverpool boss Souness says Cristiano Ronaldo's skilful opener – which sparked an 18-minute treble from Carlo Ancelotti's men – demonstrated their quality and turned the match in their favour.
"Real Madrid played like a big team," he said.
"They knew there would be a storm coming and for 20 minutes they stood up to that storm and Liverpool never really laid a finger on them in that period, although they were first to the ball in most areas. Liverpool just couldn't penetrate the back four and get shots at Iker Casillas.
"Real were very impressive. I feel sorry for Liverpool that they couldn't get the first goal; if they'd got the first goal then the crowd would join in and it becomes a difficult night for Real Madrid. But Ronaldo's goal changed the whole situation – and only Ronaldo could get that goal, with his athleticism, his pace and his technique to help it into the corner."