Kevin Doyle reveals all there is to know about his Republic of Ireland team-mates on Soccer AM
Last Updated: 28/03/15 3:23pm
Kevin Doyle tells Soccer AM all about his Republic of Ireland team-mates ahead of their clash with Poland.
Doyle discusses the best trainer, slowest runner and a lack of good dancers in the squad. Read on to find out more...
Best trainer? Robbie (Keane) is pretty good in training, no matter what sort of condition he is in. He gets a few goals and is always busy about things.
Worst trainer? Paul McShane, he just boots the ball away. He just gets angry and boots it out of the circle when we're just having a bit of fun beforehand and takes it too seriously.
Quickest? Shane Long. Longy is pretty quick. Seamus Coleman is rapid as well, probably between the two of them.
Slowest? I'll give it to Fordy (David Forde) in goal. Yeah, stuck to his line.
Hardman? James McClean has got a lot of tattoos and I see that he's doing a bit of kickboxing and stuff at the moment so he must be fancying himself a bit.
Best dancer? We're Irish, there aren't many lads who can dance, to be honest! Not that I've seen anyway!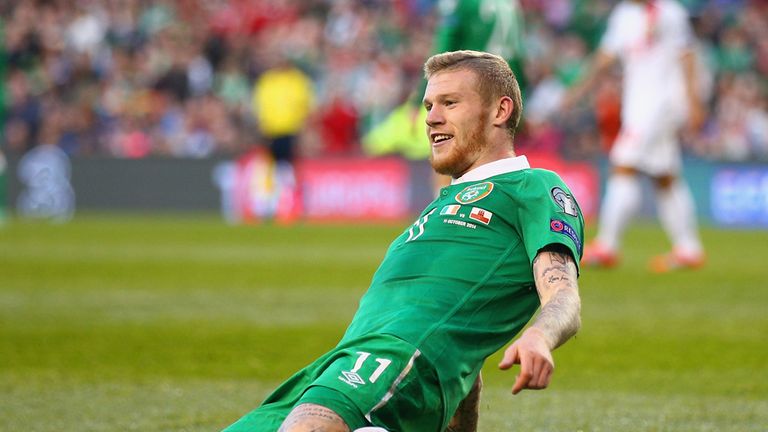 Worst taste in music? Stephen Hunt. Not the worst but he has a traditional taste in music, Hunty. He likes to try and get himself pumped up with rocky music and stuff before a game.
The joker? Stephen Quinn, very funny. Probably can't repeat why but he's a good lad. He's funny.
Most intelligent? The goalies are usually quite intelligent, they're a bit different goalies. They seem more intelligent, they're a bit weird. I'll give it to Fordy.
Least intelligent? I've seen James McClean do a few silly thing after games and stuff like that. Not because he's not intelligent but because he's got a bit frustrated at times. I'll give it to James.
And... who's the longest in the shower? I room with Longy. By name, by nature I think.