Chelsea legend Frank Lampard spoke to Monday Night Football on his future, England regret, John Terry's longevity and more...
Lampard, currently playing in MLS with New York City FC, scored 211 goals for Chelsea, winning three league titles, as well as earning 106 caps for England.
Here, he speaks with Gary Neville, Jamie Carragher and Ed Chamberlin on topics, past, present and future...
@George7Watts: Any chance of a loan move back to the Premier League?
LAMPARD: No - not as it stands. I've had a very long season-and-a-half almost. I didn't get much of a break this year. Before that I was at the World Cup where I didn't play much but during that time I've played a lot of football. It's very important for me, particularly at this stage of my career, to have a bit of a rest. It will be nice to have a bit of family time over Christmas and then have a good pre-season. When I arrived at New York I didn't have a good pre-season behind me. I tried to rush it and got injured. Next year it's important I prepare well.
@williamson_euan: Will you finish your career at NYCFC?
LAMPARD: I would think so. When you go past 30 I've always taken it year by year. You see how you feel and how your body feels. You see how you are playing and whether you are enjoying it. I'm certainly enjoying it at the minute but I would never start thinking about the next year at this point. I'm looking forward to next year and I will evaluate that one as I go as to whether I am still contributing. The last thing I want to do is carry on playing when I feel like my level is not where I want it to be. That's the day I will say I've had enough.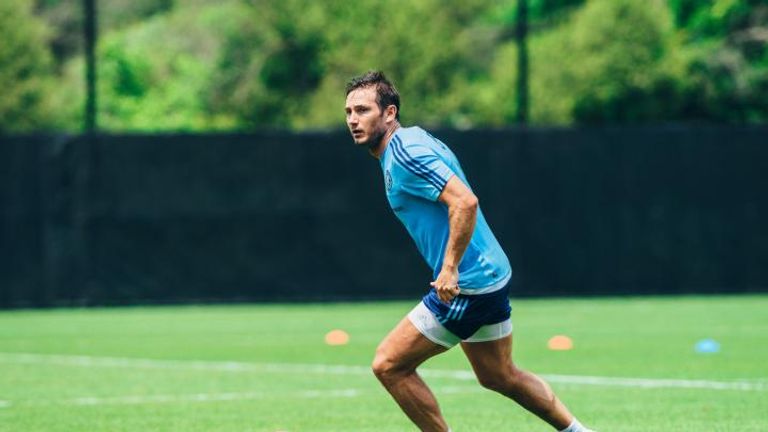 @Joe_1408_: Winning the UCL in 2012 or breaking the CFC goalscoring record. Which was better?
LAMPARD: The Champions League without a doubt. I only won it once and I'm sort of happy in a way it was that way because it was so special. For me it's such an elite competition and when we won it, it had been so many years where we had tried and failed. We almost thought, and I personally thought, that if we didn't win it that year we might never have won it. I found it getting harder every year. The standard of Real Madrid and Barcelona was improving so if we hadn't of won it that season I don't think we would have won it in my era. It was a special night.
Ed Chamberlin: But that goalscoring record, 211 goals for Chelsea, is something you can be very proud of?
LAMPARD: That was a special thing for me and I didn't realise until I did it how happy I was with it personally. It is a cliche but team wins are better, particularly in the Champions League. It was something the club had never won and we were in Munich against Bayern Munich. There were a lot of special moments in the run to the final. It was the best night of my footballing career by some distance.
@BubbaLoo87: Frank, how do you feel about West Ham moving to the Olympic stadium from Upton Park? 
LAMPARD: I think it's a good thing. The stadium is sitting there, what were they going to do with it? For West Ham it's local, in a very West Ham fan-based area. It remains to be seen whether it suits them as a team and a club. Moving to a new stadium sounds great. We all know the atmosphere at Upton Park at times helps the team massively, whether they lose something there remains to be seen.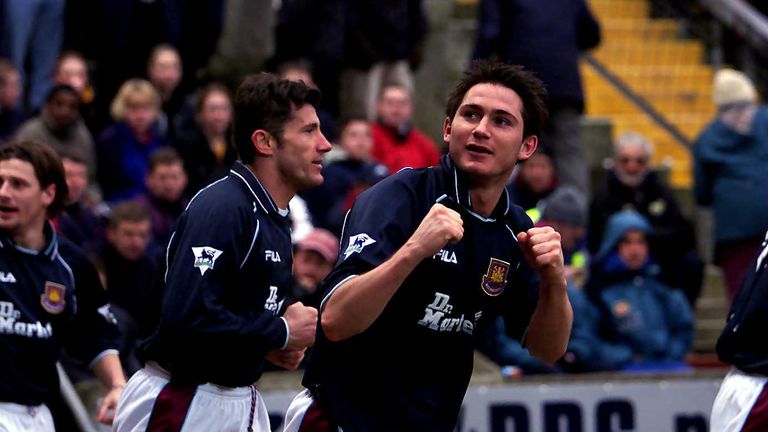 Chamberlin: Have West Ham surprised you so far this season?
LAMPARD: [Appointing Slaven Bilic] was no risk to me, I know him pretty well, played with him for a couple of years there and we've crossed paths since. He's a very smart bloke with huge charisma, a perfect fit for the club. I really like Slaven personally, and I wasn't surprised, I expected him to do well there.
@KieranBeales15: Best player you've ever played against?
LAMPARD: Messi. By a considerable distance. Ronaldo and Messi are the standouts, but I think Messi for his individual ability when he was at the top. You couldn't get near him at his best, for me he's the best of all time.
Chamberlin: What about this country, directly, in midfield?
LAMPARD: Steven Gerrard, Roy Keane, Scholes, Patrick Vieira. I was young when I played Patrick and Roy Keane, they bossed me. I really admired them when I was coming through. But I think over the period of my career, playing against Stevie, you knew when he was on top of his game he was a force. We had great battles and I really respect him as a player.
Chamberlin: What about playing with?
LAMPARD: Didier [Drogba] and John Terry. They were complete symbols of Chelsea. Especially John and the captain role he plays, he's huge for the club and I hope he stays beyond this year. John is so big, and he'll be a big point to them turning this corner, because he'll be the one in that dressing room, and he's had that throughout his career. I still think he's still got a few years in him. The thing with John is, five months ago we were all saying he's the best centre-half in the country. Now all of a sudden people are asking questions. It's not easy for John. I know, and Carra will tell you, when you get to an older stage of your career, you're not playing as much and you try to get back in the team, everyone analyses every move you make.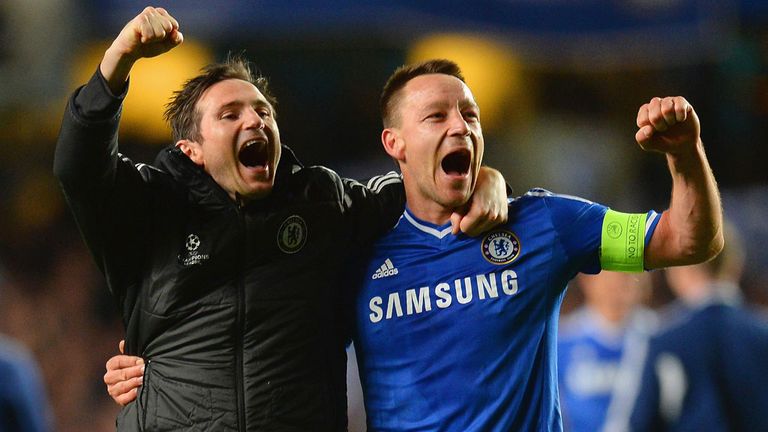 Gary Neville: How did you feel when coming to the end of your career, going from being a certain starter to accepting that there was a change?
LAMPARD: I didn't like it at first, I think we all had that reaction. You don't understand it, you probably don't agree with it, whether you're right or wrong, and then you have to make a decision and say: "What are the benefits of it?" I was lucky enough to be part of a great club, so was Carra, so was Scholes, and Giggsy. The most important thing for me was managing myself, so if I wasn't playing I had to train at the right level, had to train less. It's the intelligence of the player to adapt the way they play and what they do in between. 
Neville: Were you communicated to? Did the manager say to you: "I'm leaving you out this week but I'll play you next week"?
LAMPARD: Some do, some don't. Certain managers I had later in my career didn't. Ancelotti would be the type that spoke to you before games, Jose Mourinho did too the year he came back, giving me a bit of insight. Which is nice, because no matter whether you've played 500 games for a club or 10 games, you want to be told when the manager doesn't want to play you, to give you a nudge. The manager has to have the personality to deal with players, but maybe some don't want to. Especially when managers come into clubs, maybe they don't want to front that conversation up, but I think they have to say it.
@ArvidNordin: Who is the best midfielder you played alongside? Pirlo?
LAMPARD: I really enjoyed playing alongside Pirlo. I had such an admiration for him from afar, his ability on the ball, his passing. I played games against him when he was at Juventus, England v Italy, he's a class act. His passing, his appreciation is second to none, he's a pleasure to train with and he's a really nice fella. Very humble, does his little thing off the pitch, and he's a huge name. Everywhere we go in America there are people outside with their Italian shirt on. The rest of us get ignored!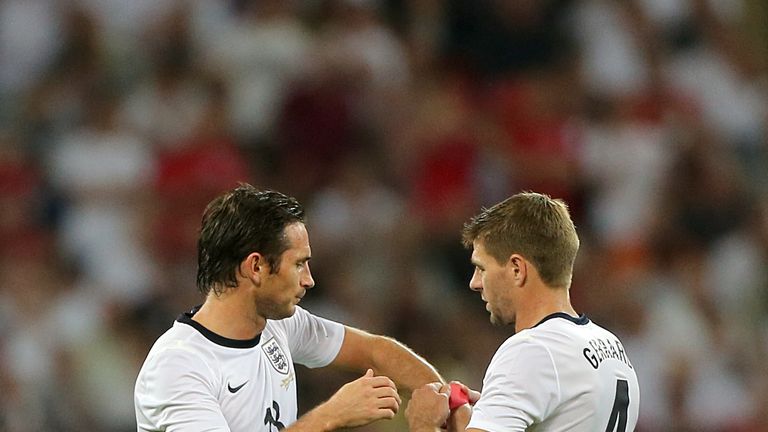 Carragher: There was always that talk with England, can Stevie Gerrard and Frank play together. What was your take on it? Could you have changed it, or could the manager have done something different with you?
​LAMPARD: There were times when he could have done something different. I certainly will take personal responsibility if ever I don't reach levels and at certain times, at World Cups, England games, it's difficult, it's high level, I'll be honest enough to say personally. I don't want to talk for Stevie but I think there were definitely times we could have been managed better, when we were both in our prime for Liverpool and Chelsea, scoring goals, being involved. We went away with England sometimes, playing in a 4-4-2, and Stevie was sometimes asked to sit, or asked to play on the left.
Carragher: Do you think a lot of it was formation?
​LAMPARD: I think a little bit. I played with Capello for two or three years in the holding role, as a two, so a little bit of a chance to go forward. But I never played that for Chelsea, ever. So there was a little bit of that. But it was always more of a team thing. There was something missing when I look back at my England career, maybe we play against each other every week and there were little groups, Man Utd, Liverpool, Chelsea. And probably when you're, I don't know, Argentine, and they're all playing all over the world, they come home and there's a big family, a different spirit, and I'm not sure we always managed to get that together.