Jose Mourinho and Didier Drogba changed football but goal-poachers can still thrive in the modern game - if they adapt, says Craig Bellamy...
"It was 2005. Jose Mourinho and Didier Drogba came in and it changed the game."
Craig Bellamy remembers the moment his role as a pacey, direct forward in the Premier League became a whole lot tougher.
The former Newcastle, Manchester City and Liverpool attacker joined Jamie Carragher and Ed Chamberlin on Monday Night Football to discuss the challenges facing a modern-day striker in England's top flight.
Jamie Vardy, the league's top scorer and a player of a similar style to Bellamy, is currently enjoying great success with table-toppers Leicester City and broke Ruud van Nistelrooy's record of scoring in consecutive games last month.
However, with many Premier League teams favouring big, powerful centre-forwards in a 4-3-3 formation - a tactic made famous by Mourinho's Drogba-inspired Chelsea - attackers in the style of Vardy are facing a battle for game time at many clubs.
Here, with the help of Carragher, former Wales captain Bellamy explains why small, pacey goal-scorers still have their place in the modern game, how they may have to adapt if they play for a top team, and why managers must avoid becoming obsessed with strikers who can only hold the ball up…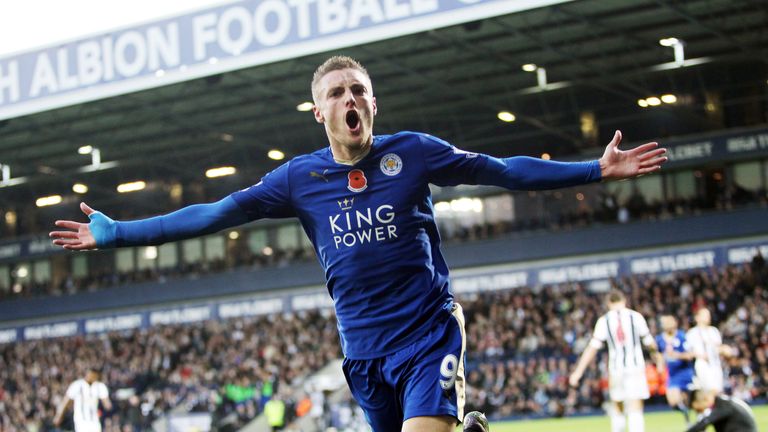 Jamie Vardy thrives on space…
"As a forward like myself, he's been a pleasure to watch," Bellamy says of Vardy. "How intense he is, how aggressive he is closing down but also always playing on the shoulder, always looking to go in behind. He's always a threat.
"I played for a lot of teams who were similar to Leicester, always on the counter-attack. There was plenty of space for me to go in behind; I suited the team and they suited me. I felt there were always opportunities for me to attack space, and that is where the similarities are with Vardy at Leicester. There's always an opportunity to break."
But when you move to a big team, that space dries up…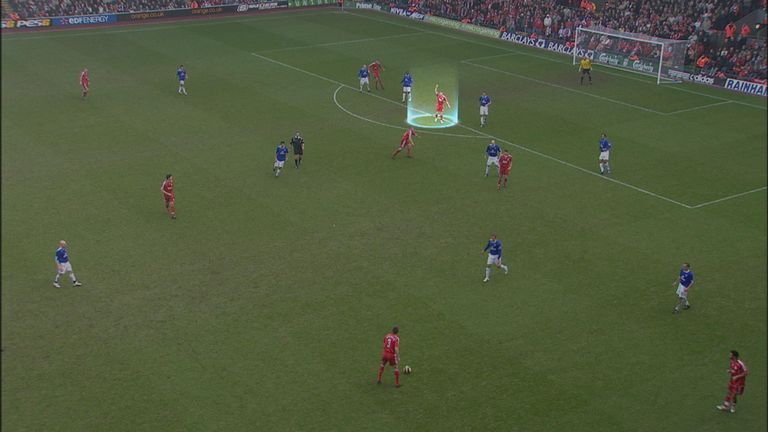 "When I was at Liverpool, away from home it wasn't too much of a problem for me. But at home, I found it a different game," said Bellamy. "Teams would come to Anfield and sit back. Rafa Benitez always wanted me on the last man, trying to create space, always looking to go in behind but at different times, especially at home, there wasn't space. I'd sometimes only get space if I went wide. If Jamie Vardy did go to a top club, I feel he'd get the same problems.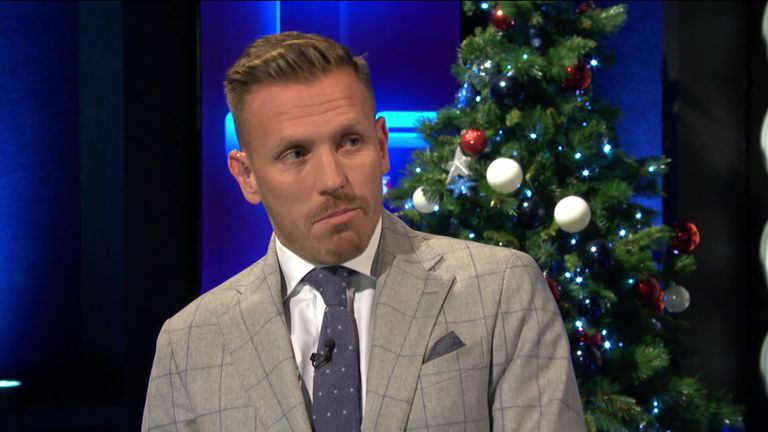 Teams would come to Anfield and sit back. I'd sometimes only get space if I went wide. If Jamie Vardy did go to a top club, I feel he'd get the same problems.
"Two weeks ago, I'd have said it would be very, very difficult [for Vardy to play for a bigger team] because there wouldn't be the space in behind. But over the last couple of weeks, even in [laying on the third goal] against Swansea, he's showing signs and bits of awareness that I wasn't sure about."
Jose Mourinho changed the profile of Premier League forwards...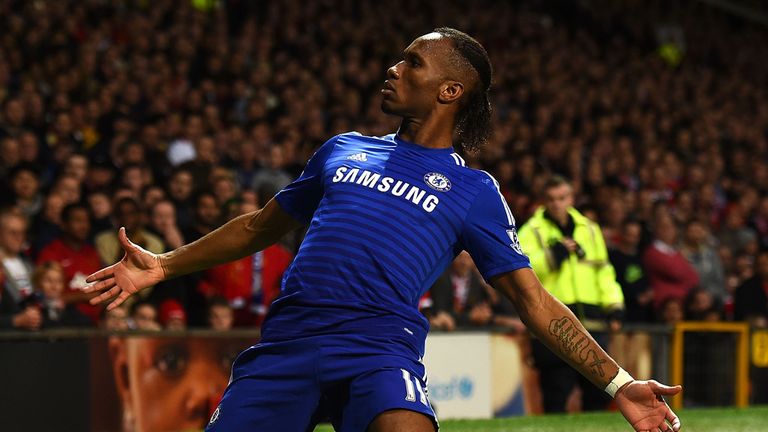 When asked by Carragher the stage in his career at which he had to adapt his game, Bellamy said: "2005. When Jose Mourinho and Didier Drogba came in.
"It changed the game. He went 4-3-3 with a big, strong target man. Even my manager at the time said to me, 'to be a modern day striker, you have to be 6'3, 6'4, strong…' Everything I wasn't! The game shifted for me. It was a difficult time."
The impact of Mourinho's successful 4-3-3 can be seen across the league…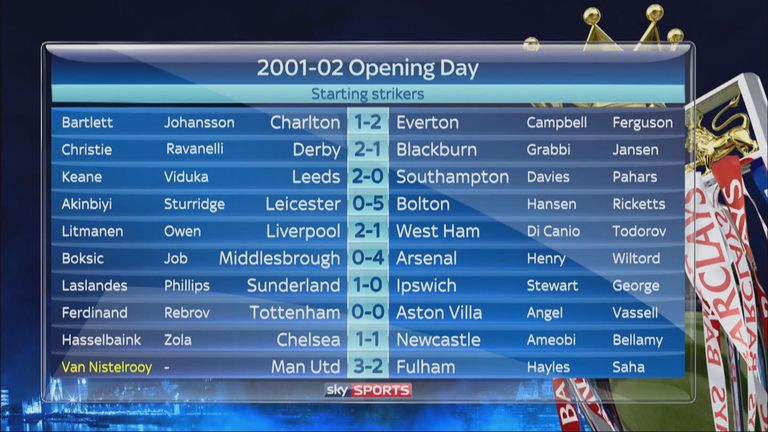 On the opening day of the 2001/02 season, Newcastle started with two up front: Bellamy alongside Shola Ameobi. In fact, of the 20 Premier League sides in action that weekend, only Manchester United played one up front. The contrast with the line-ups this weekend is clear to see.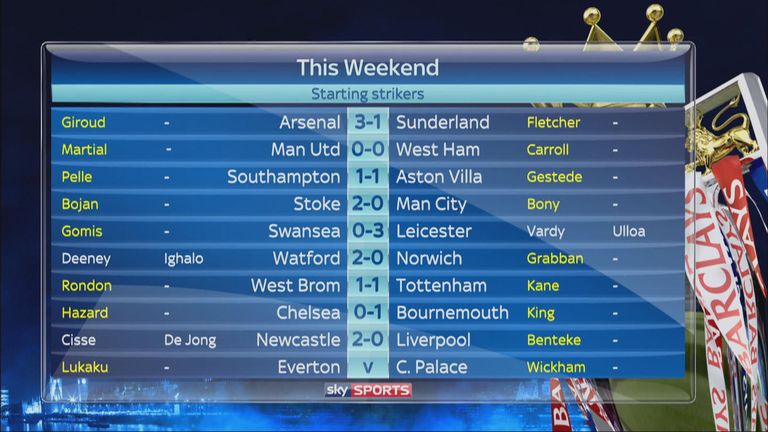 "Virtually everyone was playing two strikers right up the front of the pitch," said Carragher of 2001/02. "That's what we grew up with. When Craig says about the change in 2005, he's spot on, in terms of going to one up front.
"This weekend, only Watford, Newcastle and Leicester had a front two. If you go through the other names, everyone has a big, target centre-forward. They haven't all got the quality of Didier Drogba but that's what people are looking for. The big player up front, not necessarily the best goal-scorer in the world but a physical presence, so you can have numbers in midfield and runners off him. That's where the game's got to.
"And that's why it's become a problem for players like Craig, Michael Owen and Robbie Fowler. Goal-scoring, poaching players who are smaller are finding it difficult in the modern game."
Strikers must adapt to survive...
Confronted with this modern challenge at Manchester City in 2009, Bellamy found a way to ensure he stayed in the first-team.
He said: "When I moved to Manchester City, we brought in Carlos Tevez. I didn't feel I was going to be able to move him out of the way. Then Emmanuel Adebayor for £30m. It made you look and say, 'maybe I won't get in those positions, because of all the money that was spent'. But I saw a weakness on the left. I saw Robinho. I felt if there was anyone I was going to be able to move out of this team, it would be him. So I targeted him.
"If this is the position I was going to get in, it was going to be a little bit new to me, so I looked at the best left wingers who were playing at the time. I looked at Franck Ribery, looked at Andrey Arshavin, looked at a lot of players and studied their game. I had to look at the game differently, otherwise I wasn't going to play at a club like Man City."
Strike partners can still succeed...
However, Watford - one of three sides to start with two up front this weekend - are enjoying success with the tactic.
"Quique Sanchez Flores has come into the league and what he's done has been fantastic," said Carragher. "He's got two up front and they play like a proper front two. There are only two other players at Watford who have scored, so he knows the strength of the team; get the ball into those two. It's not one playing in the hole, they're right up against centre-backs."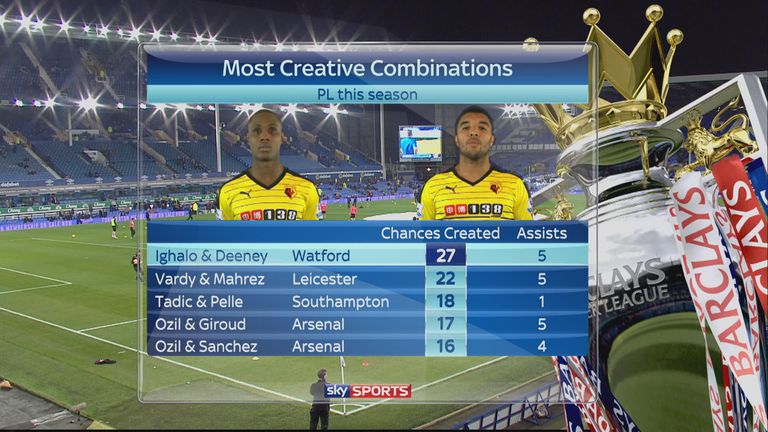 Bellamy, who played alongside Alan Shearer in a 4-4-2 at Newcastle, is a fan of the formation and says playing directly can be successful at the top level - as Leicester have shown.
"They play 4-4-2 a lot in [Flores'] Spain. They know where they are. It's very simple. They're looking to get it into forwards who then play around corners," he said. "In Italy, 4-4-2, with [Arrigo] Sacchi, was common. We went back to that through the 1990s [in England] from the success of AC Milan. It was normal.
"But now we have this fixation: 'we've got to have possession, we've got to out-pass the opposition, if we get 500-600 passes, we've done well'. But you've lost. You see Leicester, very few passes, very direct and they're winning games."
Is there a future for goal-poachers?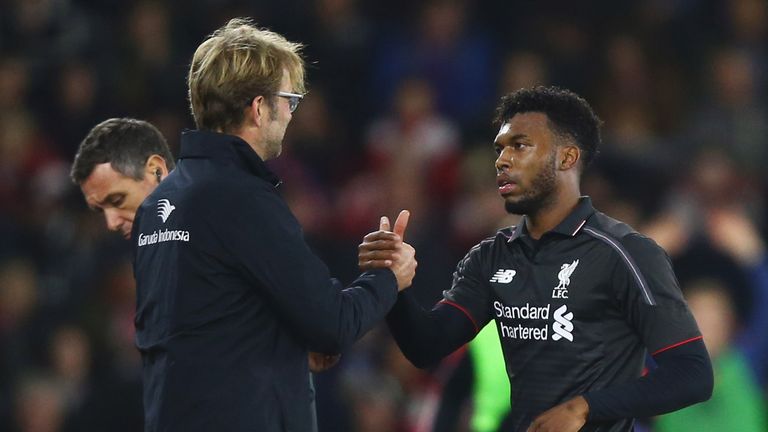 Craig Bellamy has a clear vision of how he would like his team to attack - and the profile of the forwards who would feature in his line-up…
"In an ideal world, I'd want a striker who can go in behind, who had pace and who could hold the ball up. Didier Drogba is your prime example - and that's why he cost so much money," he said.
"But don't give me a centre-forward who's 6ft 4 but can't run in behind. If I've got a small centre-forward who might not be able to hold it up but can run in behind and cause a threat going that way, all day long I'm going for the pace. I want to stretch the game.
"But if I've got two top quality strikers, I'm not going to just play one of them. If I was at Liverpool, if I had Christian Benteke and Daniel Sturridge, I'm going to play those two. If I have to change the system to a diamond, it's a diamond. I'm going to try everything I can to play the two."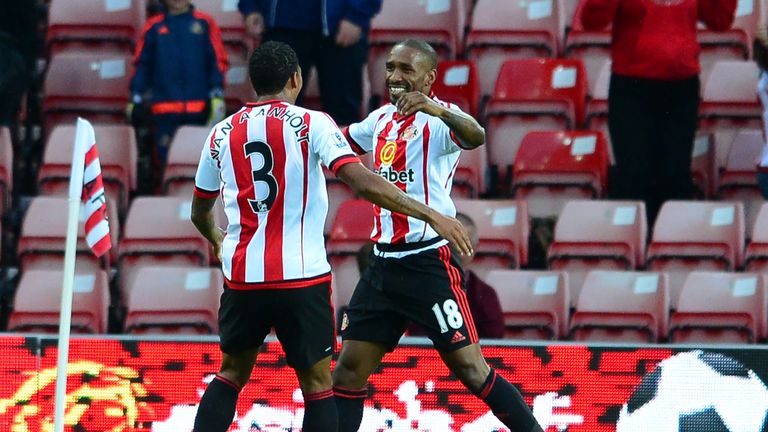 Bellamy says he would also stand by his pacey strikers, even if there wasn't obvious space for them to exploit - the problem he encountered at Liverpool.
"If [my striker] couldn't get the space, like when I was playing at Anfield, I'd put another centre-forward with him. I'm not going to take him off because he's not getting in behind," Bellamy said. "Say for instance he was Michael Owen, he's a goal-scorer. Or Jermain Defoe. They're goal-scorers and will get goals. But if the opposition are going to sit deep, I'll hit the big man and they can feed off it.  
"I feel sometimes we're coaching too much. We're teaching kids all the time to come to the ball, be on the half-turn, which is great. But everything's facing the ball. What about going the other way? What about looking to go to the ball then spinning in behind? That's where you score goals. We've got fixated with 'everyone has to have a touch, everyone has got to be involved in the play'. No, sometimes you've got to be on your bike because that's where you score goals."
Live Ford Monday Night Football