Manchester United got back to winning ways in the Premier League with a 4-1 victory over champions Leicester at Old Trafford. Dropping Wayne Rooney paid off, writes Adam Bate.
Manchester United had won their first three Premier League games only to lose the next two. One thing all five matches had in common was that Jose Mourinho's men were outrun by their opponents. That changed on Saturday against champions Leicester City of all teams. And it coincided with the removal of Wayne Rooney from the starting line-up.
The United captain began on the bench in a Premier League game for only the third time in four seasons and while it would be unfair to blame him entirely for the erstwhile lack of urgency shown by the side up to this point, it was conspicuous just how much more intense they looked in his absence. Mourinho's decision to go with "the two fast kids" paid off.
"I think we started well for the first time," said the Portuguese manager afterwards. "We thought against a team like Leicester, the way they defend we thought the best solution for us was to play with the two fast kids and Juan Mata in a position where he can interact with these fast kids. From a defensive point of view it was important to have fast players on the pitch."
United's energy levels
Manchester United outran their opponents for the first time this season. They were significantly outworked in their previous two Premier League games against Manchester City (7.88 km) and Watford (7.84 km).
Marcus Rashford and Jesse Lingard certainly fulfilled their remit. The former scored his 12th goal for the club since February while the latter provided that much-needed energy, making more sprints - far more - than any other player. With the tempo restored, United looked a different proposition altogether and the game was over as a contest before half time.
Of course, much of that was due to Leicester's inability to defend corners rather than anything Rooney had previously been doing - or not doing - in that No 10 position. But those supporters who'd pointed to the Europa League defeat to Feyenoord as proof that the problems remain with or without him in the side now have alternative evidence to consider.
United's running stats
| | | | |
| --- | --- | --- | --- |
| Juan Mata | 11.34km | Jesse Lingard | 79 |
| Paul Pogba | 10.88km | Antonio Valencia | 66 |
| Ander Herrera | 10.62km | Daley Blind | 62 |
Indeed, Mourinho might view this as something of a control experiment. He retained the two-man midfield that some had suggested was stifling Paul Pogba, but saw his side impress nevertheless. Mata hardly has a reputation as a Mourinho favourite and is no speedster himself but he showed what was possible when someone else is handed that No 10 role.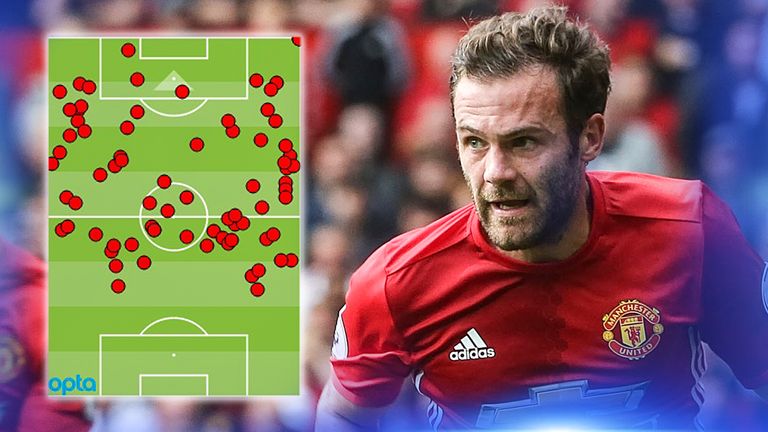 The Spaniard became the first United player to score and assist in the same game so far this season. Not only did he cover more ground than any other player, but he did so with real intelligence by drifting to both wings - thus freeing up the space for Pogba to advance and for Zlatan Ibrahimovic to drop into. It wasn't just the wide men, everyone benefited.
In fact, there were signs that Mata's willingness to look forwards in the No 10 position rather than merely to the full-backs could have a transformative effect. He found Ibrahimovic with eight passes and was on hand to receive the ball from the big Swede on 11 occasions. That's more than Rooney and Ibrahimovic have linked up in any game so far this year.
Mata's improved link-up play
| | | |
| --- | --- | --- |
| Man City | Rooney to Ibrahimovic | 2 |
| Watford | Rooney to Ibrahimovic | 2 |
| Leicester | Mata to Ibrahimovic | 8 |
The improved fluency in the team was best exemplified by United's second goal, scored by Mata. All 10 outfield players were involved in the build-up before the Spaniard produced just the sort of third-man run that used to be United's trademark - having that trust in a team-mate that the ball would come eventually. Lingard popped off the pass and Mata finished expertly.
The assist for Rashford's goal was similarly shrewd, staying alert as Leicester switched off from a corner. It's exactly the sort of bright football that United fans want to see. "My team as a team played very well," said Mourinho. "Today we had intensity, movement, good dynamic." Ander Herrera's inclusion, in a deeper role, helped that too.
But the praise for Ibrahimovic despite his failure to find the net was particularly telling. Mourinho insisted that the 34-year-old had been "absolutely fantastic" in leading from the front, adding: "When our main striker is Zlatan we need fast people to surround him." So where does that leave Rooney?
Ibrahimovic has played every minute of the Premier League season so far - one of only two strikers in the country to have done so - so it's reasonable to assume that the No 9 role has been nailed down by the veteran forward. The importance of pace on the flanks has been perfectly illustrated, while Mata shone in his natural position.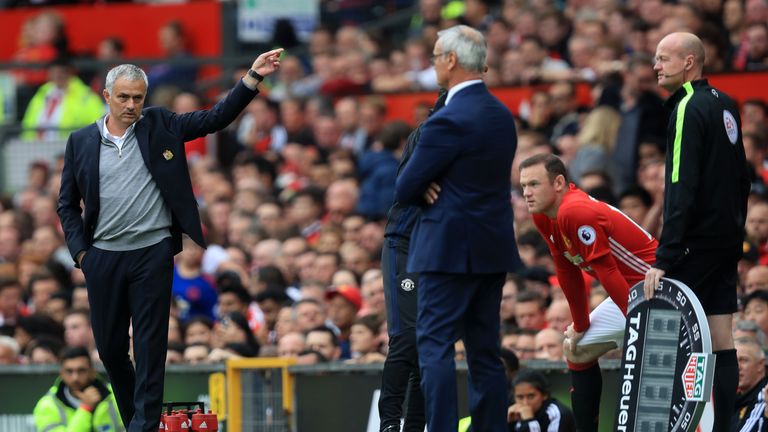 In short, it clicked without Rooney. So while Pep Guardiola tackled the big decisions at Manchester City head on, perhaps Mourinho is edging towards similarly significant changes in a more indirect fashion. Even the decision to play Rooney for the full 90 minutes against Northampton in midweek could be seen as facilitating this move.
And yet, openly he remains insistent that there is no issue with the captain. Afterwards, he described Rooney as: "A big player for me, a big player for United and a big player for this country. I have nothing else to say, he is my man, I trust him completely, he is happy as I am in this moment." Happy? Perhaps. In Manchester United's best starting line-up? Surely not.