The story of Man Utd's half-time kit change against Southampton
By Nick Wright
Last Updated: 21/02/17 11:49am
Ahead of Sunday's EFL Cup final live on Sky Sports, we recall one of the most memorable meetings between Manchester United and Southampton - when Sir Alex Ferguson's side famously changed kits halfway through a 3-1 defeat at The Dell…
In April 1996, Manchester United travelled to Southampton having won 11 of their previous 12 games to overhaul Newcastle United at the top of the Premier League table.
They seemed to be on an unstoppable charge towards the title, but on a scorching day at The Dell against relegation-threatened Southampton, they experienced a bizarre and unexpected setback that would live long in the memory.
Manchester United were taken apart during an extraordinarily one-sided first half on the south coast, with Ken Monkou, Neil Shipperley and Matt Le Tissier giving the hosts a deserved three-goal lead at the break.
Something had to change, but the introduction of Paul Scholes for Nicky Butt was not even the half of it. An angry Sir Alex Ferguson felt United's kit was the bigger issue, with their grey shirts making it difficult for his players to see each other in the bright sunshine.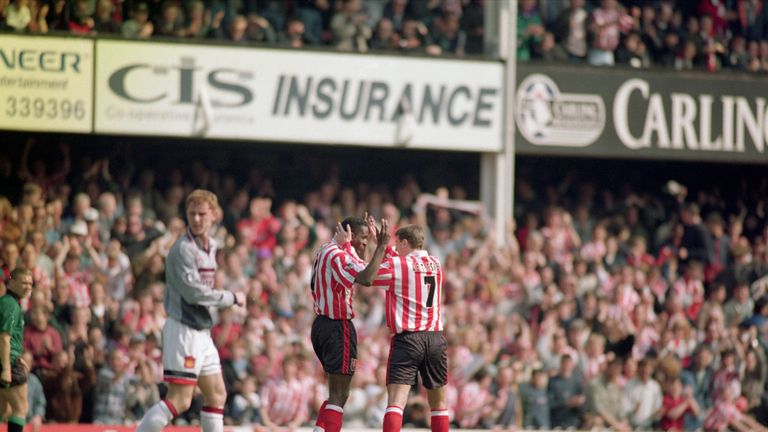 "I'm not sure if any of the players mentioned the kit," recalled Lee Sharpe in The Guardian in 2006. "Personally I felt that we were playing really poorly, and that we couldn't really blame anything or anyone but ourselves."
Ferguson disagreed, immediately instructing his players to change into their blue and white second away strip. "The manager just stormed in and said: 'Get that kit off, you're getting changed,'" added Sharpe. "Those were the first words he said at half-time."
Much to the bemusement of the watching supporters at The Dell, United's grey shirts were nowhere to be seen as they trotted back out for the second half. Their performance did improve, but a late strike from Ryan Giggs came as a mere consolation as Southampton eased to a 3-1 win.
Ferguson later described the £10,000 FA fine as "the best £10,000 I ever spent", but he was in no mood for jokes straight after the game, when he said his players had asked for the change and angrily rejected suggestions that it was a decision based on superstition.
"The players don't like the grey strip," he said. "The players couldn't pick each other out. They said it was difficult to see their team-mates at distance when they lifted their heads. It was nothing to do with superstition.
"This club went 26 years without winning the league and we didn't think about changing the red shirts. It's nothing to do with that at all."
United never wore the grey kit again, but to Southampton's players, the whole furore smacked of sour grapes. Indeed, goalscorer Le Tissier insisted he hadn't even noticed the change.
It was probably one of the worst excuses I've heard.
Matt Le Tissier
"If I'm honest, I didn't realise until after the game that they'd changed their kit," he told Sky Sports. "It was only afterwards that I was stopped by a journalist in the car park and asked about it. I didn't have a clue up until that point, which is pretty ridiculous given it wasn't like it was a subtle change!
"It was probably one of the worst excuses I've heard. It was definitely a case of the manager taking the heat off of his players. We just battered them in the first half. We were unbelievable. I remember they got a consolation in stoppage-time but it was nothing to do with their kit."
The slip-up allowed second-placed Newcastle to move within three points of the top, but United rallied to win their final three games of the season and clinch the Premier League title.
Had the outcome been different, it's safe to assume Ferguson would have spent rather more time bemoaning the kit conundrum that he insists caused United's downfall at The Dell.