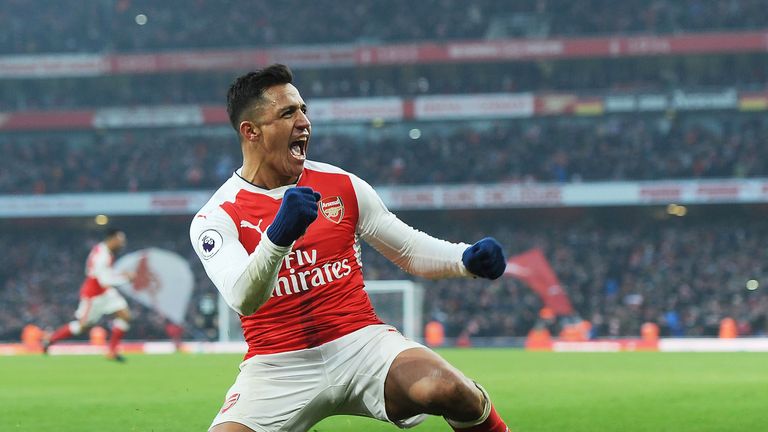 Ryan Giggs says Manchester United should consider a Robin van Persie-style move for Arsenal's Alexis Sanchez this summer.
Sanchez is approaching the final year of his Arsenal deal and all talks over an extension are on hold until the end of the season.
Van Persie was in a similar position five years ago when he made a shock £24m move to Old Trafford, where he won the Premier League title in his first season.
That success, in Sir Alex Ferguson's final year, remains United's last title win and Giggs, United's most decorated player and more recently assistant manager under Louis van Gaal, says buying another "ready-made superstar" in the shape of Sanchez could help revive his old club.
"He's a brilliant player," Giggs told Premier League Productions. "His work rate, the effect he has on his team-mates, a winner.
"Jose Mourinho bought Zlatan Ibrahimovic because he is a winner. He'd won everywhere he'd gone. Not only the effect on the pitch but off the pitch as well.
"You can just feel that Sanchez would give his team-mates a lift.
"When we bought Van Persie you're buying a ready-made superstar and everyone was like 'Van Persie scores 25 goals a season. What a brilliant buy'. And it gives not only the fans a lift, but the players."
Sanchez has scored 21 goals in this season's Premier League, making him the first Gunners player to top 20 since Van Persie in 2011/12.
The Chilean has consistently said he is happy at the club but this month told Sky Sports he was "frustrated" by Arsenal's failure to sustain a title challenge and admitted he wants to be competing for the Champions League.