Freddy Adu joins Polish club Sandecja Nowy Sacz on trial against manager's wishes
By James Kilpatrick
Last Updated: 01/08/17 10:21am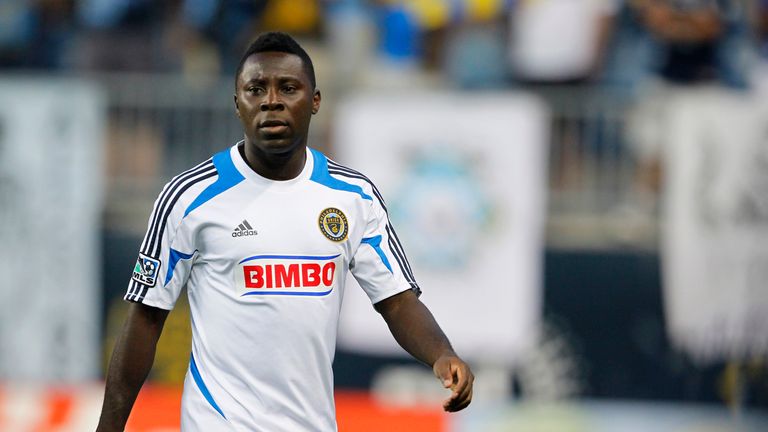 Former USA international Freddy Adu has joined newly-promoted Polish club Sandecja Nowy Sacz on trial, despite the manager not wanting him there.
Adu was once regarded as one of the world's brightest young talents; aged 14, he was dubbed "the next Pele" by the Brazilian legend. Now 28, he is continuing his globe-trotting career in eastern Europe and was announced as a trialist by Sandecja on Twitter.
Should he join the Ekstraklasa side on a permanent basis, it will be the 14th club he has turned out for, and in a ninth different country.
Adu was most recently on trial with Portland Timbers earlier this year, but failed to earn a contract with the MLS outfit. He has not been attached to a club since he was released by NASL side Tampa Bay Rowdies at the end of 2016.
Despite Adu's vast experience, Sandecja manager Radoslaw Mroczkowski is far from happy that he is on trial with his squad.
"It's a joke," Mroczkowski told Polish website Sportowefakty.pl.
"I read in the media about his trial. I asked the sporting director, [Arkadiusz Alexander] why he did not tell me anything [about Adu]. After all, he sent me a text message that there "will be a player on trial" and that they all knew.
"Marketing knew, the staff at the club knew... only the coach did not know who the trialist was."
Adu has already landed in Poland ready for a trial, but Mroczkowski insists he does not want anything to do with the American.
He added: "Whoever invited him, let him trial him. What is the point of having such a player?
"The CEO says that it's marketing. We may as well have Janusz Chomontek [a Polish football freestyler]."