Rafael Benitez defends Newcastle's approach after 1-0 loss to leaders Manchester City
By Michael Hincks
Last Updated: 27/12/17 10:47pm
Rafael Benitez says Newcastle were determined to remain competitive "until the end" in the 1-0 defeat at home to Manchester City.
Newcastle were punished for a slow start to the game when Raheem Sterling poked home from Kevin De Bruyne's looped bass over the defence.
City continued to dominate, but Pep Guardiola's side could not pull further ahead, with Newcastle going close late on with a header from Dwight Gayle.
Given that City had scored four goals in each of their last three Premier League games, Benitez defended Newcastle's approach of resulting largely to the counter-attack.
"I think we knew it was a difficult game, and we needed to work really hard to get something. It was a pity we conceded and I thought we could have done better," Benitez added.
"After they had a couple of chances and then we had some chances at the end.
"You were expecting that they would have the ball and we would have to counter-attack, and we did it well for a while.
"In the last 20 minutes we did what we were expecting. We were on top of them and tried to press high.
"We have seen a lot of games where teams were pressing high and still City scored four goals, so it was a question of staying in the game until the end."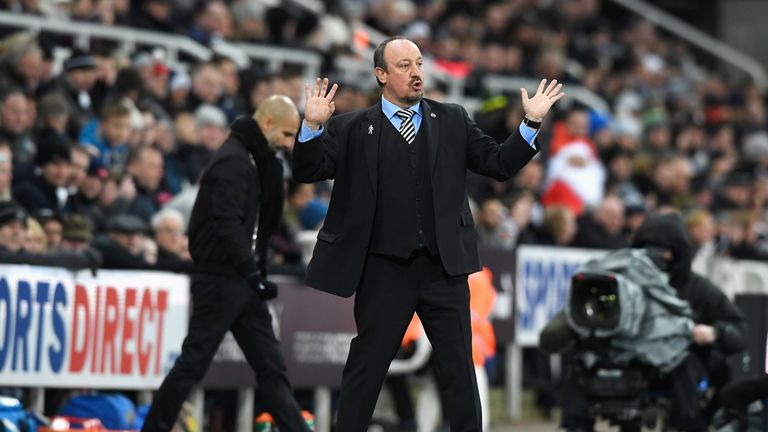 When asked to elaborate on Newcastle's first-half display, Benitez admitted that his side could have been better in possession.
However, the Spaniard preferred to focus on their second-half performance, which also saw Dwight Gayle go down in search of a Newcastle penalty.
"I am really pleased with the team in terms of organisation and work-rate, but disappointed because we could have been better on the ball in the first half," Benitez said.
"I'm very happy with the reaction of the players in the second half. We had a good chance and then the penalty that was not a penalty.
However, Benitez's response was brief when asked if Gayle should have had a penalty: "No I don't think so."