They're top of the table, with the league's most potent attack and the tightest defence... Altrincham FC's Northern Premier League season could hardly be going better, with a third of the Premier Division campaign left to play.
The Robins are on course to bounce back to the National League North at the first time of asking, and Saturday's visit of bottom-side Sutton Coldfield Town represents another opportunity to cement their spot at the summit.
It's also an important fixture for the club's compact but influential Diversity and Inclusion (D&I) team, who are gaining renown in non-league football for going the extra mile to ensure everyone feels welcome at Altrincham.
This weekend's fixture will be dedicated to the Football v Homophobia campaign, which is currently in its annual February activation, and is part of a series of steps undertaken by Alty to reach out to different parts of the community in and around south-west Manchester.
Jordan Tyms, the club's D&I officer, says there is a long-term strategy to make the 6,085-capacity stadium a place where football is accessible to all.
"The club took a service review with supporters and partners, and we are now in a five-year-plan," explains Tyms. "We want to be more inclusive, so that as many people as possible come and watch games here and enjoy being part of the club.
"Last October, we were one of four clubs nationally that was selected as a 'Fans for Diversity' club by the Football Supporters' Federation and Kick It Out. One element of our inclusion strategy is to welcome more LGBT supporters, and Saturday's game is an opportunity to make that more widely known."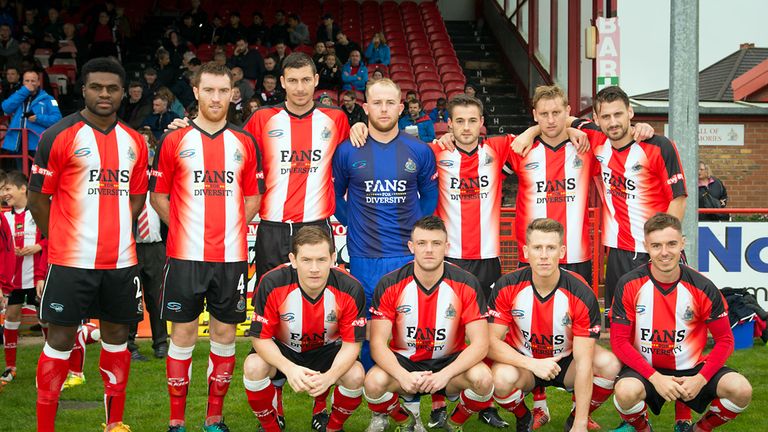 In addition to the other important business of trying to beat Sutton Coldfield, there's another fixture being staged in the morning - an Alty Supporters team are taking on LGBT-inclusive club Village Manchester FC in a friendly in nearby Bowdon for the Alty FC FvH Cup.
Before kick-off back at the J. Davidson Stadium later in the day, the first-team players will wear Football v Homophobia T-shirts, pairs of Rainbow Laces will be available, and all supporters will be given branded postcards which challenge stereotypes and provide education around how to report homophobic abuse. Season-ticket holders and members of the two Manchester giants, United and City, are able to attend at a reduced price.
Altrincham FC Ladies will also support the campaign at their Cheshire County Cup tie on Sunday while at the end of February, the club and the FvH will convene special workshops for Alty's young teams and local schoolchildren.
Tyms says LGBT inclusion is still rarely discussed in non-league football circles, although there has been wider interest in the story of Liam Davis, who became the first openly gay male footballer to play at Wembley when he turned out for Cleethorpes Town - of the NPL's Division 1 South - in last year's FA Vase final. Davis has since featured in a video for UEFA's #EqualGame campaign.
"I don't think it's on the radar for most non-league clubs," says Tyms. "It seems to be just ourselves and Cleethorpes at the moment. We're now hoping to get back into the National League North and share our own experiences with others. There's no reason why any other club couldn't do what we do."
There is equal focus on other elements of the D&I picture at Altrincham, with Tyms grateful to various partners, organisations and local businesses for their generous contributions.
"We wanted a new disabled shelter, and a company came and erected that for us free of charge," he says. "The board and the manager have been so supportive and full of ideas, and we have a designated director for D&I matters.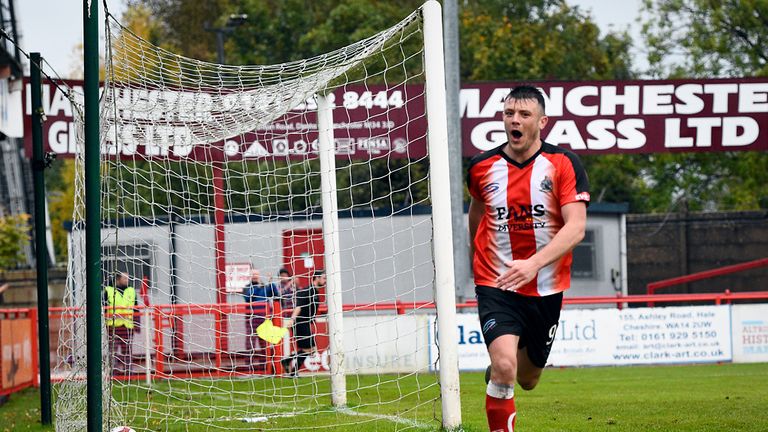 "In September, a vice-chair of the local Muslim Association was attacked on his way to evening prayers, a crime that attracted national attention. He accepted an invitation to our 'Fans for Diversity' match in October, and from that we've forged a relationship to support the association's local boys team with equipment and a summer tournament, with money from the FFD fund.
"It's been one of several success stories from the D&I work we've done."
Altrincham are perhaps best known in football for a proud record of FA Cup giant-killing; of those clubs to have played in non-league for their entire history, none has claimed more Football League scalps than the Robins (17 in total). Their reputation is now growing off the pitch too, as the club continues to bring down barriers and truly make football a game for everyone.
The Football v Homophobia campaign continues throughout the month of February.