Swansea boss Carlos Carvalhal 'happy' to face Sheffield Wednesday
By Declan Olley
Last Updated: 15/02/18 4:20pm
Carlos Carvalhal is looking forward to returning "home" when he takes his Swansea side to Hillsborough to face his former club Sheffield Wednesday.
The Portuguese left Wednesday in December after two-and-a-half years at the club and was named Swansea manager just four days later.
Carvalhal will revisit Hillsborough for the first time since leaving Wednesday nearly eight weeks ago and is delighted to be going back for the FA Cup fifth-round tie.
"I'm [returning] home, and it will be a home forever, I'm absolutely sure," he said. "We were there for two-and-a-half years and, after the second season where we achieved the play-off semi-finals, we had the third best winning points in 150 years of history at the club.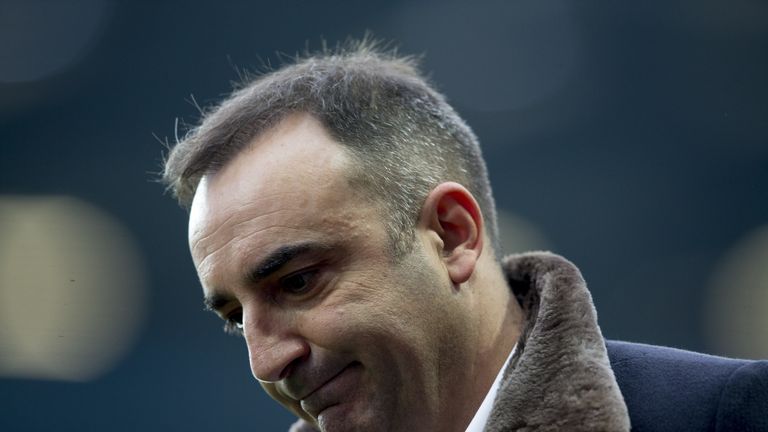 "In the last 50 years, we had the best rating at the club - we achieved one play-off final, one semi-final and the moments we lived at that club was unbelievable.
"[I had] very strong and emotional moments that make me think I belong to the club and I will be part of Sheffield Wednesday forever.
"I am very happy to go back to Hillsborough because I'm feeling like I'm going back home because I left just two months ago."
The 52-year-old left Wednesday with the club 15th in the Championship table, having guided them to the play-offs in the past two seasons.
Asked whether he was disappointed about the ending, he said: "No, it's the life. I know exactly why we finalised the things there.
"I talked to the chairman and we agreed that was the best thing in that moment to finish.
"What we did is something we can forget and we can hide. I'm very proud of what I did there."
Carvalhal has lost just one game in all competitions since becoming Swansea manager and hopes he can create a legacy at Swansea.
He said: "I'm working very hard now to be a Jack in the future so it's my plan is try to do something the people at that time will remember me for a long time.
"I am absolutely sure that one day I will feel a Jack because we are starting to connect things, emotional connection with the players, the chairman, the staff and with the fans."