Terry Gibson says defeat to Barcelona on Sunday afternoon will rule Atletico Madrid out of this season's La Liga title race.
Diego Simeone's men have won their past six games in succession and are five points adrift of the league leaders with just 12 fixtures remaining, ahead of the clash at the Nou Camp.
But Sky Sports' Spanish football expert believes that, despite their sparkling form, defeat to La Blaugrana will spell the end of Atleti's search for a first league title since 2014.
"The defeat loses the title for Atletico," said former Manchester United forward Gibson, speaking on the La Liga Weekly podcast.
"Whereas the draw, with five points difference with 11 games to go, it's still in the balance. Simeone would love a 1-0 win, but I don't know [if] he'll be prepared to take the risk."
He added: "I think the result last week [ a 5-2 win away at Sevilla] has changed his thinking. I think when they were going into the game possibly seven points adrift, the win was a must.
"I think Simeone, now, would probably be quite happy with a draw, to chip away for the remaining 11 games after that and hope that there'll be another slip-up from Barcelona, which is possible. Atletico are consistent."
The two sides have lost just once between them this campaign, but Gibson thinks team selection may play a significant role in whether the outcome favours the visitors.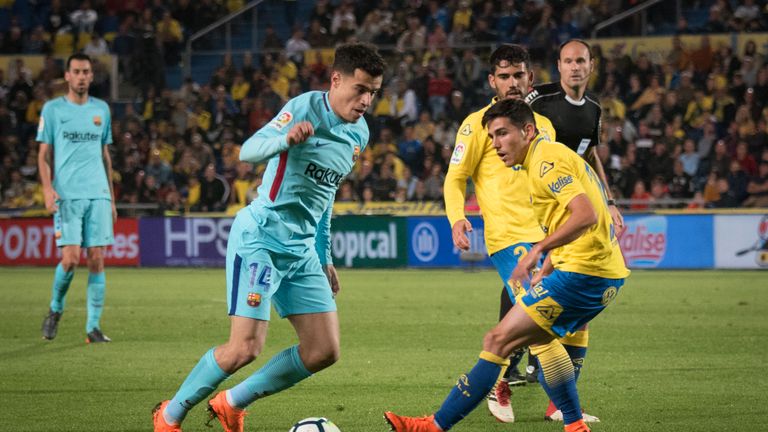 "They could very well lose any chance this weekend so I think he might err on the side of caution and the only way he will err on the side of caution will be his midfield selection.
"Will he play four central midfield players? Or will he play one attack-minded Angel Correa or Vitolo? Gabi or Koke? [Antoine] Griezmann will drop in and [Diego] Costa will be the outlet."
Fellow guest and La Liga commentator Rob Palmer said he felt Barcelona's continued involvement in several competitions might play to Atletico's advantage.
He said: "I think they do [need to win] to be in the equation, and if they do win then that gap between Barcelona and Atletico looks very shallow. Barcelona have got other things on their mind; Champions League, the [Copa del Rey] cup final. Atletico have the Europa League maybe, but they could throw everything into La Liga.
"Atletico have come out of the shadows and are getting stronger, they're getting better. They've got [Diego] Costa there. Griezmann is proving to be a world class player showing no signs of tiring. Barcelona are not on the wane but they've got other things, they are playing on many fronts.
"It could be a great game, it should be an absolutely fantastic game. But maybe that's part of Ernesto Valverde's thinking to peak this weekend."
Don't miss Sunday's clash between Barcelona and Atletico Madrid, live on Sky Sports Mix from 3pm - kick off 3.15pm.