Is Gareth Bale's time at Real Madrid coming to an end?
By Guillem Balague, Peter Smith and Adam Smith
Last Updated: 19/03/18 8:15pm
Could Gareth Bale be on his way out of Real Madrid this summer? Guillem Balague looks at why the Wales international's future is in doubt...
Is Gareth Bale's time at Real Madrid coming to an end? That's the question being asked by the Spanish press right now.
But while Bale and Zinedine Zidane both say his future and focus is on Real Madrid, there's no question he is in one of his toughest moments during his five seasons at the Bernabeu.
The first leg of Real Madrid's Champions League tie with Paris Saint-Germain appears to have been a turning point. Fit and ready to play, Bale was left on the bench by Zidane. The same thing happened in the second leg. They were two huge games in Real Madrid's season - and Bale played just 36 minutes out of a possible 180.
This hasn't happened before. A fit Gareth Bale was always first choice - but now Zidane is regularly turning to Isco, Lucas Vazquez or Asensio - and Bale was back on the bench on Sunday, coming on as a sub to score during a 6-3 win over Girona.
Bale has played less than two-thirds of the past 12 games. Just 646 minutes out of a possible 1,080. He's scored three goals during that time, with no assists to his name. Zidane has said he is being cautious with Bale - but this seems about more than mere fitness concerns. Zidane has lost confidence in Bale - and he feels it.
Of course, injuries have been a recurring problem for Bale at Real Madrid. From the moment he arrived with problems in the pre-season of 2013 to the calf problems which have seen him miss much of this season, Bale's time in Spain has been linked with injuries.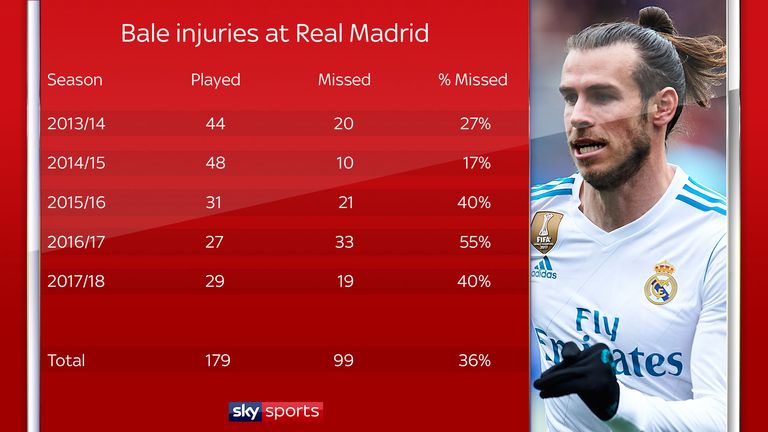 In fact, Bale has not played in 36 per cent of Real Madrid's matches since he has been at the club. Injuries have seen him miss 49 of Real Madrid's last 89 games across all competitions. It has been a frustrating situation for the player, his manager and the fans.
Without consistent game time, Bale has been unable to establish a clear position for himself in this team. He feels he should be given more freedom. The chance to roam across the pitch and be central to Real Madrid's attack. But with Cristiano Ronaldo and Karim Benzema also to consider, Zidane has been more inclined to push Bale out to the wing.
Bale has had just four outings in the No 10 position he would like to occupy, scoring twice and coming up with three assists. But over the course of the past five seasons, he has been most effective from that right-sided attacking role Zidane favours, where Bale can cut in on his left foot to shoot or feed through passes.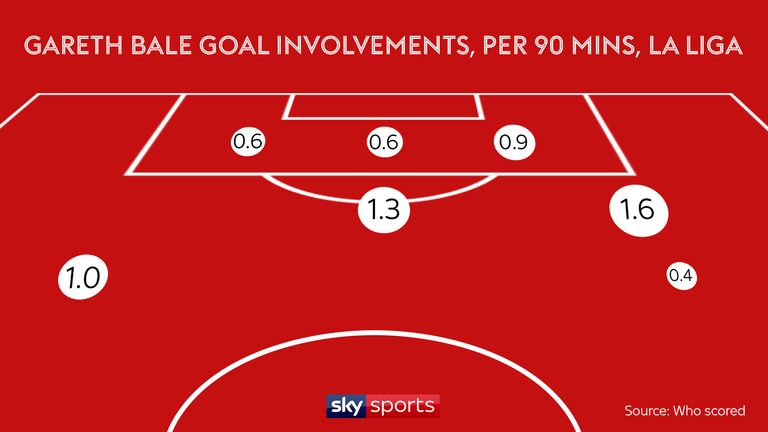 That position also allows Bale to arrive at the back post and put his excellent aerial ability to good use. That image of Bale, towering high and heading home, is a reminder of the 2013 Champions League final, when he scored the crucial goal in the win over Atletico Madrid.
At that point, he had already scored his brilliant winner against Barcelona in the Copa del Rey final, when he ran with the ball from the halfway line. It should not be forgotten just how successful Bale's time in Spain has been, despite the injury problems.
For many players, winning one Champions League title is the pinnacle of their career. Bale has won three of the last four with Real Madrid. There has been a league title win and a couple of Club World Cup victories too. His trophy cabinet must be bursting!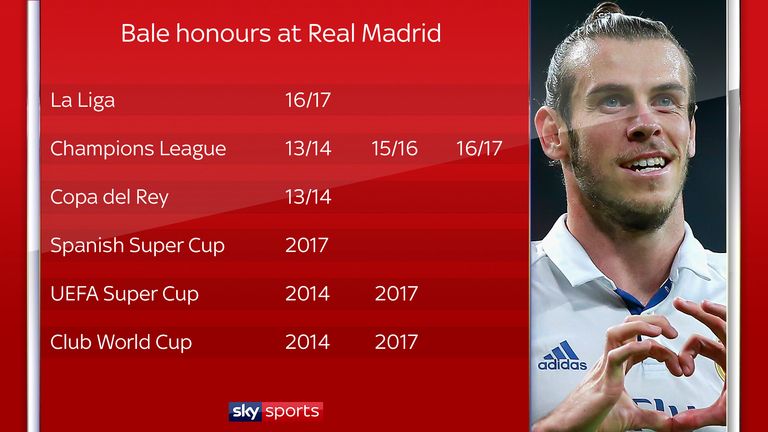 But it seems Bale's Spanish adventure could be coming to an end - and there are indications Real Madrid would be willing to accept the right offer.
There is no doubt Bale has relished playing for Real Madrid but his Spanish is still not very good and his natural shyness has made living in a new country difficult.
Perhaps a return to the Premier League could be on the cards. There would certainly be many clubs interested.