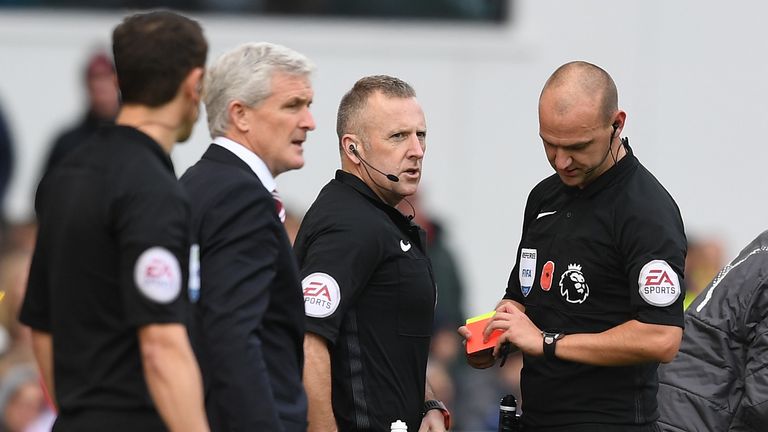 Dennis Wise admits he has more respect for referees having trialed as an official in a mock-up match with Sky Sports.
As part of Support The Ref week, former Chelsea midfielder Dennis Wise became referee for one evening as he took charge of SSN v The FA.
Though Wise enjoyed the trial, he insists it made him realise just how difficult a job referees have, and also backed the introduction of VAR into the game.
"For a long, long time I made ref's lives a nightmare! I gave them a lot of stick, but you did it for a reason, to see if you could get a decision going your way.
"But it all happens so quickly in the heat of the moment, trying to react, and it's difficult to know if you've got it right or not.
"I see how difficult it is now for referees, I really do. When they ref in the Premier League, you've got 40,000 people looking at you, and with the pace of the game, you've got a quick second to make that decision.
"It's very difficult for them, so now I've got more respect for them. I look at from an outsider point of view, I was very annoying with them, always trying to get decisions.
"But I look at it now, stepping back, and admit they have a very, very difficult job. If they can be helped in any way possible with the VAR, I think they should take it on board.
"It's crucial times for teams, when you desperately need to win games, if there is something that can help assistants and referees, I'm all for it."
Wise, who picked up 70 yellows and was sent off five times in his career, added he would welcome initiatives from clubs to increase players' knowledge of refereeing and rules, such as the programme being run at Salford City FC.
He said: "I think it's a really good idea, because when you're then on the other side as a player, you know what is coming for you.
"You want to go into games thinking: 'No, I don't want to put that referee in that position.' It's hard enough as it is for these guys."