Brighton boss Chris Hughton not planning dramatic changes after securing Premier League status
Last Updated: 07/05/18 2:10pm
Chris Hughton is not planning wholesale changes to his Brighton squad after the club secured their Premier League status for next season.
Brighton moved onto the 40-point mark on Friday night after beating Manchester United 1-0 at the Amex Stadium.
With the pressure lifted for Brighton's remaining games at Manchester City and Liverpool, Hughton is pleased the club can start to draw up their pre-season plans - though said there won't be dramatic changes to his side.
"There are departments at the club, recruitment and at board level, that have to look at different scenarios, but they have to keep working," Hughton said.
"It's nice now that we know where we are, we can plan, even regards to pre-season, 100 per cent being able to plan everything we will do then.
"Until now, there were a few ifs and buts, so that's the pleasing aspect. A lot of our departments can get on knowing where we're going to be.
"I don't see dramatic changes. With any team, if you feel you can improve and be better next season, we will look at all of that, but I certainly don't see wholesale changes."
After finishing runners-up in the Sky Bet Championship last season, Premier League survival was the primary focus in what was Brighton's first campaign in the top flight since 1983.
Brighton ultimately defied the odds to stay up, and they can now have a say in the top-four race as Chelsea look to track down Liverpool and Tottenham.
Liverpool must beat Brighton on the final day of the season on Sunday to guarantee a Champions League spot, and Hughton insists his side will be switched on at Anfield - as they will be at the Etihad Stadium on Wednesday.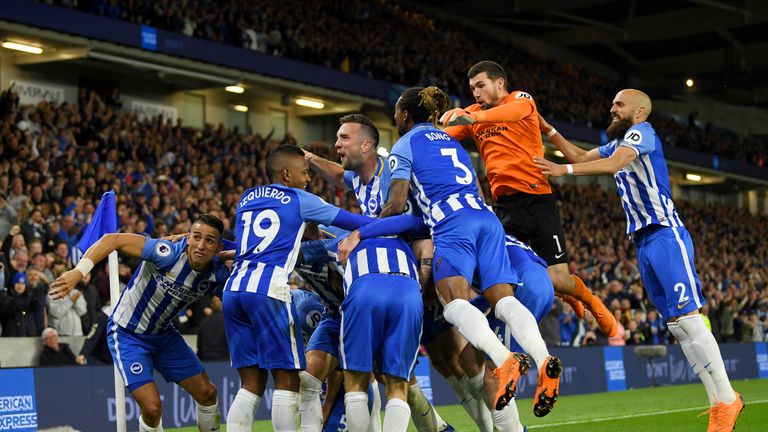 "We've found how difficult it is to stay in this division. It's relentless, the quality that we've been up against week in, week out. We've got a group of lads that have equipped themselves really well. It's a nice feeling at the moment, but we want to finish the season well," Hughton added.
"You're playing against two of the best teams in the division, arguably the toughest two away games you can have, so that in itself is a great challenge. There won't be anybody you won't want to play or play well in these games.
"I'd like to think that the challenge is what will motivate players. We've managed to get some good results against the top six at home, and make them as close as possible away, so this is our challenge. I want us to be as good as we can in the games, but it's also to respect this division.
"It's not a promise [to Chelsea and Spurs], it's a promise to our supporters and everybody at this club that this season isn't over. We've got two very difficult games. We owe it to the club and to the players pushing hard to make the team - that's our biggest responsibility."