Radamel Falcao will have a "point to prove" against England on Tuesday, Dominic Fifield told the World Cup Supplement podcast.
Disappointing spells at Chelsea and Manchester United cast a shadow on the striker's career before he returned to France to rediscover his form, but he will come up against some old team-mates and rivals when England face Colombia in the last 16 on Tuesday.
With Falcao joined by fellow Chelsea flop Juan Cuadrado in their likely starting line-up, Guardian London football correspondent Fifield told the World Cup Supplement both could prove troublesome to Gareth Southgate's side.
"I got the impression Southgate expected Senegal to go through and not Colombia," he said. "It's almost caught him on the hop a bit that we've now got Colombia.
"In fact, there was a theory before kick-off when we knew the results from the other games that England's team selection might change ahead of kick-off.
"However, it is Colombia. They are a street-wise team and they are getting better in this tournament. They've grown into the tournament after a slow start when they had a man sent off just minutes into their opener against Japan.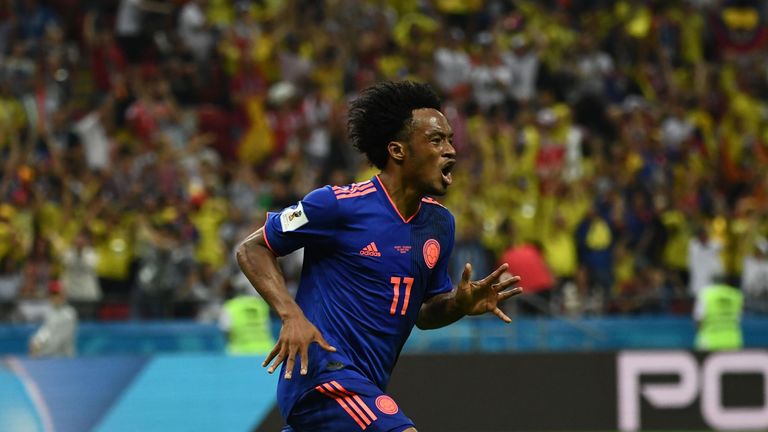 "England are coming up against players who have a point to prove against English football in Juan Cuadrado and Radamel Falcao, who both failed in the Premier League.
"That is risky in itself so let's just concentrate on trying to get past Colombia. If the draw opens up after that then fantastic but we actually haven't got a great record against Sweden at major tournaments either."
Colombia have scored in each of their last eight World Cup games and five in their three games at this tournament to date.
Falcao, Cuadrado and even goalscoring defender Yerry Mina will test England's defence in different ways, Matt Dickinson, chief sports writer at The Times told the fourth podcast of the tournament.
"This is where we start worrying about what Harry Maguire is going to be like with Cuadrado's movement," he said. "He's also got a trick as we know and he's a lovely mover on the ball. You suddenly have this vision of him running at Maguire and that worries me.
"There's also the instinctive finishing of Falcao. We know he's capable of producing beautiful finishes out of nothing. There's also the huge figure of Yerry Mina.
"We think we can dominate at set-pieces but suddenly they've got a 6ft 5in guy who is going to be opposing that so they are a threat in all sorts of ways."