Ex-Barcelona defender Martin Montoya relishing Brighton challenge ahead of Pep Guardiola reunion
Martin Montoya will face his former manager Pep Guardiola when Brighton travel to Manchester City on Saturday
Last Updated: 28/09/18 9:12am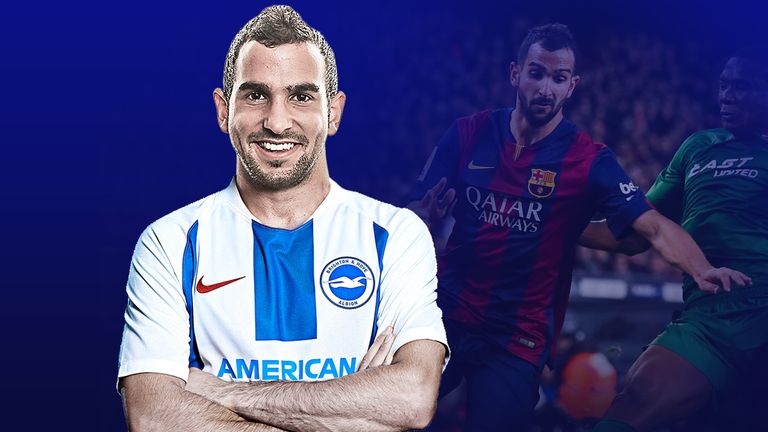 Martin Montoya was once understudy to Dani Alves at Barcelona but he is relishing his new challenge with Brighton in the Premier League. He tells Sky Sports about growing up in La Masia, playing under Pep Guardiola, and the ambition that attracted him to Brighton.
Martin Montoya leans forward in his seat in the reception area of Brighton's training ground as he reflects on a whirlwind start to life in England. The former Barcelona defender only arrived from Valencia on the final day of the transfer window, missing the whole of pre-season, but seven weeks on and he has come through a Premier League crash course impressively.
It began with what he describes as a "dream debut" against Manchester United, when he helped shackle Anthony Martial in a 3-2 win at the Amex Stadium, and he has not missed a minute since. Brighton are still waiting for another win, but they have pushed Liverpool close and pulled off spirited comebacks against Fulham and Southampton. Assured defensively and dangerous in attack, their new right-back looks like £6m well spent.
"I'm very happy," Montoya tells Sky Sports. "I'm pleased with my performances. I have felt good in the games and I'm playing with confidence. Step by step, I'm understanding what the Premier League is about a little more. It has been good so far and I feel good in the team."
Montoya's bright start should come as no surprise given his pedigree. The 27-year-old spent 16 years at Barcelona, passing through their fabled La Masia academy before playing a part in three La Liga title wins, and for the last two seasons he has been a regular starter at Valencia. The only question for Brighton was how he would adapt to the Premier League.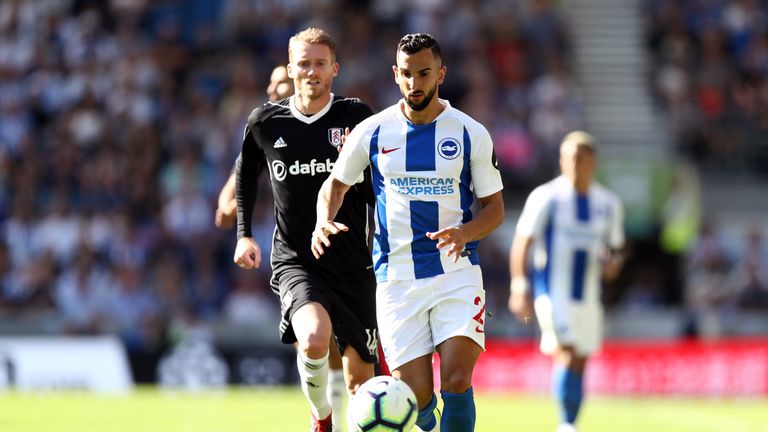 "It's very different," says Montoya. "It's stronger and more physical, but what has surprised me most is that in any game, right up until the 95th minute, anything can happen. You can be losing, but in the space of a few minutes you can be level. I think it's better to watch than La Liga. There's more speed and intensity. You always have to be running up and down."
Montoya has embraced the change and he has been helped by a welcoming dressing room. Brighton made 13 signings in the summer, but team spirit is paramount to Chris Hughton and the new faces have been made to feel at home. Montoya is still grappling with English, but there are several Spanish-speakers at the club including his old Valencia team-mate Mat Ryan.
"I spoke to Mat before I came," he says. "He told me what the city was like, what the team was like, what the atmosphere was like and everything else. He told me that if I came I would be very happy. I wanted to leave Valencia and I really wanted to experience playing in the Premier League. It's one of the best in the world and it's really competitive.
"Brighton is not a historic club like Valencia or Barcelona, of course, this is only their second year in the Premier League, but it's a family club with a close-knit group of players. They have made some very good signings and there are guys here from last year who are very good and compete well. It's a club with a lot of ambition, a club that wants to do important things."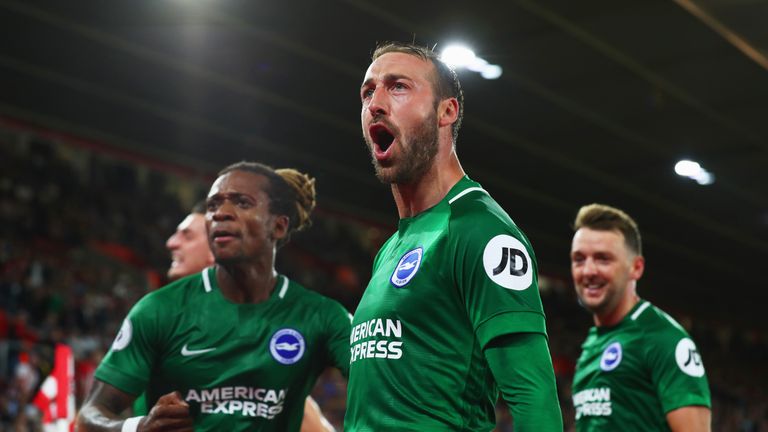 Brighton's state-of-the-art training ground is testament to that ambition. The £30m facility, opened in the village of Lancing in 2014, was designed with a long Premier League future in mind. On the wall over Montoya's shoulder, there is the outline of a footballer made up of slogans such as "the hard work starts here" and "improve yourself every day".
Brighton, and in particular Montoya, will have those messages in mind when they face the might of Pep Guardiola's Manchester City at the Etihad Stadium on Saturday. Back at Barcelona, it was Guardiola who promoted Montoya from the B team and handed him his senior debut in a La Liga meeting with Mallorca in February 2011.
For a young player from La Masia, the experience of working with Guardiola, not to mention Lionel Messi, Neymar, Andres Iniesta and the rest, was an invaluable one.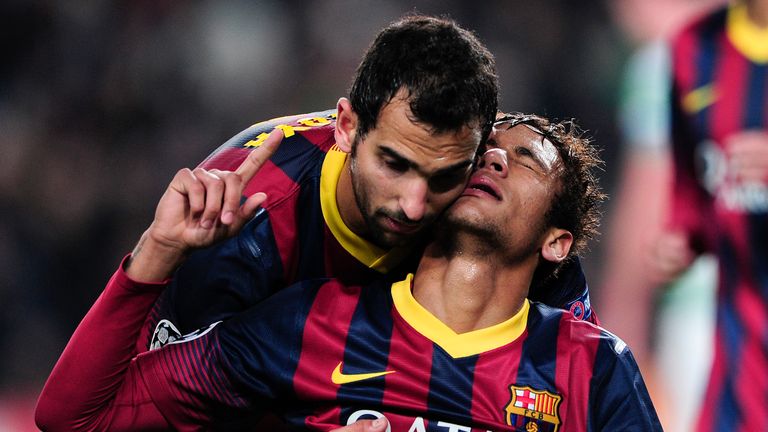 "He is a great manager and he was great for me," says Montoya. "He was, and is, a manager who is very hands-on in training. He explains a lot to you and he likes to talk to players individually. He tells you the areas you need to improve and how you need to help the team in a very clear way.
"Barcelona was a great time for me overall. It is, in my opinion, the best club in the world. I started there at nine years old. To be able to play for the team you support for so many years, to be able to go on and represent the first team, it is very special. It was a great basis for me."
Montoya's only regret is that he did not get more opportunities to play. In total, there were 67 appearances across five seasons with the first team. "At that time they had Dani Alves, the best right-back in the world," he says. "He was a great example, someone I learnt a lot from, but it meant it was difficult for me to get regular opportunities to play."
The idea was that he would one day succeed the Brazilian, but his hopes receded when Barcelona signed two other right-backs - first Douglas and then Aleix Vidal - in consecutive summers between 2014 and 2015. For Montoya, who in 2012 played in an historic Barcelona team made up entirely of La Masia graduates against Levante, it was tough to take.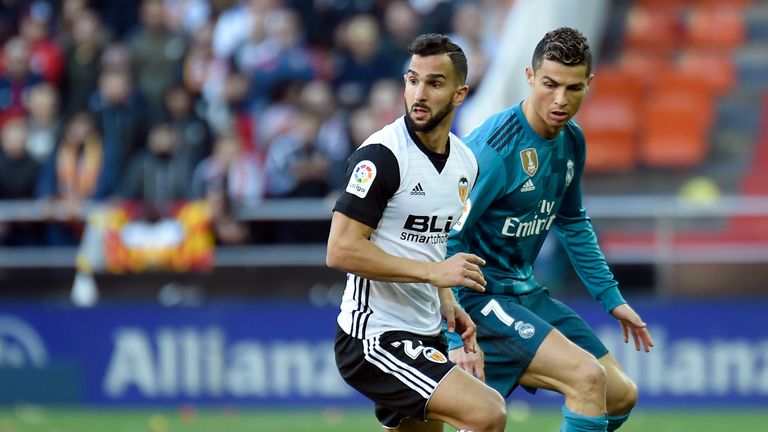 "It was very difficult to watch those players come," he says. "The idea is to have two players for each position, but we had four: Dani Alves, Vidal, Douglas and me. I could have stayed, but Dani Alves is Dani Alves and then there were the others. I knew that I wasn't going to play very much."
Montoya still watches Barcelona from afar and still hopes to break into the Spain squad having been close at times last year, but at the moment his focus is on Brighton. Up until now, his only previous experience outside of Spain was an unhappy loan spell at Inter Milan. He never felt comfortable in Italy, but in England he is putting down roots.
He has moved over to Brighton with his wife and two young children, the older of whom has just started in a local school, and the family have already encountered other Spaniards while exploring the city.
"The language is the most difficult thing for us but we are settling in step-by-step and we have been surprised by the number of Spanish people here," Montoya says. "When we have been out to eat or out walking on Brighton pier, we have met a lot of Spanish people either visiting here or living and working here."
What about Brighton supporters? "Some of them recognise me in the street, but it's different to in Spain," he says, smiling. "In Spain, people come up to you a lot, stop you and ask for a lot of photos. Here, they give you a bit more freedom. It's better in that sense, it's more relaxed."
Montoya should enjoy the relative anonymity while it lasts. The early evidence suggests it will not be long until he is recognised more often.
Follow Manchester City v Brighton on the Sky Sports website and app on Saturday