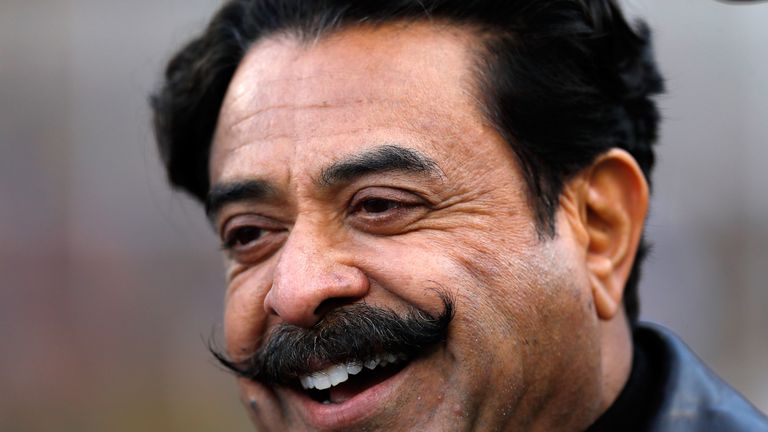 Read Shahid Khan's Wembley letter to the FA Council obtained by Sky Sports News.
Dear FA Council Member:
I thank you for the opportunity to introduce myself. My name is Shahid Khan and this month you will take under consideration my proposal to the Football Association to purchase Wembley Stadium. I am humbled to have earned the faith of the FA to advance the discussion to the FA Council next week in London, and I thank you for taking a moment to hear from me ahead of the hearing.
I first want to say that while I know your service to football is certainly appreciated by the FA and your FA Council constituents, it is also true that I deeply respect your personal commitment to the mission of the FA and to every level and facet of the game. Thank you for all you do.
I also want to assure you that I thoroughly understand the significance of what this means to everyone who celebrates football in England, from its history and traditions to the game today and its long-term future. And that's why, as I explored the possibility of private ownership of Wembley Stadium under my stewardship, I was inspired and even driven to present a worthy financial offer to the FA that would provide vital, remarkable and tangible benefits to the game and everyone who plays or simply loves it, for generations to come. I have tried my best to accomplish that and am confident that if my proposal is accepted, the positive impact the FA can make in all areas of the English game will be immediate and lasting.
This must not be merely about funding for football, however. I owe it to you to be a responsible owner and operator of Wembley Stadium, which under my guardianship will at all times be three things - the national stadium of England, the traditional home of English football, and one of the world's finest venues for sport and entertainment. It will always be Wembley Stadium, and it will have no peer.
I will also owe it to you to be an outstanding neighbour and citizen. It's all I know and, I promise, it is who I will be in my care for Wembley Stadium. I take my citizenship responsibilities seriously wherever I call home or conduct business, from dozens of cities around the globe where I operate automotive plants, to my experience in Jacksonville with the Jaguars, and most recently here in London with Fulham Football Club, which offers some similarities to today's storyline with Wembley Stadium.
When I was privileged to become chairman of Fulham in 2013, I immediately encountered rumours as to what this meant for the future of our home ground of Craven Cottage and, for that matter, the Club itself. My word at the time was I would invest in the Club and the renovation of Craven Cottage so it would always be the lifetime and spiritual home of Fulham, but only in a manner that would be respectful of the neighbourhood while also delivering economic and quality of life benefits that would serve all Londoners every day of the year. Committing to doing the right thing, and then doing it right, was the only path I would consider.
I am happy to say that after years of careful planning and communication with every stakeholder imaginable, the necessary approvals have been granted and work on the new Riverside Stand at Craven Cottage will begin in May, as pledged, ensuring stability and sustainability for our Club and a future on the banks of the Thames longed for and deserved by our supporters. While it may appear that Craven Cottage and Wembley Stadium have little in common, in fact both have histories that should always be honoured as well as challenges capable of threatening their respective futures.
Gratefully, a new era for Craven Cottage is on the horizon but with Wembley Stadium, we must acknowledge that certain elements of the venue are already a stage or two behind newer stadiums that have opened recently in Europe alone. Wembley Stadium must be the global standard in every sense - technology, hospitality, the visitor experience, the athlete expectation and much more. As I've done with my investment in the NFL stadium in Jacksonville and we are about to see with Fulham and Craven Cottage, I will protect what we all agree is wonderful about Wembley Stadium and be steadfast, and respectful, in making sure the Wembley Stadium of the future will never have an equal. I owe that to the home of English football, to the FA, to London and to all of England.
I also owe it to you to be your partner. Through the national asset that is Wembley Stadium, together we have the opportunity if not the obligation to collaborate on initiatives that can deliver resources and benefits to the game that transcend the proposal in front of you this month. I'll count on you to help all of us determine what those ideas or community programs may look like, and then we can work together toward making them a reality.
As an example, I'd like all of us to explore a committee of FA Council members who would play a meaningful advisory role on all FA-related stadium matters to guarantee that your voice and counsel will always be heard and respected. I'd ask for your input as to how such a committee would be selected and governed, or we can certainly entertain other ways to ensure that FA Council members remain active and involved. In summary, it goes without saying that you and all FA Council members will always be welcomed as our guest for FA events at Wembley. But more than being a guest, I hope you'll arrive as our partner.
No one knows better than you that this is a matter of exceptional public interest, so to what degree I can be of assistance in the days ahead, please know I am always here for you. A bright tomorrow for the game of football in England will require teamwork and partnership, to which I am fully committed.
Above all, I am sincerely grateful for the consideration you have afforded me today and throughout this process. Thank you very much and my best regards to you and your fellow members of the FA Council in the important days ahead, and always.
Sincerely,
Shahid R. Khan