Unai Emery's Arsenal prove a very different proposition for Tottenham
Arsenal come from behind to win 4-2 against Tottenham
Last Updated: 02/12/18 5:26pm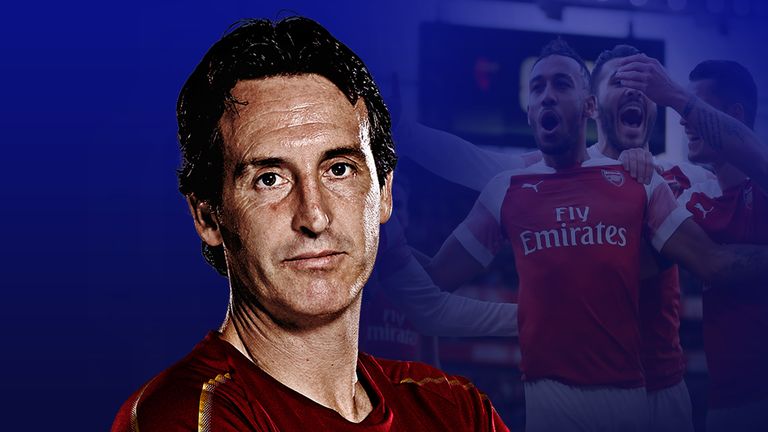 Arsenal beat Tottenham 4-2 in an enthralling derby that highlighted the improvement under Unai Emery. The next chapter promising to be an exciting one for the Gunners, writes Adam Bate.
To the next chapter. So reads the banner heralding Unai Emery at the Emirates Stadium. It is going to be some tale if their remarkable performance against Tottenham on Sunday is any indication. The Gunners were full of energy and endeavour as they came from behind to win the game 4-2 and leapfrog their rivals into fourth in the Premier League table.
Much has been made of the changes that Emery has instituted at Arsenal since his appointment in the summer. Eager supporters have pored over his tactical tweaks and debated the stylistic nuances of his selections. But here there was no need to go looking too hard. It was there for all to see in what Gary Neville called "a tornado of a performance".
Arsenal were first to the ball and sharper in the tackle. The difference was embodied by the man of the match Lucas Torreira, but the dynamic midfielder was by no means the only one as Emery's side swamped Spurs in the early stages. Time and again they forced the turnover in possession through the intensity of their work and the commitment of their pressing.
How Arsenal fans have waited to see their team play this way. Mauricio Pochettino had lost only one of his previous eight Premier League meetings with Arsenal during his time at Tottenham. His own pressing game symbolised everything that their north London rivals lacked during the latter years of Arsene Wenger's long reign as passivity became the norm.
This was a role reversal and the visitors were visibly unnerved when Serge Aurier lost possession and gave away a free-kick from which Jan Vertonghen conceded the penalty that Pierre-Emerick Aubameyang converted. "They thought they could come out here and play their passing game," said Neville on co-commentary. "This has been a shock for them."
The raucous atmosphere at the Emirates was evidence of the aching among Arsenal supporters to see their team go at their opponents like this. "I didn't think they were capable of a performance like this with this energy," Neville later added. But Emery has shown what is possible with much the same squad as last season.
I didn't think they were capable of a performance like this with this energy.
Gary Neville
The performance was not without its flaws - ones that have been apparent even in their extraordinary 19-game unbeaten run in all competitions. Tottenham were able to ride the early storm and expose those vulnerabilities well enough to go into half-time with the lead.
It is now 14 times in 14 games this season that Arsenal have failed to take an advantage into the interval. But just as he had in 10 of the previous 13 matches, Emery was able to improve the result in the second half - and he played an active role in that with his changes.
Alex Iwobi and Henrikh Mkhitaryan were sacrificed with Aaron Ramsey and Alexandre Lacazette coming on to replace them. Both substitutions were a success. It was Ramsey who set up Aubameyang for the equaliser. "That's the change," said Neville. "Ramsey being that bit closer and making the runs, it has caused them a big problem."
Then it was Lacazette who gave Arsenal the lead with a deflected shot. Fittingly, Torreira wrapped things up with the fourth goal before Vertonghen's late red card killed any chance of a Spurs comeback.
In a sense, Emery won the game twice.
Having a coach who is able to solve problems within the game is a huge help. As Emery himself put it recently: "Wenger was more about pure football … I am more tactical."
The change will take time, of course. Despite the long unbeaten run, Arsenal are still behind Chelsea and Liverpool, let alone Manchester City. But the process has begun and the gulf that had been growing for years under Wenger is now starting to be closed. This was a performance to underline that point and provide confidence that they are on the right path.
With the help of transfer windows and time on the training ground, Emery can continue to prune what Neville referred to as "the weeds in the garden". But things appear rosy enough right now for the Arsenal supporters cherishing this victory. They will be hoping that this memorable win also proves to be a seminal one. To the next chapter, indeed.