Sol Campbell says media attitudes to black players breaking into management have to change
Sol Campbell speaks to fellow former player Dion Dublin on 'Tackling Racism' on Sky Sports News
By Matthew Treadwell
Last Updated: 04/03/19 11:15pm
Sol Campbell has called for a culture change within the media, some of whom he feels still judge him on how he was as a player, rather than what he can offer as a manager.
The former England, Arsenal, Tottenham and Portsmouth defender retired from playing in 2012 after a distinguished career which saw him play at three World Cups.
But despite earning his coaching badges and boasting an impressive playing CV, the 44-year-old had to wait until last year to become a manager at Macclesfield, then bottom of League Two.
Campbell, who won six major trophies including two Premier League titles for Arsenal, took over at Moss Rose in November and has taken them to within four points of safety with 11 games left in the season.
But he believes unconscious bias on the part of the media is unhelpful to players from black, Asian, and minority ethnic (BAME) backgrounds who are trying to secure positions as managers.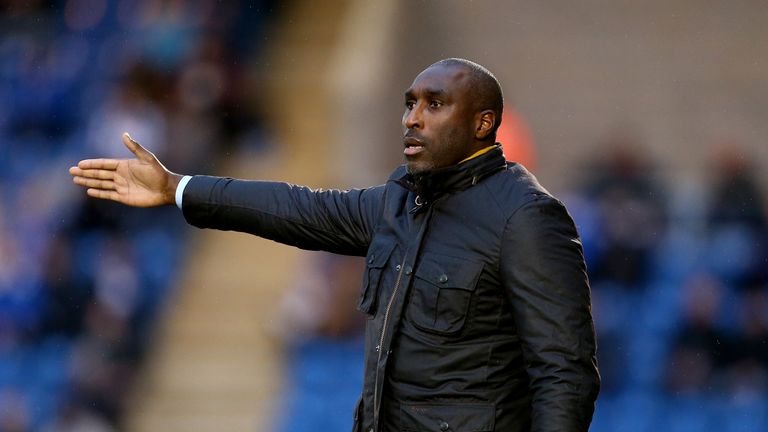 "You may have some guys who are in a mind-block of what I was doing 25 years ago," Campbell told the Tackling Racism special on Sky Sports News.
"Maybe they will say, 'Sol is inexperienced' but I've had a few friends who have come in and I don't hear inexperience when they do the article.
"I see 'he does this, he's won X. Y, Z. He's scored goals, saved goals', or whatever.
"There's nowhere in the line about inexperience. It's about how they report it and maybe there's something in their head.
"They're not deliberately doing it but they are, in a way."
Campbell has had to start at the bottom with Macclesfield, while other former players have been given the opportunity to begin their management careers higher up the league pyramid.
He feels this highlights how hard players from BAME backgrounds have to work to be given the opportunity by clubs to succeed in management roles.
"If you took my colour out and took my name out, and gave them a piece of paper and said what this guy's done and said 'would you like an interview', of course they would say yes," he added.
"Lack of experience [is a factor], I get that. But when you look at some of the other guys who have started with their careers in management, they all started with no experience. You have got to start somewhere.
"Guys have had jobs from nothing, big jobs as well. Whether they succeed or fail, they have still been offered jobs or an interview.
"You could be missing out on one of the best managers or coaches ever to talk to because you don't know how the domino effect will all link up.
"They are shutting off talent. That person could surprise you with their interview and you could look at that person in a totally different way."
Campbell also feels the composition of club boardrooms should change to become more diverse, something he feels would help "new ideas come to the table".
"The guy who's going to say, 'yes, I'm going to give you the job', is being surrounded by other people, it's not only him," he said.
"For me, it's like a culture within the boardroom. That has to be open, transparent.
"If you have got diversity on your board, then you are going to have new ideas come to the table. That has to improve."
Hear more from Sol Campbell in Tackling Racism: The Media.
Dion Dublin is part of a panel of guests which includes John Amaechi, Vaishali Bhardwaj, Paul McCarthy and Neil Ashton. Watch on Sky Sports News, or On Demand.