Mario Balotelli kicks ball towards fans after racist abuse
Balotelli had to be calmed down by team-mates and opposition players and convinced to stay on the pitch; Verona boss Ivan Juric says "there was nothing today, no racist boos"
By Tommaso Fiore
Last Updated: 04/11/19 5:57pm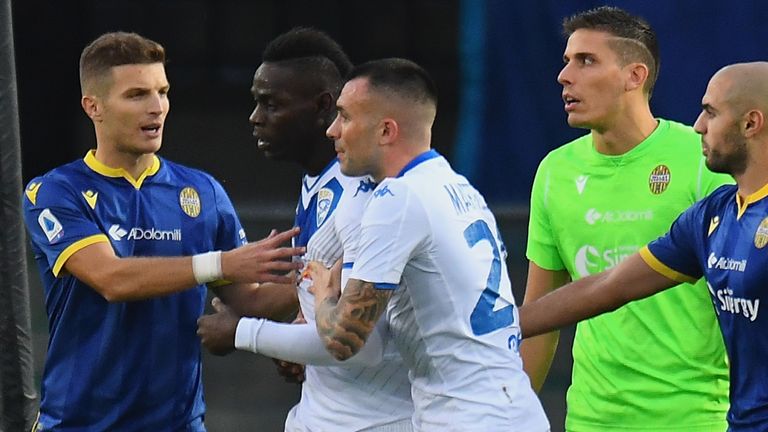 Mario Balotelli kicked the ball towards opposition fans who targeted him with racist abuse during Brescia's Serie A game at Verona on Sunday.
The former Liverpool and Manchester City striker had to be calmed down by team-mates and opposition players and convinced to stay on the pitch as he tried to storm off during the second half of the game at the Stadio Marc'Antonio Bentegodi.
Referee Maurizio Mariani halted play in the 54th minute and a statement was read out on the PA system threatening a suspension of the game if the chants did not stop.
Mariani also issued Balotelli with a yellow card for his reaction, although he later rescinded the sanction seeing the mood inside the stadium.
The striker went on to score for Brescia, but his 85th-minute goal proved to be a consolation for the visitors as Verona held on to claim a 2-1 win.
"Thank you to every colleague, on the pitch and out, for the solidarity towards me and for all the messages received from you fans," said Balotelli in an Instagram post on Sunday night.
"A heartfelt thank you. You proved to be real men, not like who denied the obvious. #notoracism"
Balotelli's agent Mino Raiola also tweeted to condemn the abuse from Verona supporters, stating: "We are with Mario, we are against all forms of racism, ignorant racists."
Verona manager Ivan Juric denied witnessing any racist behaviour, saying he merely heard his supporters giving Balotelli some stick.
"I'm not afraid to say it, there was nothing today, no racist boos," Juric told Sky in Italy after the game. "There were a lot of whistles and a lot of stick towards a great player, but today there was absolutely nothing racist.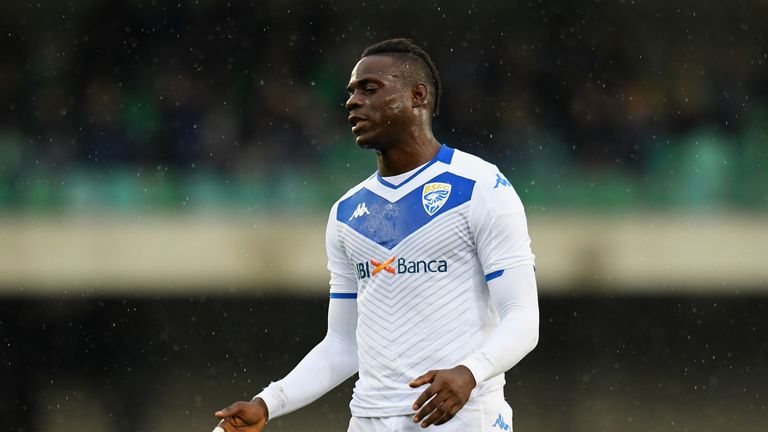 "I've often been called a 'gypsy', the whole country is going towards this direction, but there was nothing today. Why did Balotelli react like that? You'll need to ask him, I've only heard stick but nothing more.
"I am disgusted by racist chants and I am the first to condemn them, but I've only heard stick today. Let's not talk about racism because it's a lie, let's not create a case when there is none."
Verona fans were also accused of targeting AC Milan midfielder Franck Kessie with racist chants earlier this season, something that the club has vehemently denied since.
"The boos to Kessie? Maybe someone was left dazed by the volume of the Verona fans," the club tweeted after the game in September.
"What did we hear? Inevitable boos for refereeing decisions that left us very perplexed once again, and then a big applause to our 'gladiators' at the end of the game.
"Let's not fall for these stereotypes. Respect for Verona and its people."
Italian FA president Gabriele Gravina stated in October that Serie A is planning to start using VAR technology to identify perpetrators of racist chants in stadiums across the country.