Ralf Rangnick says he "could not have possibly turned down" the chance to become the interim manager at Manchester United and he is open to staying on in the role beyond the end of the season.
Rangnick has begun his role as Manchester United's new interim manager for the remainder of the campaign after his work permit and necessary paperwork were approved.
He will meet the players ahead of a training session on Friday afternoon as they undergo preparations for Sunday's game at home against Crystal Palace.
The 63-year-old watched on at Old Trafford on Thursday night as a Bruno Fernandes goal and a double from Cristiano Ronaldo saw off Arsenal in a 3-2 win. United's second win in three games constituted an upturn in form under departed caretaker boss Michael Carrick, following the poor run which culminated in the sacking of Ole Gunnar Solskjaer.
In his first press conference as United boss ahead of his maiden game in charge, Rangnick outlined his short and long-term objectives at the club, with his initial priorities being to address their defensive record and close the gap on Chelsea, Liverpool and Manchester City in the table.
The German wants to create a more balanced squad to help United compete with their Premier League rivals.
Rangnick said: "We are talking about six and a half months, so we only have had one third of all the games played, and we have agreed on a two-year advisory role after those six and a half months. If a club like Manchester United contacts you for such a role, you cannot possibly turn it down.
"It is one of the biggest clubs, if not the biggest club in the world. It is a big challenge, but I am more than happy to work with this group of players.
"I mean obviously I have watched the latest games, I also watched, out of interest, the games against Liverpool and Manchester City, so I am pretty well acquainted with what is going on at the club.
"The major target for me is just to bring more balance to the team. We conceded two goals yesterday and if you look at the total number of goals conceded, it is on average of two a game.
"That is just too much. Those are not the kind of games you need every day. In football to me, it's to minimise the coincidence factor.
"It's about winning games and, in the end, I'm very ambitious. We want to make the most successful season that is possible. Right now, we have to be realistic. The difference between us and the top three is big. But let's see."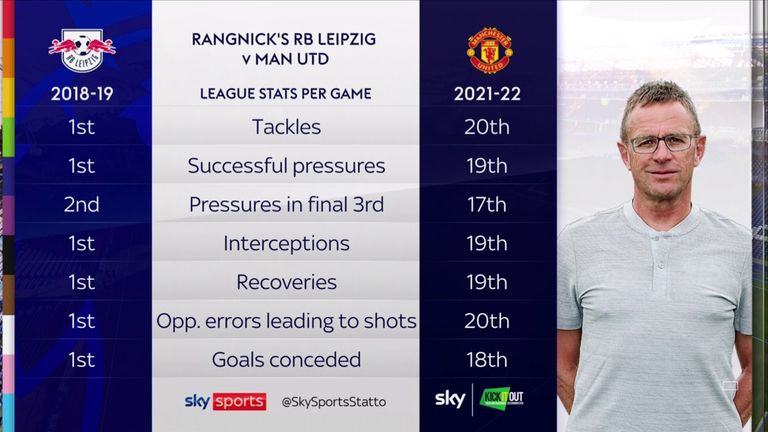 'We haven't spoken about the summer yet'
After his time as interim manager comes to an end in June, former Schalke, RB Leipzig and Hoffenheim boss Rangnick will continue working at Old Trafford for at least another two years in a consultancy role.
But the highly-rated German tactician has not ruled out the possibility of staying on as manager beyond the end of the 2021/22 campaign.
He said: "I mean, the people with whom I have spoken so far have been very clear that we're talking about a six-and-a-half-month role as a manager currently.
"We have never spoken about what will happen in the summer. Right now I'm fully aware they might be looking for a new manager.
"Maybe if they ask my opinion and everything goes well and we develop the team, I might even make the same recommendation to the board that I did at Leipzig twice, when I recommended it might be a good idea to keep working with me for one year.
"But this is all hypothetical. We cannot speak about that. For me now, it's about winning the next games and this is the major focus."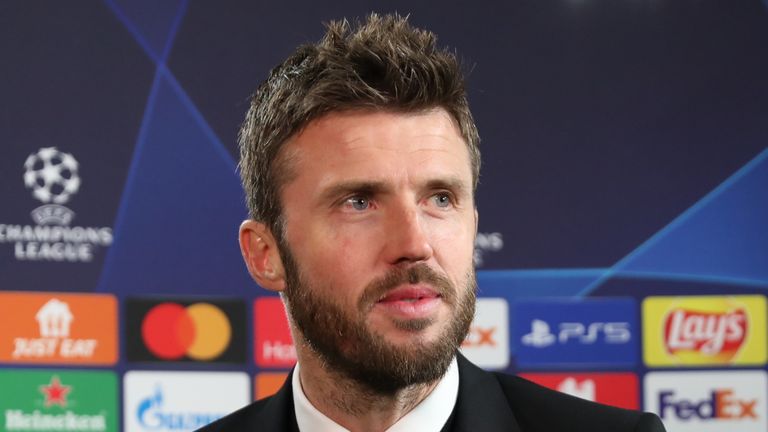 'I tried to convince Carrick to stay'
Carrick announced he was departing United following the conclusion of his caretaker spell in charge during which he helped lift the mood at Old Trafford with a 2-0 win over Villarreal to qualify for the Champions League knockout stages, a 1-1 draw with Premier League leaders Chelsea, and Thursday's win over Arsenal.
Rangnick revealed he spoke with the former United midfielder at length about the prospect of remaining at the club, but Carrick's mind was already made up.
Criticism has been levelled at the United coaching staff after Solskjaer oversaw five defeats in seven games prior to his dismissal. Rangnick wants to make some additions to his backroom team while also benefitting from the knowledge at the disposal of current coaches.
He added: "I had a conversation with Michael for more than an hour and tried to convince him [to stay], but he needed a break and I understand his decision.
"I am more than happy to work with the current staff because I need their expertise on the current squad. I will try and find one, two, maybe three people to help us. But due to Brexit, it's not that easy.
"Many of my former colleagues are in long-term contracts with other clubs so we have to be smart."
'It's about developing the team, not just Ronaldo'
Cristiano Ronaldo scored his 800th career goal as he found the net twice, with a low 52nd-minute strike and a penalty against Arsenal, continuing his impressive form since returning to the club in the summer.
While Rangnick spoke of working on United's defensive solidity, the German also had high praise for Ronaldo's fitness levels and ability to have an influence on Premier League games given his age.
Rangnick said: "You always have to adapt your style and way of playing to the players you have available, not vice versa, and having seen Cristiano yesterday in the second half at the age of 36, amazing, a top professional.
"At his age, I have never seen a player who is still that physically fit, and he is a player who can still easily make the difference.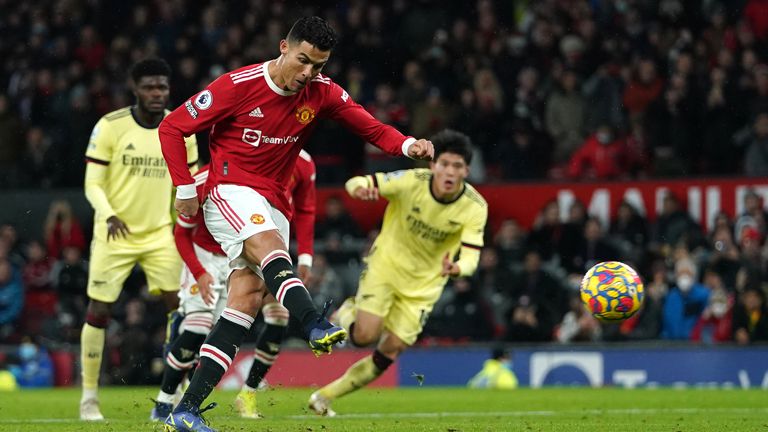 "It's about how can we develop the whole team, not only Cristiano. We play in the most competitive league in the world so we need to get these players on board.
"What I saw from Cristiano yesterday, he is more than willing to do that and put his input into the team and his team-mates will have to do the same."
'Haaland transfer talk is nonsense'
With less than a month to go until the January transfer window opens, Rangnick indicated he has not yet been involved in any discussions with the club's hierarchy around potential targets, and insists he is happy with the size of United's squad.
Borussia Dortmund forward Erling Haaland has regularly been linked with a move to Old Trafford and his £68m release clause becomes active next year.
Rangnick, who was involved in the process of signing Haaland for Red Bull Salzburg from Norwegian club Molde in 2019, was quick to dismiss any speculation.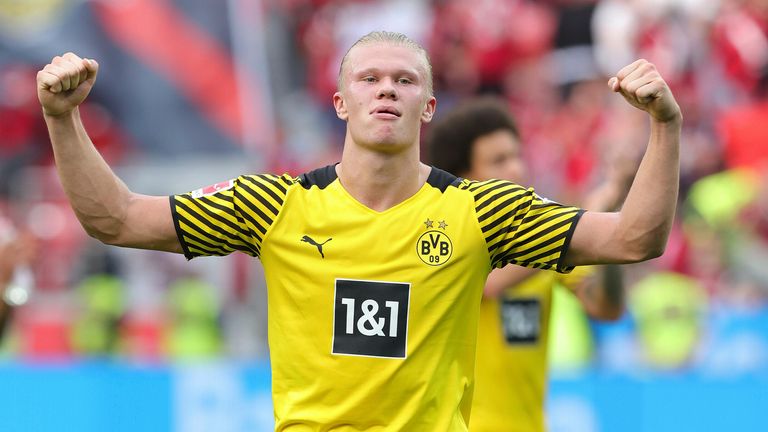 He said: "We haven't spoken about new players. Now is the time to get to know the current squad in detail, the squad is definitely not too small. There is enough players.
"Maybe after Christmas, there will be a time to talk about possible transfers in the winter. In my experience, winter is not the time for sustainable transfers. It will be difficult in the winter."
"This is nonsense obviously. There is no such clause in my contract. It doesn't make sense to speculate over any new players.
"Erling Haaland is a fantastic striker. I know best myself because I was together with the people at RB Salzburg at the time.
"I was also a little bit involved with the move [Haaland's] from Molde to Salzburg, therefore I know what kind of player he is, but in the meantime, the whole world has realised how good the player is. Two years ago, it was only a few people who believed.
"I'm more than happy. The offensive players we have here, we have so many top players in the offensive department that we don't need to speak about any other players."
The story of how the Manchester United-bound Ralf Rangnick helped to revolutionise German football and inspire Jurgen Klopp, Thomas Tuchel and others.
Follow every Man Utd game in the Premier League this season with our live blogs on the Sky Sports website and app, and watch match highlights for free shortly after full-time.
Want the Man Utd latest? Bookmark our Man Utd news page, check out Man Utd's fixtures and Man Utd's latest results, watch Man Utd goals and video, keep track of the Premier League table and see which Man Utd games are coming up live on Sky Sports.
Get all this and more - including notifications sent straight to your phone - by downloading the Sky Sports Scores app and setting Man Utd as your favourite team.
Hear the best Premier League reaction and expert analysis with the Essential Football and Gary Neville podcasts, keep up-to-date with our dedicated Transfer Centre, follow the Sky Sports social accounts on Twitter, Instagram and YouTube, and find out how to get Sky Sports.