Roger Schmidt had to be persuaded. The German was committed to the pressing game of Ralf Rangnick, his director of football at Red Bull Salzburg, but he preferred to use a 4-2-3-1 formation. It was only after discussions with Rangnick that he switched to 4-2-2-2.
Salzburg went on to win the double.
Rangnick's reasoning was simple. Jonathan Soriano, the team's striker, was capable of scoring 30 league goals in Austria - as he did in that 2013/14 season. But Schmidt also had the Brazilian forward Alan sat on the bench. He too was a proven goalscorer. He had to play.
The two combined to score 84 goals in all competitions that season.
The wide forwards at Salzburg were Sadio Mane and Kevin Kampl but in order to stay compact they would come inside to operate in what Rangnick called the red zone. According to him, this 4-2-2-2 had never been seen before in Austria, or indeed his native Germany.
It is rather more familiar now. Ralph Hasenhuttl, a disciple of Rangnick having had him as his director of football at RB Leipzig, has since introduced the system to the Premier League with Southampton. Now Rangnick has opted to bring it to Manchester United.
It worked well in the 1-0 win against Crystal Palace as United delivered perhaps their most convincing performance at Old Trafford since the opening weekend. Expect to see it against Norwich on Saturday too. Cast as a zealot, Rangnick views it as pragmatism.
"The formation has to fit to the players," he explained.
Some were surprised that included Cristiano Ronaldo. Rangnick, with his fondness for young players, had previously indicated that he would never sign a player like him. The suggestion was that Ronaldo's unwillingness to press represented an ideological impasse.
But just as everyone has a plan until they are punched in the mouth, everyone has their principles until they are presented with 801 reasons to reassess them. In truth, Rangnick is not abandoning those principles. Ronaldo met the challenge against Palace.
"Having seen Cristiano yesterday in the second half at the age of 36, an amazing top professional," acknowledged Rangnick. "At his age, I've never seen a player who is still that physically fit. He is still a player who can easily make the difference."
The idea that Ronaldo, with 12 goals already this season, could possibly be seen as the source of Manchester United's problems always seemed overly simplistic. But his presence in the team did present a puzzle that needed to be solved.
"For me, the question was how do we get pressure on the ball?"
Not expecting the 36-year-old forward to chase the ball on his own was a start. Asked to lead the press alone, Ronaldo had no chance. He has partnered Edinson Cavani just once - in a 3-0 win at Tottenham. Having Marcus Rashford for company helped against Palace.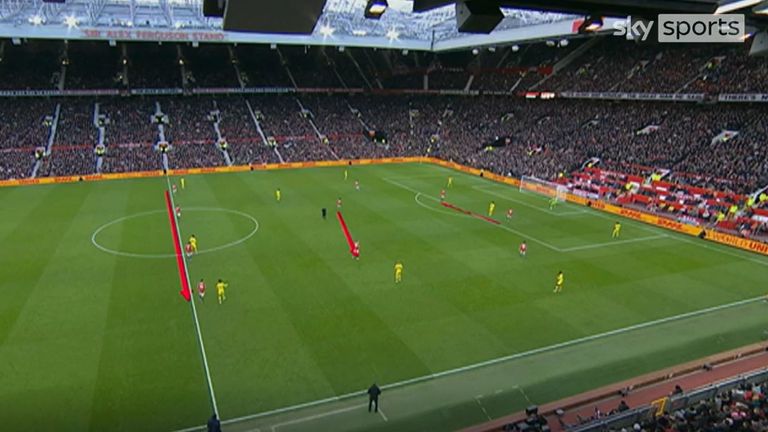 "Cristiano was not alone up front. With Marcus, they could stay close together against the ball, trigger the pressure situations." United won the ball back 12 times in the final third. Only Hasenhuttl's Southampton and Jurgen Klopp's Liverpool can beat that.
With the front two closer and midfielders Scott McTominay and Fred doing the same, United looked more compact. "It is tough against any team that tries to play through," said Hasenhuttl of his own 4-2-2-2 after Saints' clean sheet at Manchester City.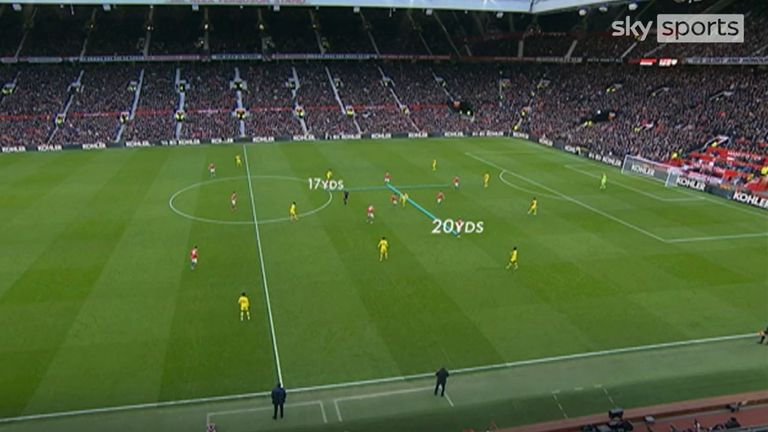 Southampton did not score in that particular game themselves. It took United until the final quarter of an hour before they could find the breakthrough against Palace. One concern might be that in striving to tighten up defensively, attacking expression will be lost.
Much will depend on how well the two attacking midfielders adapt to the new shape - the roles occupied by Bruno Fernandes and Jadon Sancho against Palace. "Bruno and Jadon, this is the most demanding, the most sophisticated position in this 4-2-2-2."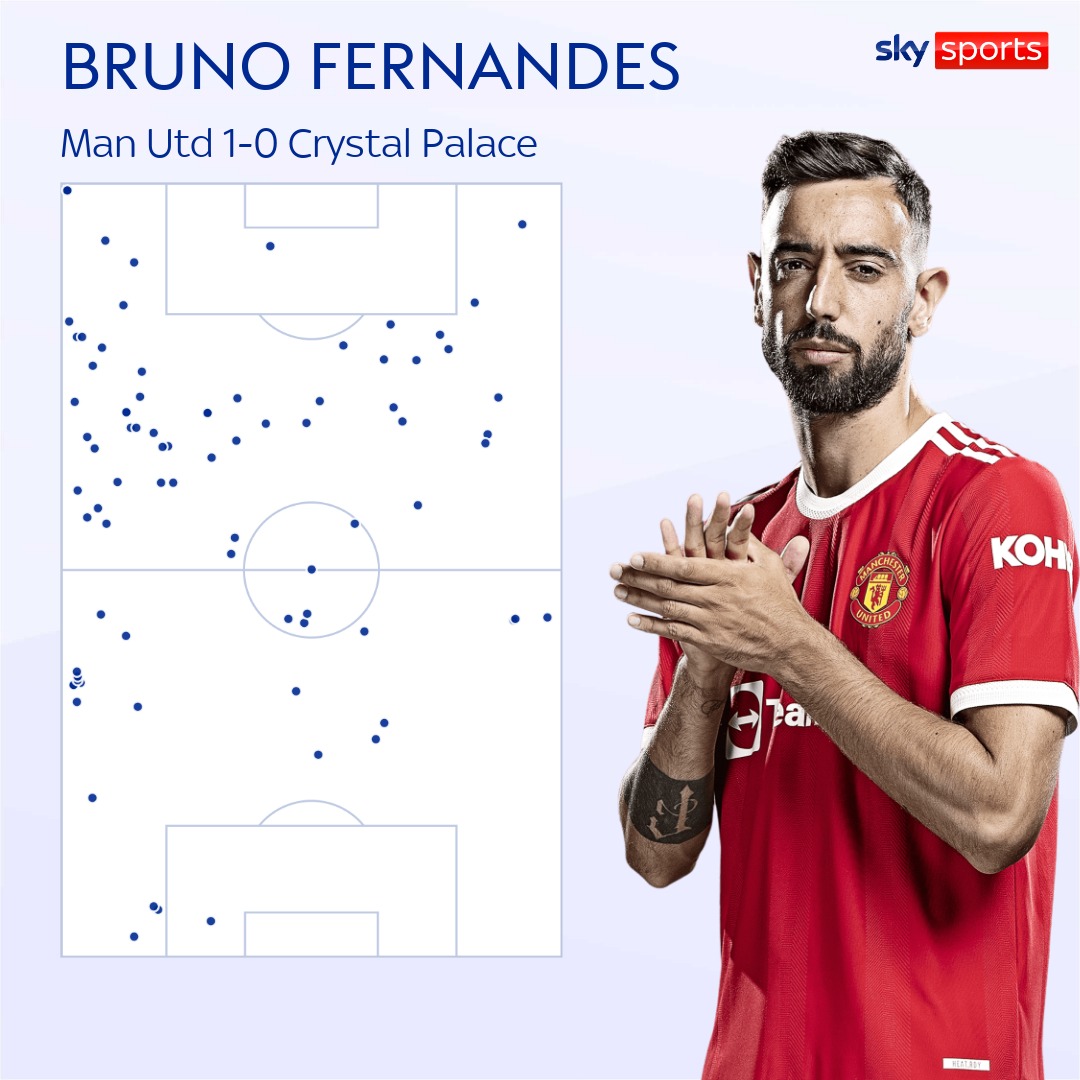 Rangnick wanted to get every player in their "best possible position" but here it was less obvious. Sancho is more of a winger, coming from out to in. Fernandes was a revelation in his first 18 months at United when playing with freedom in a playmaking role.
This is likely to require more thought.
Mane regards his time working with Schmidt at Salzburg as an education. "I learned about tactics and a different way to play the game." That education is going to need to happen quickly for Fernandes and Sancho if they are to make the formation work.
Against Palace, Rangnick was more encouraged by their defending.
"They could have produced more chances but what they did against the ball was good. For them, it was a little bit new. Not that new, because it is not that much of a difference if Jadon plays a little bit further inside or outside, but defensively they both did well."
It will also be intriguing to see who will be preferred in the full-back positions. It was only a little over a year ago that Rangnick told Sky Sports that United needed a better option than Luke Shaw there. Against Palace, Aaron Wan-Bissaka was dropped to the bench.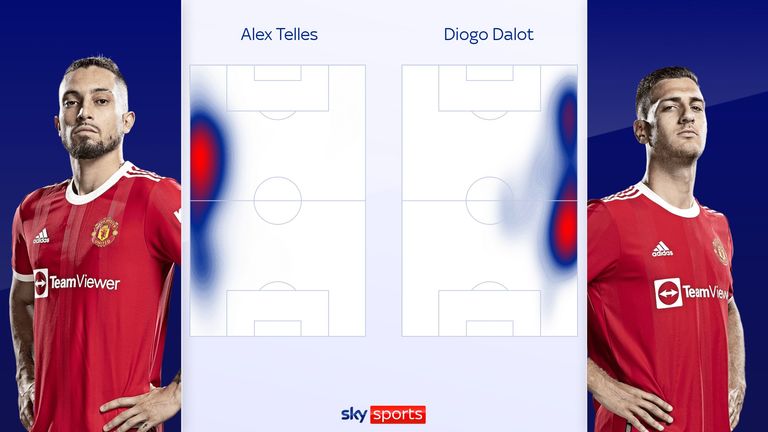 Alex Telles and Diogo Dalot produced promising performances in a system that plays to their strengths as attack-minded full-backs. Telles, in particular, was encouraged to operate in the opposition half, as both exploited the zones that were vacated ahead of them.
"We had enough space with Jadon and Bruno in those 10 positions for our full-backs to always play and play forward and ask for the ball on the wing. They both played almost like wing-backs, especially in the first half. Diogo and Alex both did extremely well offensively."


Rangnick must build on the win over Palace away to Norwich to convince anyone that he has found a long-term solution. But what is fascinating is that the clarity of the idea is apparent already. Everyone understands what he is trying to do. There is a logic to it.
It is a logic based on two fundamental points: he has to have pressure on the ball and he has to have his best goalscorer in the team. A lesson that he and Schmidt learned in Salzburg almost a decade ago could be the key to rejuvenating Manchester United in 2022.