Nemanja Vidic to stay as Manchester United captain for the rest of the season
Manchester United manager David Moyes confirms that Inter Milan bound Nemanja Vidic will stay as captain.
Last Updated: 07/03/14 9:05pm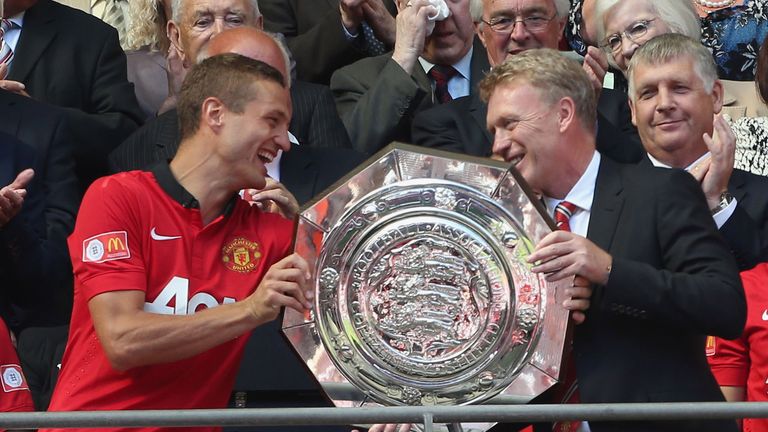 Vidic announced he will be leaving Old Trafford after more than eight years and Inter confirmed the defender has signed a pre-contract agreement with them and will move to Italy in the summer.
Moyes says Vidic's move will not affect the captaincy but said he is now keen to see what younger defenders Phil Jones, Chris Smalling and Jonny Evans can do in the final weeks of the season.
He said: "It doesn't change but we've got a few more games to go before the end of the season and I've got some young centre-halves I want to see.
"I want them to show me what they're capable of and I'll be looking to introduce them in the last month or two."
Moyes has also defended Tom Cleverley after an online petition was launched calling for the midfielder to be excluded from England's World Cup squad.
"Tom Cleverley is a fantastic young player who's developing all the time," he said.
"He is a great trainer. He is first out and every day he does his best in training.
"He always gives his best and that is why he will succeed."
The under-fire United boss thanked fans for their loyalty in what he admits has been a difficult first season for him at Old Trafford.
Since succeeding Sir Alex Ferguson at the club Moyes has won just 13 of his 27 Premier League games leaving the current champions languishing seventh in table.
Moyes said: "The club is built on a fantastic fan base throughout the world not just here in Manchester, Manchester United is supported everywhere. I saw that when I went on tour and more importantly I'm seeing it a lot at Old Trafford with great support.
"I think the supporters understand the difficult period we are in and they are backing the players, they really are.
"I really believe the players are working hard for each other - they know they can play better and will play better."
He added: "If you are a football supporter you understand what loyalty is - if you are someone who follows a club passionately then you follow them whether it is doing badly or whether it is doing well.
"It takes stronger supporters to support your club when it is not doing well, sometimes it is a bit easier when we are winning, at the moment the Manchester United supporters realise there is some changes being made and they understand their time will come again."