World Cup: Lukas Podolski backs Mesut Ozil to shine for Arsenal and Germany
Last Updated: 17/06/14 12:00pm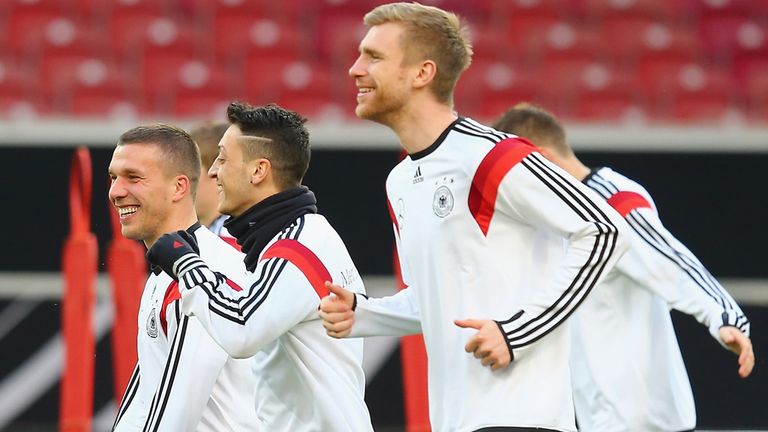 Germany forward Lukas Podolski has leapt to the defence of Arsenal team-mate Mesut Ozil, saying his best years are yet to come.
Ozil came in for criticism towards the end of last season, with his form dipping for Arsenal while he slowly appears to be losing his darling status in the Germany national team.
Coach Joachim Low has already backed the 25-year-old midfielder to produce the goods "like he always has done" for Germany in Brazil, and Podolski has no doubts about Ozil's worth for club and country either.
"Mesut is a world-class player," Podolski said at a press conference on Sunday. "Mesut has the quality and he's going to give us a lot of pleasure.
"He is going to produce the goods in the months and years to come and people have just got to accept him the way he is.
"Just let the lad play football."
Ozil is more of a candidate than Podolski is for a place in the Germany side which face Portugal in their World Cup opener on Monday.
However, Podolski could still benefit from the injury-enforced withdrawal of Marco Reus to take his place in Low's starting XI.
"Everybody has got to be on their toes and ready," Podolski said. "I'm preparing myself as if I will be playing, and if I don't, then at least I would still be ready."
Ready for what Podolski, like Low, expects to be a true test of Germany's mettle.
The nation ranked second in the world faces the one ranked fourth with Low declaring it a "50/50" clash, but Podolski had a touch more optimism.
"Of course they have Cristiano Ronaldo, who is capable of deciding any game, but if we play the way we can, then we will leave the field triumphant," he said.
"If we don't, then we've just got to hope that we manage to keep Ronaldo under control, or that he doesn't have a good day.
"My aim is to get my hands on the trophy in the end. I don't come to play for Germany just for the fun of it, and if anybody were to do that, then they would be better off just staying at home."