Ukrainian side Shakhtar Donetsk will be based in Kiev and play their home games in the western city of Lviv this coming season, due to the ongoing troubles in the region.
After Shakhtar's 2-0 Supercup Final victory over Dynamo Kiev in Lviv on Tuesday, manager Mircea Lucescu revealed the 35,000-capacity Arena Lviv - some 600 miles from Donetsk - would become a temporary home for the club until the situation in eastern Ukraine stabilised.
"We will play all of our home games at the Arena Lviv," Lucescu said after the match. "We got the okay to play in this city.
"We will train and reside in Kiev, and Arena Lviv will be our home arena. The team liked the city and the atmosphere here was great."
Asked when the club would return to the Donbass Arena, Shakhtar's home since 2009, he said: "We do not know yet."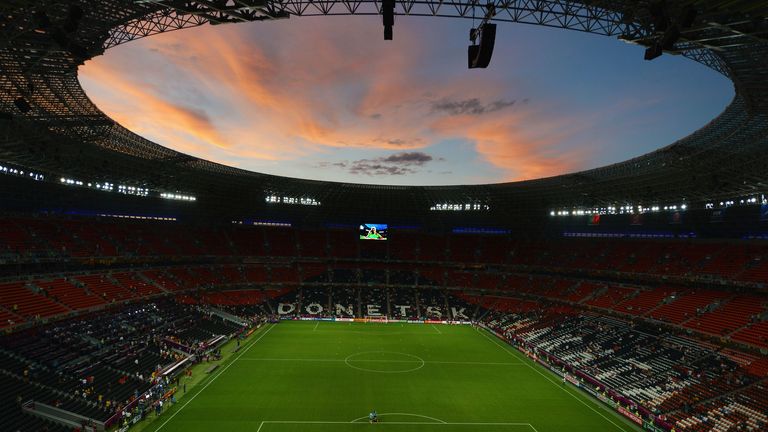 Donetsk is currently controlled by pro-Russian rebels, with the Ukrainian army attempting to regain control of the war-torn city.
The situation has already led to a number of Shakhtar players refusing to return to the country for the start of the season.
Alex Teixeira, Fred, Dentinho, Douglas Costa, Facundo Ferreyra and Ismaily decided against flying back to Ukraine following Saturday's friendly against Lyon in France because of concerns over the conflict.
The club contend that the players are simply trying to use the situation to press for a move elsewhere, with owner Rinat Akhmetov threatening sanctions against the players concerned.
However, Douglas Costa took to Instagram to deny the claim. "I like the club, the people, the city, but I'm afraid." he said. "We want to stay at the club, but we must have risk-free working conditions."
Shakhtar have won the Ukrainian Premier League for the past five seasons and will again compete in the UEFA Champions League group stage in the 2014/15 campaign.