Luis Figo's FIFA manifesto: Technology, offside, sin bins and World Cup expansion
Last Updated: 19/02/15 5:30pm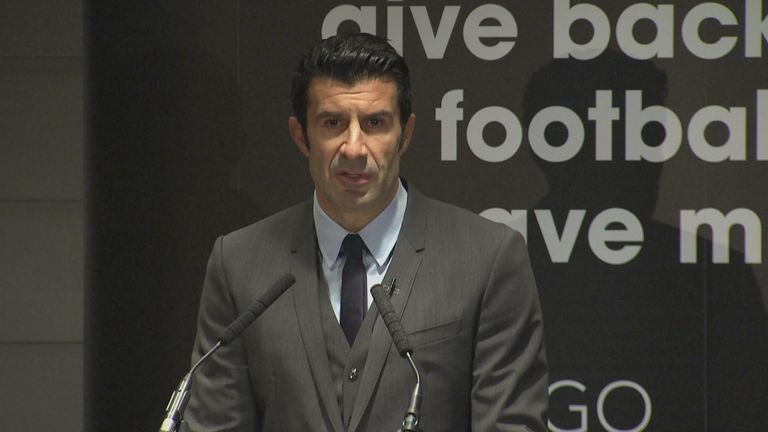 Luis Figo says he will consider expanding the World Cup and restore the old offside rule if he wins FIFA's presidential election.
The former Ballon d'Or winner released his manifesto at a Wembley press conference as he prepares to challenge Prince Ali Bin Al Hussein, Michael van Praag and incumbent Sepp Blatter for world football's top job.
Among the Portugal great's eye-catching proposals was a promise to redistribute a chunk of FIFA's cash reserves and another to hold a "real and structured" debate on the possibility of introducing new technology to help match officials.
And the future of FIFA's showpiece tournament is also up for discussion with the proposal of three different World Cup structures: the current 32-team format, a 40-team tournament and a 48-team finals split into two mini-tournaments and a final knockout stage.
The additional teams, according to the proposals, would come from non-European associations.
Figo is a supporter of the goal-line technology already in place and will consider further use of replays and the introduction of sin bins for players guilty of "unsporting behaviour towards referees".
Also included was a commitment to stop the 'triple punishment' of penalty, red card and suspension for any player committing a professional foul in the box, and another to restore the 'old' offside rule "where a player is judged offside whether directly involved in the play or not". 
The 42-year-old has the support of Jose Mourinho and David Beckham ahead of the May ballot and has vowed to restore FIFA's "credibility" in the wake of years of corruption allegations and the fallout from the decision to award Qatar the 2022 World Cup.
He told Sky Sports News HQ: "We've seen recently the image of FIFA being degraded. After talking to so many keepers in the world of football - coaches, players, presidents of associations - the idea is something has to be done. All the process around corruption and transparency - that makes me take the step and try to change something."
Asked if he had genuine hopes of toppling Blatter who is seeking a fifth term, he said: "If I wasn't confident I wouldn't have taken that step. But in the end the open debate will be good for football and the future of the organisation, and that is what I care about."
Hit the video link to see Sky Sports News HQ's extended interview with Luis Figo.