Sky Sports and Whistle Sports have announced the launch of a new social media channel dedicated to creating original football content for young fans around the world.
Using Sky's popular Soccer AM brand, it launched on Friday and will be available to watch on multiple platforms, with its own YouTube channel and a presence on Facebook, Instagram, Snapchat, Twitter and Vine.
The content produced will feature new faces such as England Women's footballer Alex Scott as well as bringing together existing Sky Sports on-screen talent Adam Smith, from Soccer AM, and Laura Woods. There will be original programming, entertaining videos and posts covering football topics such as gaming, fantasy football, stats and skills.
It is the first collaboration since Sky's $7m investment in Whistle Sports in October 2014. Since then the two companies have been working together on creating exciting new content, aimed at 'young millennials'.   
David Gibbs, director of digital media at Sky Sports, said: "Whistle Sports has led the way in producing entertaining digital sports content in the US for some time now with hugely engaged audiences. The new Soccer AM channel on social media is going to do something very different to what football supporters are used to from Sky Sports.
"We will produce new types of content, with new presenters for new audiences. By combining our expertise and talent, we hope to produce something that will really excite young football fans."
Whistle Sports CEO John West said: "Young millennial sports fans increasingly use social media to drive their engagement with live sports. Our community of compelling creators have grown to serve that need and engage a growing generation of global sports fans," pointing out that Whistle Sports recently broke an aggregate 100m global fans and followers across social platforms.
"Sky make a perfect partner for our international expansion due to their commitment to innovation. This new brand, new content and new approach around the world's most popular sport is a great new offering."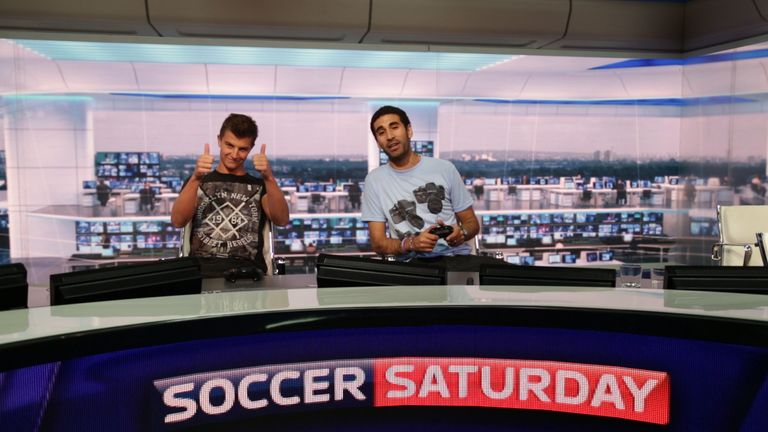 The Soccer AM channel on social media will feature a number of original content strands including event weeks, with quarterly programming focused on specific themes, as well as new regular shows. On a Monday morning it will take a fun look at the quirky stories from the weekend's football, and the Friday evening show will use data and stats to debate the key upcoming games.
The launch will see the first event week focused on the release of FIFA 16, bringing together some of the biggest names in vlogging to look at the characters that surround the game, its evolution and role in sports gaming,
Sky Sports is Europe's leading multi-platform sports broadcaster and Whistle Sports is the world's largest sport-focused cross-platform network. The partnership brings together Sky's expertise in producing award-winning, high-quality sports output including football, rugby and cricket with Whistle Sports' proven capability in combining youth-orientated celebrities, innovative programming ideas and formats to make sport more accessible for younger audiences. 
Whistle Sports has an expansive library of videos covering a wide variety of sports, featuring stars such as Ultimate Frisbee champion Brodie Smith, Dude Perfect and NBA player Jeremy Lin. It also works with sports leagues and franchises such as the NFL, PGA Tour, NASCAR and Major League Baseball Advanced Media to help them engage with younger sports fans.  
The partnership with Whistle Sports is part of Sky's ongoing programme of investing in innovative startups that help Sky bring new ideas, insight and services into its business.  This follows recent investments in Pluto.TV, the online video aggregator and the US ad tech firm Sharethrough.  Sky has previously invested in a number of other pioneering US technology companies, including the IP streaming service provider Roku, the immersive 360 video specialists Jaunt and OTT video delivery firm 1 Mainstream.
If you liked this video subscribe to the new Soccer AM You Tube channel.