Robert Lewandowski: Is the Poland striker the best in the world?
By Martin Laurence, WhoScored.com
Last Updated: 08/10/15 7:52am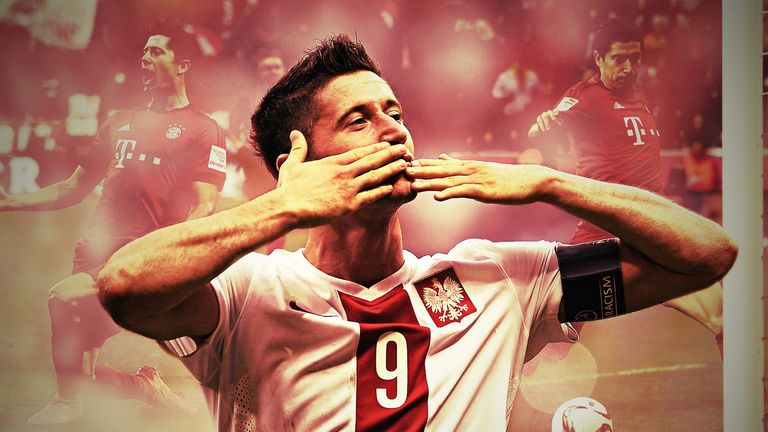 WhoScored check the stats to work out whether Robert Lewandowski is the best in the business...
The debate as to the best player in the world is generally a two-horse race. Messi and Ronaldo fans will argue until the cows come home as to which player is greater, but while both are forwards, neither really fall under the category of an out-and-out striker.
The question as to the world's best in that regard is far less straightforward, or at least has been in recent years. Among those tipped as the top striker in football since the turn of the century have been the likes of Fernando Torres and Radamel Falcao, whose struggles since gaining such adulation have been well documented.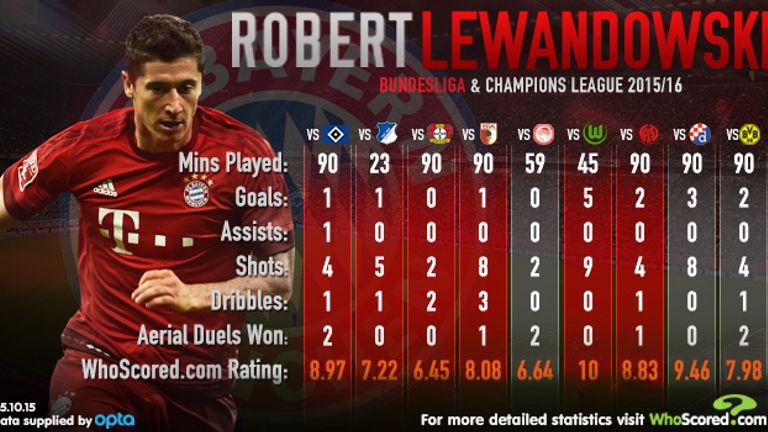 More recently names such as Zlatan Ibrahimovic, Sergio Aguero, Luis Suarez, Karim Benzema and Edinson Cavani have been uttered when debating football's top No 9, though one player may just be distancing himself from the pack at present. The recent sparkling run of Robert Lewandowski has rightly been lauded, and the Bayern forward enters the international break with Poland in the form of his life, with WhoScored.com analysing whether he should now be considered the best striker in world football.
It seems a tough argument to make on a weekend when arguably his closest challenger at present - Sergio Aguero - netted five times at the weekend, but anything the Argentine could do in 20 minutes against lowly Newcastle Lewandowski could do in nine against Bundesliga runners-up Wolfsburg.
It was that performance - which understandably earned Lewandowski a perfect man of the match rating of 10 from WhoScored despite the fact he was only introduced at half-time - that sparked this remarkable run from the 27-year old. However, to suggest that his current purple patch is a flash in the pan is - unlike the Pole's finishing - wide of the mark.
In 11 competitive appearances for club and country since the start of the 2015/16 season in Germany, Lewandowski has scored 18 goals. His tally of 12 in the Bundesliga is two clear of any other player in Europe's top-five leagues, despite the fact that of the 12 players to score more than five times this season only Karim Benzema has played fewer minutes than the Bayern man (518).
His current strike rate has seen him net marginally over once a half in Germany's top-flight on average this season. Whilst that is, of course, unsustainable, the Polish international shows no sign of letting up anytime soon in Pep Guardiola's current set-up.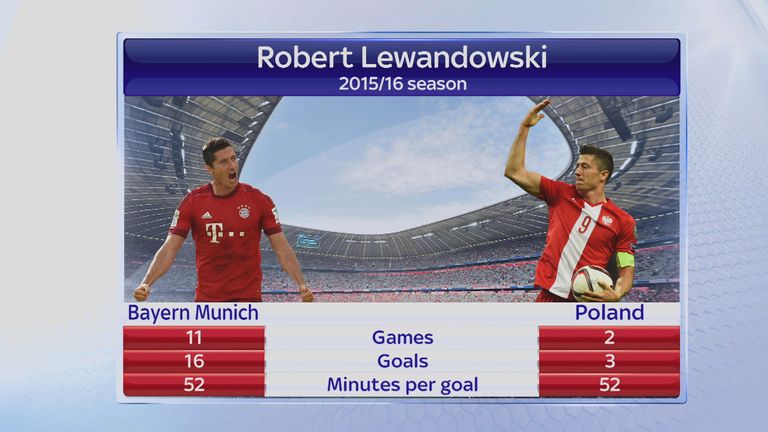 Due to ongoing injury woes for the likes of Arjen Robben and Franck Ribery, the Bayern boss has been forced into a tactical rethink, and it's one that without question is paying dividends for his star striker. The summer signings of Douglas Costa and Kingsley Coman have offered the side more natural width, with the 'Robbery' partnership often preferring to cut inside and chance their arm themselves. Costa in particular has flourished and his unselfish wing play has heralded five assists as Bayern attempt to get more deliveries into their fearsome front man.
Meanwhile, with 10 goals in Euro 2016 qualifying heading into Poland's crucial double-header against Ireland and Scotland, Lewandowski is the top scorer in the campaign despite playing in the fabled 'group of death' alongside Germany. He was recently named as WhoScored.com's top rated player for the month of September in their free monthly round-up magazine, and unsurprisingly so with a score of 8.99.
On current form both for club and country then, there can be little debate that the former Dortmund forward is the best in his position at present, but how do his stats compare over a larger sample size?
Given that last season, his first at the Allianz, was the first in four years that he failed to score 20 league goals - managing a far from irrelevant 17 - his current performances are certainly no fluke. Indeed, since the beginning of the 2011/12 season, when he became a first team regular at Dortmund, only Messi, Ronaldo and Ibrahimovic have scored more goals in Europe's top five leagues than Lewandowski (95). Given that the Swede has played all but one of those seasons in what most would consider an inferior French league the Pole's return is arguably just as impressive as Ibrahimovic's 107.
Moreover, of the 10 players to score at least 70 league goals over the past five seasons Lewandowski ranks second to Messi (22.8%) in terms of conversion rate (20%) and leads the way for shot accuracy - 49.5% this time just getting the better of the Argentine (48.8%). He is undoubtedly among the most unerring finishers on the continent, and has been for some time.
When considering the true centre-forwards of Europe's elite few can match the Bayern man in terms of the variety of goals that he scores either. Of his 103 Bundesliga goals in total - the Pole recently reached a century faster than any other foreign player in Germany's top-flight - 15 have been headers while 18 have come with his weaker left foot. Meanwhile, his ability to bring the ball down under pressure in the box and agility to spin and fire off a shot at goal is perhaps unrivalled.
At 27, it is reasonable to suggest that Lewandowski is hitting his peak and his form certainly suggests as much. A WhoScored.com rating of 8.21 in the Bundesliga this season is the highest of the Polish striker's career. However, having not dropped below a score of 7.40 in either the league or Champions League in five years, Lewandowski's incredible run of form may be temporary but his class is far from it.
Download the free WhoScored.com round-up magazine for September for all the need-to-know stats from last month's action across Europe