Zlatan Ibrahimovic versus Costa, Firmino, Aguero, Sanchez and Kane
By Adam Smith
Last Updated: 24/11/16 3:35pm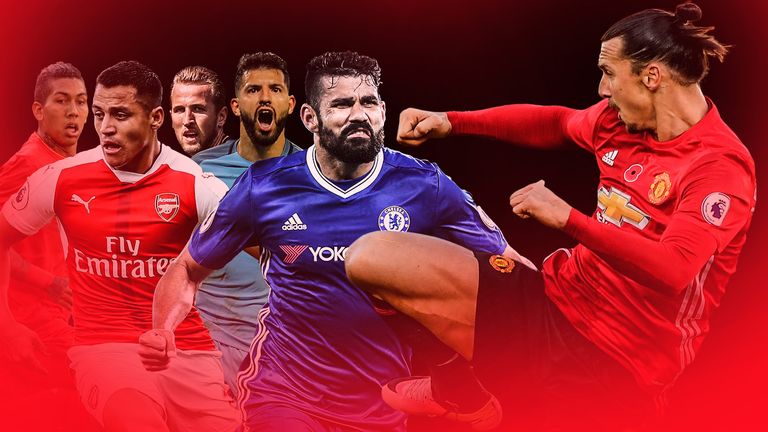 Zlatan Ibrahimovic is set to stay at Manchester United for a second season, but how does the 35-year-old compare to the Premier League's top strikers?
Jose Mourinho announced on Wednesday that United will activate an option to extend the Swede's contract for an additional year.
But could Ibra perform at the top level for another season?
We've compared his current stats against rival strikers Diego Costa, Roberto Firmino, Sergio Aguero, Alexis Sanchez and Harry Kane to find out how United's frontman fares...
GOALS
Zlatan has scored six Premier League goals this season which translates to 0.55 goals per 90 minutes, a fraction ahead of unorthodox centre forwards Sanchez (0.54) and Firmino (0.46).  
However, Aguero ranks highest with 0.87 goals, ahead of Costa (0.85) and Kane (0.77).
STRIKE ACCURACY
Ibrahimovic stands out from the elite group of strikers for his number of misses, hitting an average of 1.91 shots off target a game.
Those screwed shots also mean the Swede is bottom of the pack for shooting accuracy with 51.16 per cent, way off Costa (68.97 per cent) and Firmino (66.67 per cent).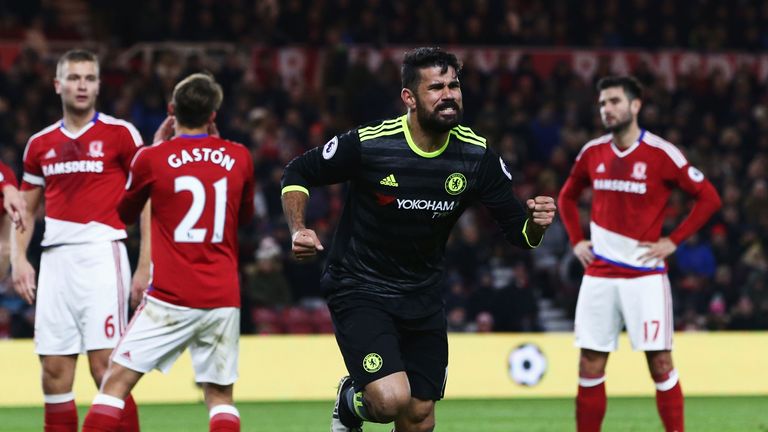 But Ibra's stats also suggest he may be more optimistic than his rivals, ranking top for shots per 90 minutes (5.36), second for shots on target (2), and top for goals from outside the box (0.18) per 90 minutes.
The Swede also provides an aerial threat, being taller than all of his rivals at 6'5" and ranking top for headed shots per game (0.82) - considerably higher than second-place Aguero on 0.43.
MISSES
But it's the big misses that count and Ibra tops the pack, missing 0.73 per game - nearly three times Costa's 0.26 per 90 minutes.
His big miss during United's 4-1 win against Leicester wasn't costly, but Zlatan has missed another six this season: two big chances during United's 2-1 defeat to rivals Manchester City, two during a 0-0 draw to Burnley, one against Liverpool (0-0 draw) and others against Stoke (1-1 draw) and Watford (1-3 defeat).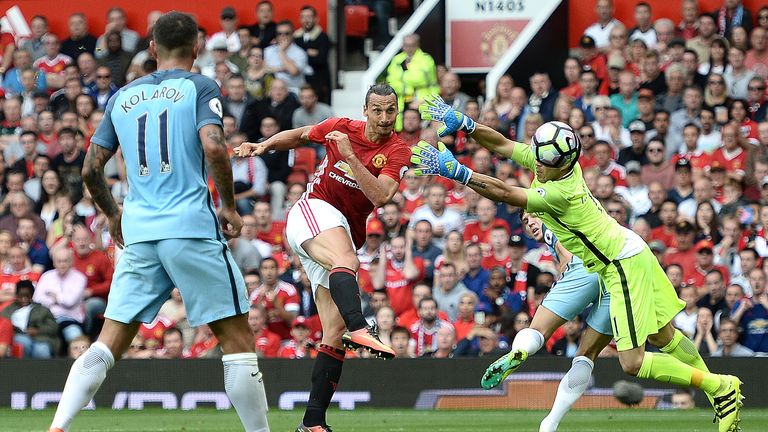 Had he converted those big misses, United would be level on points with league leaders Chelsea - behind only on goal difference.
STAMINA
Ibra is the eighth oldest outfield player to make an appearance in the Premier League this season, behind Gareth McAuley, John Terry, Peter Crouch, Gareth Barry, John O'Shea, Damien Delaney and team-mate Michael Carrick.
United's star striker is also the eldest of his five rivals, with Kane being the youngest at 23, followed by Firmino (25), Sanchez (27), Costa (28) and Aguero (28).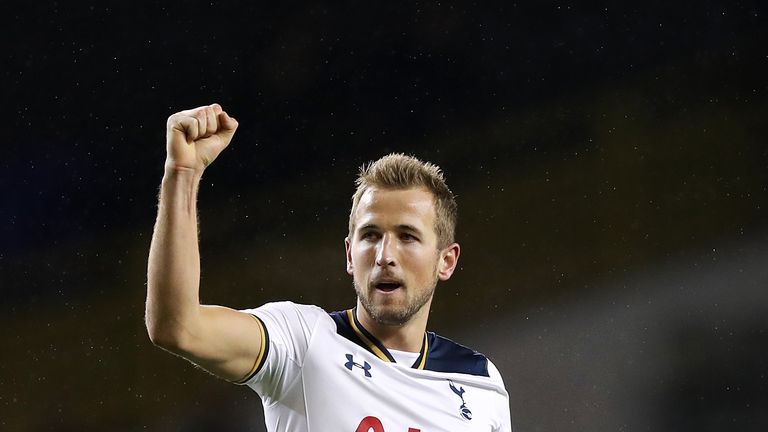 Despite being 12 years older than Kane, Zlatan has completed an average of 52 sprints per 90 minutes compared to the Spurs man's 44, but behind Firmino (80), Costa (66), Sanchez (58) and Aguero (56).
However, the years may take their toll in terms of distance covered and top speed, with Ibra ranking lowest for both - with 9.09km per 90 minutes and a top speed of 32.95km/h.
Ibrahimovic hasn't been short of chances so far this campaign, but the 35-year-old appears to have been backed by manager Mourinho to rediscover his form in front of goal with a second season at Old Trafford.
Upgrade to Sky Sports now and get 12 months half price. Hurry, offer ends December 4!