Rainbows were more than just visible in sport last week - they were front and centre, helping to make sport everyone's game in an unprecedented show of support.
The focus was on professional football and rugby union, but quite rightly for a campaign celebrating inclusion, people from all different sports and walks of life joined in. Bristol Flyers Basketball, MPs such as Caroline Lucas, and Strictly dance 'sensation' Ed Balls were just a few of those showing off their Rainbow Laces on Twitter.
The government estimates that 5-7% of the UK population identifies as lesbian, gay, bisexual or transgender, and for reasons discussed at length in parliament committee inquiries, by academics, in surveys and in conferences, many LGBT people have felt and continue to feel excluded from sport. Now sport has collectively welcomed those people in - and a significant step has been taken in the fight against homophobia, biphobia and transphobia.
Here's five things we learned from Rainbow Laces weekend...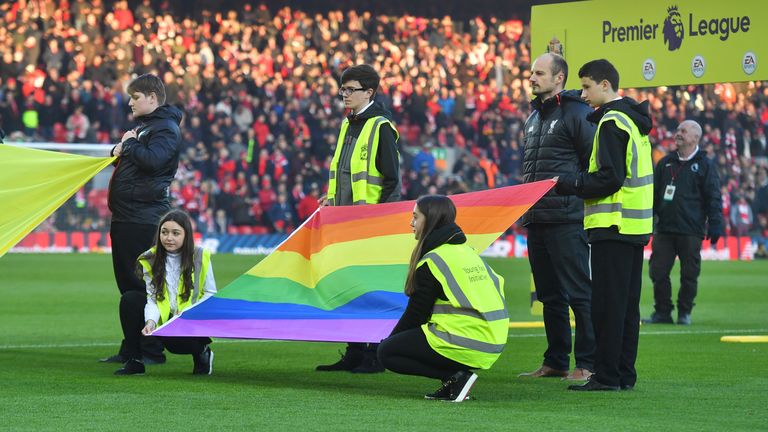 Strong messages from the top filter down faster
"The LGBT community is a vital part of our community," wrote Premier League chairman Richard Scudamore. "We will support our clubs in ensuring the important campaign messages are heard," added EFL chairman Shaun Harvey. The RFU's chief executive Ian Ritchie concurred: "We believe rugby's core values of respect, teamwork and sportsmanship resonate with what is at the heart of this important campaign." Time was relatively short - momentum gathered towards a midweek launch and subsequent push - but words from sport's supremos, speaking with one voice, carry immense weight. Previous campaigns hadn't managed to achieve such unification; for many clubs, their contracted commitments to betting partners prevented them from association with a campaign then supported loudly and proudly by Paddy Power. This time, the 'follow my leader' effect was swift - and the clubs themselves provided visibility in a variety of ways.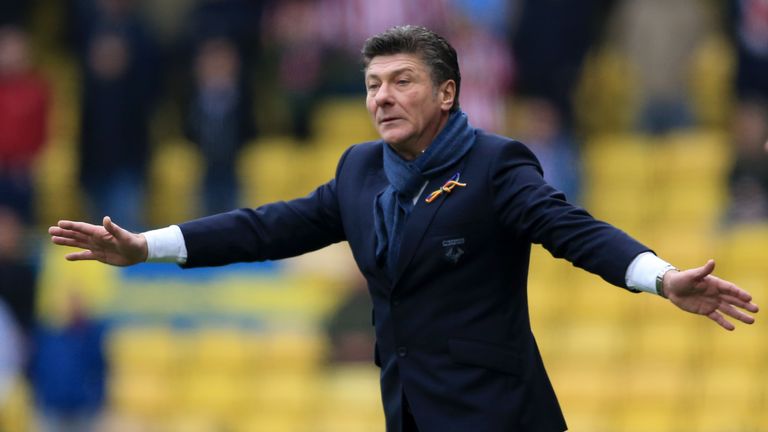 Creativity of communication made the campaign go further
At Brentford v Birmingham on Saturday, boots with rainbow laces graced the front cover of Bees Review. Inside, the programme editorial not only stressed that "homophobia is unacceptable" but also promoted the club's nascent lesbian, gay, bi and trans supporters group, LGBeeT. One of their members told Sky Sports on Saturday: "Seeing the programme cover actually brought a tear to my eye. We've had fans come to us in the past and say they haven't been to Griffin Park for a long time because they don't feel they can be themselves in such an environment. More than ever, we can show them that times are changing."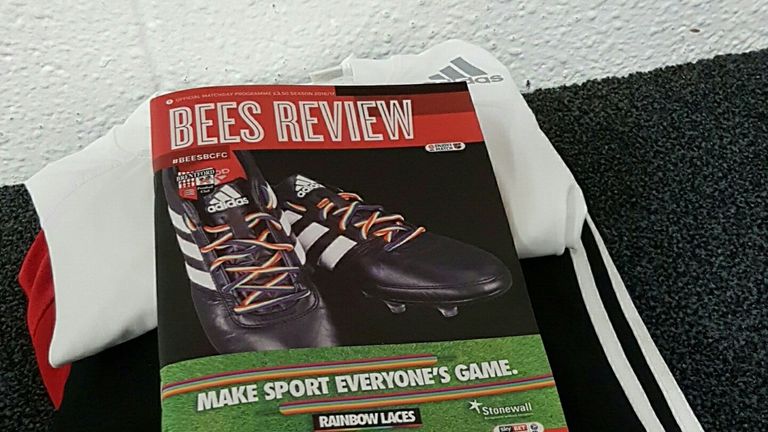 Rainbows abounded - in the Premier League, flags were flown and 20 captains wore special armbands; on social media, profile pictures were filtered with all the colours; EA Sports made a bespoke kit available on FIFA Ultimate Team; and the national stadium's arch became a Wembley spectrum. The actual laces themselves aren't universally popular with players (the standard issue are considered by some to be too chunky for modern boots, and footballers are creatures of habit when it comes to matchdays) - but even then, many wore them for at least the warm-up. Crucially, the campaign wasn't tied down to its basic element; and helping it to break free were not just LGBT people, but their fellow fan allies too.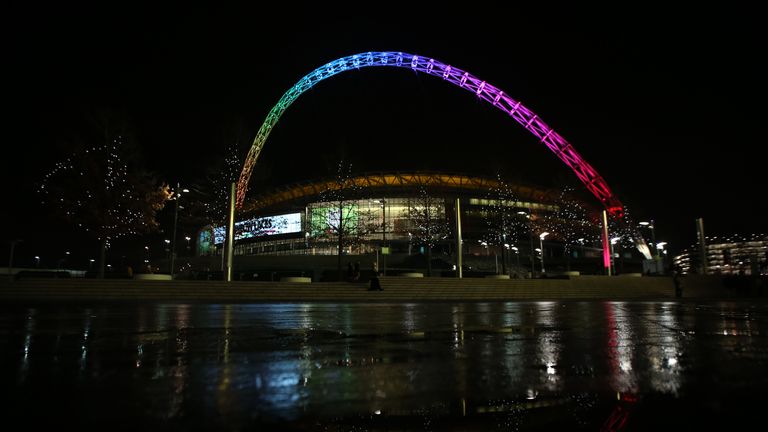 People can feel they can call out and challenge homophobia in sport with confidence
For football, a fear of even talking about a subject long considered taboo has blocked significant progress for many years. But with wider society now well versed in the conversation, it was high time to put it on the agenda - and nowhere was that more apparent than social media. At the time of writing, the Premier League's lion on rainbow profile pic change has attracted 191,000 reactions, 88% of them 'likes' or 'loves'. Brave the comments section, and you'll quickly spot negative and outright homophobic views - but also countless replies from fellow fans vehemently providing the counter argument. There will always be 'a small but vocal minority' who won't accept LGBT people in sport - Stonewall states that in its campaign literature - but those voices are being drowned out, strongly suggesting that standing up to homophobia is now the norm. With the vast worldwide reach of the Premier League as it is, and the visibility this weekend so great, the message couldn't be shut out this time - on advertising hoardings, syndicated broadcasts, in social timelines and in arguably the most substantial examples, from the mouths of players themselves.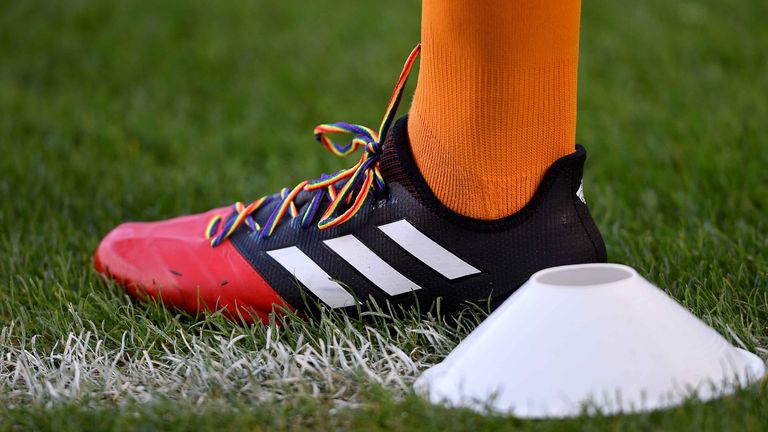 Give players the chance to use their power for positive change
A respected England international with over 100 caps fronting the video should be enough for any sports campaign but alas, the lack of gender equality in football doesn't allow Casey Stoney to be so influential. She has a lot to be proud about - captaining her country, being a mum of two and for being herself in sport, which just happens to be an out lesbian player. Also a Living for Sport ambassador and broadcaster for Sky Sports (she was watching Arsenal v Bournemouth for SSN HQ on Sunday), Stoney is a true role model for boys and girls. In the men's game, Hull's Curtis Davies and Brighton's Liam Rosenior were both handed the chance by Sky Sports to discuss homophobia last week; they did so with eloquence and sincerity. Meanwhile, on the FA's website, the organisation posted a video interview with Coventry's Chris Stokes, who was banned and fined for using homophobic language on Twitter at the end of last season. After describing the merits of the FA education course he was sent on as part of his punishment, Stokes adds: "If someone's going to come out, they need support from the whole football environment." To really drive the message home, the players who fans idolise need to be heard as part of that support network.
'Diversity is the one true thing we have in common. We should celebrate it.'
You may have seen the above quote before - it's been attributed by some to Winston Churchill, although its origins remain unclear. What can't be questioned is that diversity was truly celebrated in sport last weekend, even though not everyone chose to come to the party. So what next? For LGBT people and allies in sport, it's time to reach out to those whom the message didn't reach - many football clubs around the country, including several in the EFL, didn't follow the rainbow road, and it's important to listen to their reasons why. Much of that dialogue needs to be with the supporters of those clubs - fan organisations like Pride In Football and the GFSN (Gay Football Supporters' Network) can help facilitate that. In previous years, the majority of clubs have focused their support for LGBT inclusion with a designated 'Football v Homophobia' home game during the month of February, while running throughout the season is Kick It Out's Call Full Time On Hate initiative, combatting all discrimination. Communicating a strategy of action to the fanbase is the best way of clarifying positions.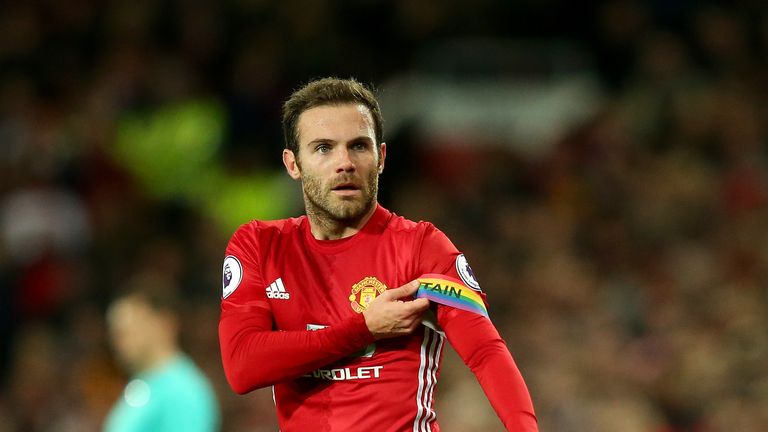 With the LGBT cause having benefitted from a spell in the spotlight, it's vital that other diversity groups are given a chance to shine too. Within the last month, the Sports People's Think Tank have flagged the lack of progress in BAME coaching representation; disabled fans have voiced their dissatisfaction with clubs over access; and sexism continues to hinder gender equality at all levels. Where these causes intersect (for example, sexism's impact on homophobia was explored in Sky's Sportswomen programme last week), there is an added incentive for groups to work together and call for action.
We'll leave the last word to Robbie Rogers, still the only out gay male professional player in world football. Revisiting his interview with Geoff Shreeves from February 2013, it's apparent that three-and-a-half years on, homophobia is still stopping LGBT people from being themselves in sport. But Rogers was optimistic about the future then, stating: "After this whole process, I've had so much support that I think it's about setting an example for people." Never before in the British game has that example been set so prominently by so many, and while there can be no room for complacency, football can reflect with pride on a result of great significance.