Do you need 40 points to guarantee Premier League survival? We look at the stats...
There are currently seven teams with 27 points or fewer and each have 11 games to play: Sunderland (19 pts), Hull City (21 pts), Middlesbrough (22 pts), Crystal Palace (25 pts), Swansea, Leicester and Bournemouth (all on 27 pts).
Forty points is often cited as a target to avoid the drop - but is this the true number to guarantee safety?
In fact, the average number of points to secure Premier League status since 1995/96 is 37, a Sky Sports study has found.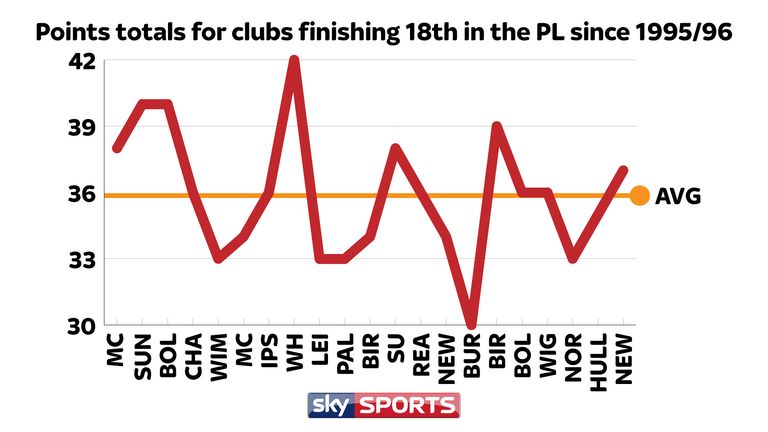 However, if teams continue their average points-per-game ratios this term, Sunderland, Hull and Middlesbrough would face the drop, with Boro finishing in 18th place on just 31 points - meaning a mere 32 points could secure safety.
That threshold bodes well for Palace, Swansea and Leicester, who each have points-per-game ratios and rejuvenated form that favour survival.
BEST AND WORST
Last season proved to be a tougher-than-average campaign for teams at the bottom, which eventually saw Aston Villa, Norwich and Newcastle relegated - despite the Magpies collecting 37 points that would typically secure survival.
Over the last 21 years, only three teams have finished in the bottom three with 40 points or more: Sunderland (1996/97, 40 pts), Bolton (1997/98, 40 pts) and West Ham (2002/03, 42 pts).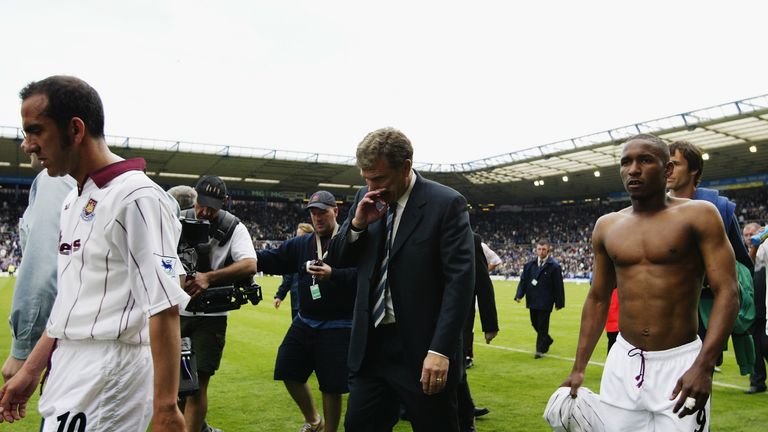 West Ham's 42-point haul in 2002/03 remains the highest of any Premier League team to be relegated during a 38-game season, despite having Michael Carrick, Paulo Di Canio, Joe Cole, Glen Johnson and Jermain Defoe among the ranks.
However, the toughest season for survival was in 2010/11 when West Ham, Blackpool and Birmingham accumulated a combined 111 points and all finished in the bottom three, while Wolves, Wigan and Blackburn avoided the drop narrowly.
In contrast, Derby County recorded the fewest points with 11 in 2007/08, while Sunderland only managed 15 in 2005/06 and Aston Villa's 17 points last term was the third worst tally in 21 years.
Who do you think will be relegated this season? Let us know in the comments section below or tweet us @SkyFootball