Arsenal's trend of strong finishes to Premier League campaigns revealed
Last Updated: 27/03/18 8:26am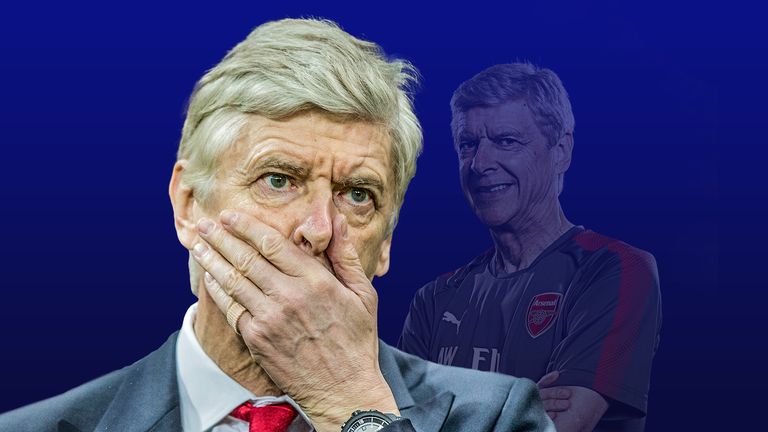 Arsenal appear to have lost more ground in the top-six battle this season - but a customary strong finish could be on the cards...
The Gunners must produce a strong finish to the season to maintain any hope of claiming fifth spot in the table and avoid their lowest league finish in 23 years - but Arsene Wenger's side have a particularly good habit of doing that.
Arsenal kicked off this campaign with a 4-3 win against Leicester, but that goal fest was followed by a 1-0 defeat at Stoke and a 4-0 thrashing at Liverpool.
Besides that poor start, Arsenal's season was following a strikingly similar pattern to their five-year average, enjoying marginally above-average results between September and November before a slightly worse December.
But a 2-1 defeat at Bournemouth in January, coupled with a 3-1 loss at Swansea a fortnight later - momentarily mitigated with a 5-1 win over Everton - before three back-to-back defeats, completed a shocking period through to early March.
Since the Swansea game, Arsenal's results have been well below their seasonal average - and that dip in form reflects their current sixth-place standing in the Premier League.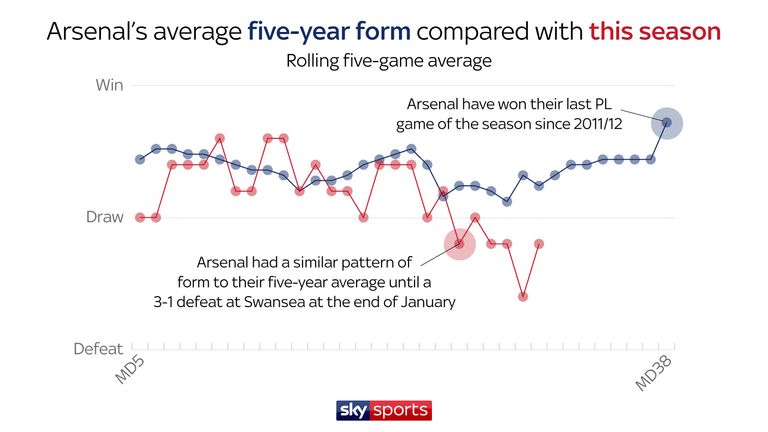 In fact, the Gunners have spent 16 of the 31 matchdays in sixth spot this term and have failed to occupy a position above fourth, which they held on occasions during their run of form between November and December.
The most recent blow was a shock 2-1 defeat at Brighton, which sparked a recurrence of the calls from some fans for Wenger to leave his post.
Wenger finished outside the top four for the first time in his 22-year tenure last season - and that outcome appears to be on cards again.
However, Arsenal have a remarkable record for producing strong finishes in the Premier League and a similar purple patch this time around could, potentially, snatch fifth spot - if Chelsea suffer a dip in form.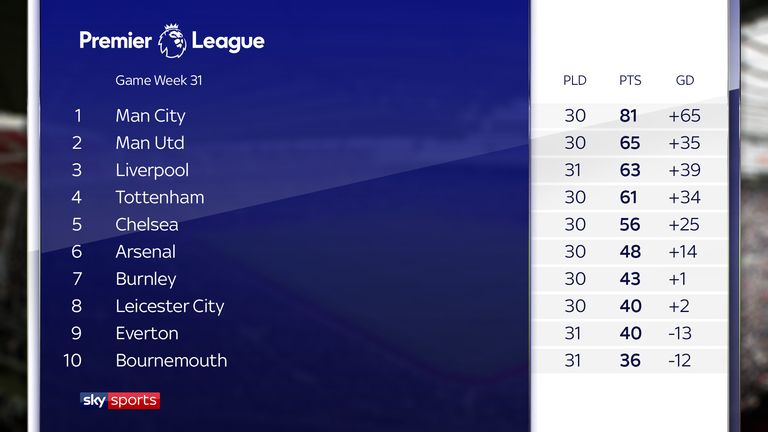 That record includes winning eight of their final 10 Premier League fixtures in 2012/13 and five successive games at the end of 2013/14.
In 2014/15, the Gunners won nine out of 10 fixtures between February and May, and were undefeated in their final 10 games during 2015/16 to oust Tottenham with a second-place finish.
Last season, Arsenal won their final five games of the campaign to leapfrog Manchester United and climb from sixth to fifth - a situation they find themselves in again this term, behind Chelsea.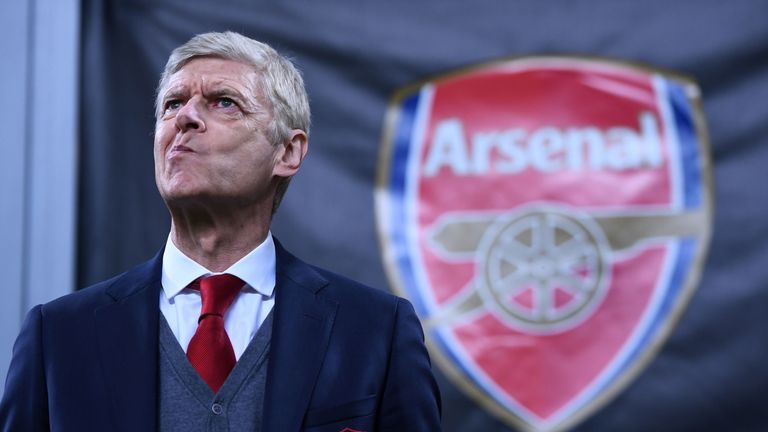 The Gunners have a slightly easier run-in than Antonio Conte's side, with average opponents ranking 12.4 in the Premier League table, compared with a tougher 11.8.
Run-ins
| Arsenal | Chelsea |
| --- | --- |
| Leicester (A) (TBC) | Tottenham (A) |
| Stoke (H) | West Ham (H) |
| Southampton (H) | Southampton (A) |
| Newcastle (A) | Burnley (A) |
| West Ham (H) | Southampton (H) |
| Man Utd (A) | Swansea (A) |
| Burnley (H) | Liverpool (H) |
| Huddersfield (A) | Newcastle (A) |
Arsenal would gain Champions League qualification by winning the Europa League - but Wenger will also be looking to mastermind a customary strong finish domestically to snatch fifth spot and avoid another slip down the top-six pecking order.