Kroos control
As Bayern Munich prepare to visit Manchester City on Wednesday, Adam Bate looks at the vast potential of their midfielder Toni Kroos. The 23-year-old missed the Champions League final but is ready to make up for that disappointment by becoming the star man under Pep Guardiola...
By Adam Bate - Follow @GhostGoal
Last Updated: 02/10/13 1:07pm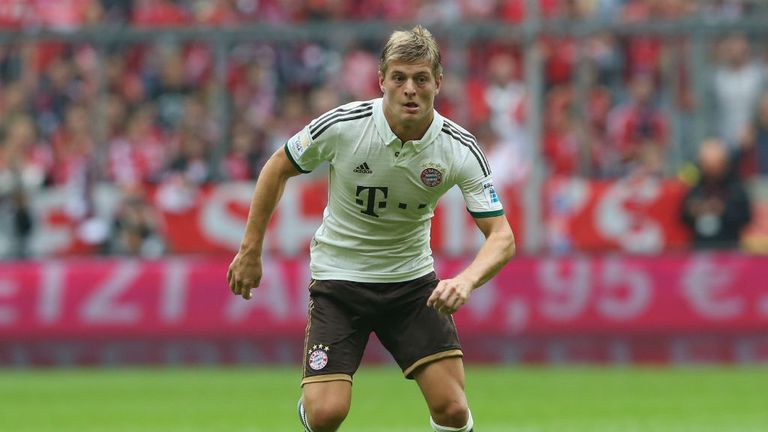 It's hard to believe now but in October 2007, Bayern Munich, the current champions of Europe, were slumming it in what was then known as the UEFA Cup. What's worse, they were losing 2-1 to Crvena Zvezda in Belgrade courtesy of a bouncing 30 yard strike by Nenad Milijas. There were 10 minutes remaining and Bayern were hoping to somehow get out of Serbia with a draw. Ottmar Hitzfeld sent for Toni Kroos.
The youngster had made his professional debut the previous month - setting up two goals in a 5-0 thrashing of Energie Cottbus. But with the home crowd in full voice, this was rather different. And yet, Kroos immediately asserted himself as free-kick taker. Within minutes he had curled in a cross for Miroslav Klose to smuggle in an equaliser. In injury-time, from virtually the same spot, the midfielder whipped in a low ball that eluded everyone and nestled in the far corner.
The turnaround was complete and Kroos had undoubtedly been the instigator. Clearly, Bayern had got lucky but those who knew of their young star's gifts were reluctant to view the events as mere fortune. Hitzfeld was fulsome in his praise. "He is a passionate footballer with great instinct," said the veteran coach in his post-match interview. "He always takes the right decision on the pitch and you don't have to tell him what to do." Kroos was just 17 years old.
Potential
Six years on and the Germany international is still earning the admiration of his managers. "I have seen his unlimited potential," said Jupp Heynckes last season. "At the moment, I see Toni Kroos as further developed than Wolfgang Overath and Gunter Netzer at the same age." Given that Overath had played in his first World Cup final at 22 and both men can mount a persuasive case to be considered among the top five midfielders of their generation, these are not words to be dismissed cheaply. Heynckes is no Blade Runner, but as a two-time Champions League winning coach of pensionable age let's just say he's seen things.
But then, Toni Kroos inspires superlatives. Here is a player that has everything. "Kroos is a phenomenon," writes tactics expert Jonathan Wilson. "Perhaps the archetype of the modern attacking midfielder." That is to say he can shoot and pass, score and assist. He possesses an awareness of space and the intelligence to adapt to a variety of roles. He can play passes both long and short. He is technically comfortable in tight spaces and has the athleticism to drive forwards when afforded room.
Toni Kroos - Bundesliga 2012/13
Discipline
Number
Ranking
Shots per game
2.2
20th
Assists
11
11th
Passes
52.8
18th
Passing accuracy
89.7%
5th
Key passes per game
2.8
3rd
Accurate crosses per game
2.1
6th
Throughballs per game
0.5
3rd
The statistics tell some of the story. A passing accuracy of 89.7 per cent ranked him fifth in the Bundesliga last season. Impressive enough, but delve deeper and it becomes clear that the meticulousness of Kroos was rather more remarkable than those around him. He made 2.8 key passes per game - the third most in the league. The four more accurate passers didn't make as many key passes between them. He had 2.2 shots per game - among the top 20 in the league. The four more accurate passers didn't have as many shots between them.
There are the throughballs too. Kroos successfully threaded 11 passes behind the opponents' defensive line last season, putting him among the top three when it came to incision passing - but with a better accuracy than his rivals. This tale of key passes and throughball excellence paints a picture of a player not content to boost his statistical accuracy with safe balls to the full-back. Kroos plays the difficult passes. He just plays them with a precision others cannot match.
Not only is he making the difficult passes but he is able to make them in difficult areas of the pitch. Operating in the final third of the field in those confined spaces, Kroos flourishes. As a result, he is an ideal advanced playmaker. With Kroos injured in the spring, Thomas Muller scored five times in the knockout stages to take the plaudits in the latter stages of Bayern's triumphant Champions League campaign. But few in the Bayern dressing room are in any doubt as to who remains the main man. "It's better for me when Toni Kroos plays as a No. 10," said Franck Ribery. "He is also better in possession of the ball, he gives good passes. The No. 10, for me, is Toni Kroos." Franck by name, frank by nature.
Perhaps it is his unselfish play that makes him such a popular figure alongside FC Hollywood regulars such as Ribery and Arjen Robben. After all, his decision-making is arguably his greatest asset. The intangibles. That awareness of position, knowing where to find space at all times brings synergy benefits that Muller cannot match. Under Pep Guardiola there is even hope that Kroos could go to the next level - whatever that may be. "Toni Kroos is an exceptional player and he could play anywhere in the world," said Guardiola this summer.
The early signs are good. As the big guns fired off the opening shots of this season's Champions League - ingeniously branded as Matchday One - Lionel Messi and Cristiano Ronaldo were the predictable headline grabbers with three goals apiece. But somewhere in the classifieds was Kroos. The man with more passes (66) than anyone else in the opposition half and with a superior level of accuracy too - 98.5 per cent, the best of any player to find a team-mate more than 20 times. His barely believable passing accuracy of 96.7 per cent in the final third against CSKA Moscow was also unrivalled.
As Manchester City prepare to host Bayern Munich at the Etihad Stadium on Wednesday evening, even Sheikh Mansour might be looking on enviously at the away team's midfield options. Muller, Robben and Ribery will be there. Bastian Schweinsteiger too. The heroes of Wembley. But the best talent on view will be a player who wasn't even on the field that day in May. The guy who always made the right decision on the pitch at 17 is ready to take on the world at 23.