Say it ain't so, Joe
Too confident? Not confident enough? Issues with long-range shots or poor decision making? There are lots of theories behind Joe Hart's struggles. Adam Bate looks at the statistics to find out more...
By Adam Bate - Follow @GhostGoal
Last Updated: 30/10/13 6:15am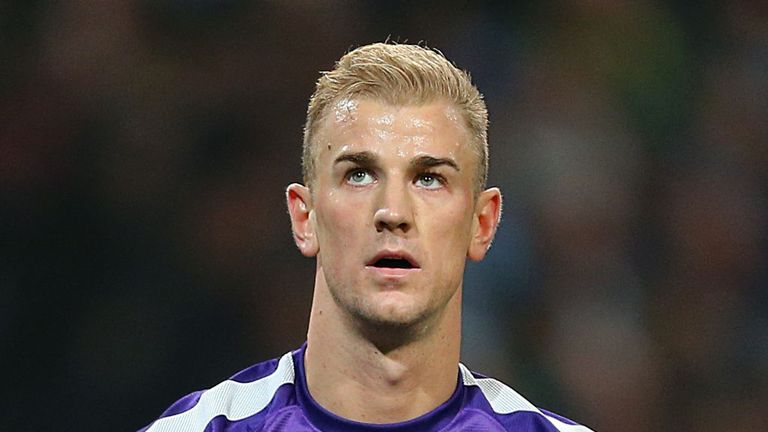 In the summer of last year, Joe Hart was untouchable. Named in the Premier League team of the year for a second time, a title winner with Manchester City and firmly established as England's No.1, many were confidently proclaiming him as a world-class goalkeeper. "It's nice for people to say that but I know from the inside how quickly things can change in football," he told the Daily Mail. "I'm only where I am because someone else lost his place, so I'm fully aware that I need to play well to keep mine. Nothing is a given."
And so it has proved. By his own admission, Hart's form dipped as City relinquished the title last season with the errors racking up. A couple of mistakes against Southampton in February sparked criticism from then boss Roberto Mancini. "It's not strange because he did two or three mistakes this year and this is not good for us," he told the Guardian. "Joe is a good keeper but a goalkeeper can't do a mistake like this. If Joe continues to make mistakes, he goes on the bench."
The warning was not heeded. An Andy Carroll shot squirmed past him in April and the current season has begun in similar vein with a mistake for England against Scotland before further errors against Cardiff, Aston Villa and Bayern Munich proved costly. But the last-minute rush from his line that led to Chelsea's winner at Stamford Bridge on Sunday was perhaps a new low. Now it's Manuel Pellegrini deciding against publicly backing his goalkeeper. "Of course I'm worried about the mistakes," said the City manager.
Cock-ups in games between the two title favourites live on Super Sunday are bound to increase the pressure on Hart but it raises a key issue - Is his form really so bad or are the problems simply being highlighted more than those of others? After all, Fraser Forster can make low-key errors in the Scottish Premier League but still win himself a fan club with a handful of high-profile performances in the Champions League.
Errors leading to PL goals - Since 2012/13
Goalkeeper
Club
Errors
Joe Hart
Man City
8
Ali Al-Habsi
Wigan
7
Adam Federici
Reading
5
Michel Vorm
Swansea
5
Tim Krul
Newcastle
5
The bad news for Hart's supporters is that the statistics suggest the 26-year-old keeper is struggling badly. His tally of eight errors leading to goals since the beginning of last season is more than any other Premier League goalkeeper. The only other keeper to make more than five such errors in that time is Wigan's Ali Al-Habsi, a player now fighting for a starting spot in the Championship. Reading's current back-up keeper Adam Federici is among the next on the list.
In comparison to his peers at the top of the table, the contrast is stark. When David de Gea was compared to Hart as recently as the spring, it was considered by some to be a slur on the City man. Now it seems he should be flattered by any such link. Hart's eight errors leading to goals since the summer of 2012 are two more than De Gea, Petr Cech, Hugo Lloris and Wojciech Szczesny have been responsible for between them in that time.
So what is his problem? To answer that question, it is perhaps best to start with by discussing what it isn't. For each of the past two seasons, Hart has ranked above average among Premier League goalkeepers in terms of the percentage of saves he makes from shots inside the area. Furthermore, he is in the minority among the 20 first-choice keepers in having yet to drop a cross so far this season.
Joe Hart - Premier League rankings
Discipline
2012/13
2013/14
Save percentage
10th
16th
Save % inside box
4th
10th
Save % outside box
18th
20th
The difficulty appears to come when dealing with efforts from outside the area. Hart's six saves from shots that were taken outside the 18-yard box is a Premier League low amongst the regular keepers. That shouldn't be too much of a surprise given that City are one of the division's stronger sides. What's alarming is that he has let three goals go past him from outside the box. Only Cardiff's David Marshall has conceded more and he's had to make a whopping 22 such saves.
Of course, there is a danger with such statistics. For example, Andreas Weimann's tapped effort after Hart rushed from his goal is included among those goals from outside the area. But add to this the two Champions League goals that Bayern scored at the Etihad Stadium, when Hart was beaten at his near post, and a picture builds of a keeper who is continually found wanting from angles and distances that should not be troubling a top-class performer.
It is sometimes claimed that a key part of keeping out long-range efforts is to get set for the shot. However, with Hart the problem may begin with his trigger movement - a small mini-leap that delays the dive for a split second before pushing off to either side. It certainly seems clear there is an issue. Hart ranks No.20 for stopping shots from outside the box this season and No.18 last season. Relegation form.
What any speculative technical analysis fails to elucidate is the player's deterioration in performance levels after impressing in the 2011/12 season when he had an overall saves-to-shots ratio approaching 80 per cent rather than this year's 62 per cent. The explanation here seems likely to be mental rather than physical. Some have suggested a lack of concentration is at the root of his difficulties - a situation made worse by the fact that there is little competition for his place at either club or international level.
Others point to the conspicuous over-confidence that Andrea Pirlo spotted before chipping a penalty past him at Euro 2012. "Hart looked very confident in himself, so I thought we had to bring him down a peg or two," said the Italian. Confidence is a fragile beast and there remains a suspicion that Hart did not respond well to the criticism of Mancini. Does an overtly cocky demeanour mask insecurities? Unfortunately for Hart, the life of a goalkeeper is such that in trying to be too assertive, there is a danger of exacerbating the problem.
Goalkeeper-turned-author Justin Bryant has discussed the difficulty professionals face when trying to prove their worth. In referring to one particular trial, Bryant writes: "It wasn't like the early days, when I was a stumbling, hesitant mess, full of self-doubt. It was more a case of being too impatient, too anxious to show that I was good... I tried the extravagant instead of the simple." Perhaps the desire to show he remains an assertive goalkeeper unfazed by his critics was behind Hart's desire to take responsibility at Stamford Bridge rather than leave Matija Nastasic to deal with the situation.
For all the concerns, there is plenty of time to turn things around. All goalkeepers must come through difficult periods. It is the nature of the position. But we are reaching the point at which the blip veers toward the malaise. The man who once invited generous comparisons with England heroes Peter Shilton and David Seaman could be forgiven for instead nervously perusing the Wikipedia page of Paul Robinson - Leeds United player of the year and England international at 23. Both scenarios remain possible. Joe Hart is at the crossroads. And as the man himself says: "Nothing is a given."