Targets: Belgium
With the January transfer window upon us, Sky Sports' Belgian football expert Kristof Terreur gives his verdict on five stars from the Jupiler Pro League who could be on their way to England.
By Adam Bate with Kristof Terreur (video by James Crosby)
Last Updated: 06/01/14 11:25am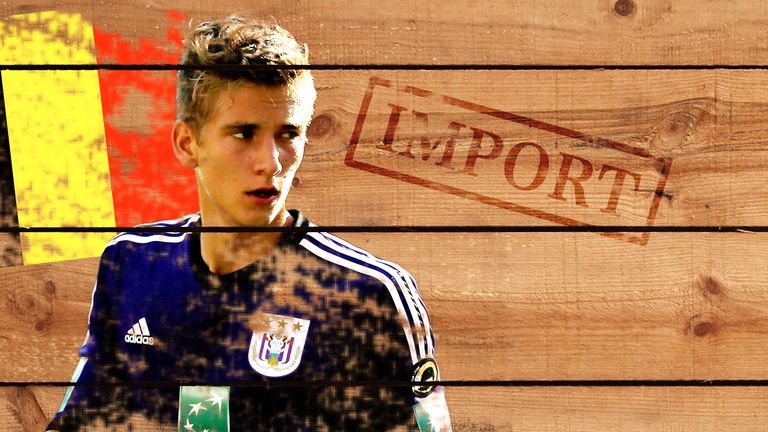 Kristof Terreur worked as a football writer at Voetbal magazine before taking up his current position as the Premier League correspondent for Belgian newspaper Het Laatste Nieuws. He is also Sky Sports' Belgium correspondent and we caught up with him get his expert verdict on five stars from the country who we could be seeing in the Premier League.
Michy Batshuayi
Age: 20
Nationality: Belgium
Club: Standard Liege
Position: Striker
Good fit for: Everton; Swansea
The word
Batshuayi is enjoying a sensational season in Belgium having scored 15 goals in 22 league games for Standard Liege so far this season. This form has seen some demand his call up for the senior team ahead of the World Cup. "He still has to learn a lot, but he is fast, can play in many positions and fit into different systems," said Hein Vanhaezebrouck, coach of Belgian club KV Kortrijk. "Michy is someone who is able to make a difference and you need such a player at the World Cup."
Kristof's expert view
Michy Batshuayi is Belgium's next star striker having taken the Belgian Pro League by storm this season. The U21 international is a very versatile striker, not a one trick pony. Most of the time he is clinical in the box, has pace, power, an athletic body, can strike the ball well with both feet and is a huge nuisance for defenders. His heading is a weak point, though and sometimes he's still too selfish.
Arsenal have sent some scouts to watch him. Ty Gooden followed him in the U21 games, but from what I hear they're not convinced yet. He still has everything to prove at the highest level and has to work on his discipline. He admits he often comes too late for training sessions - the police caught him with an alarm pistol in the trunk of his car and he was sent away at the Belgian U21 for inviting girls to his room. Juvenile.
Standard say they're not willing to sell their top striker in the January window, but he has a release clause of £6.8 million in his contract. Swansea made a bid last summer, but the club's president rejected it. Now an as yet unknown English club (possibly Everton) is reportedly willing to trigger the clause to loan him to Belgian champions Anderlecht.
Cheikhou Kouyate
Age: 23
Nationality: Senegal
Club: Anderlecht
Position: Centre-back
Good fit for: Fulham
The word
Kouyate has been heavily linked with a Premier League move and if the transfer doesn't happen in January it is likely to be a summer switch for the Anderlecht defender. "I'm reading everywhere he'll be leaving in January, but I'm not sure about that," Herman Van Holsbeeck, managing of director of Anderlecht, told Belgian weekly Sport/Foot Magazine. "The chances he stays at Anderlecht during the winter break are 75 per cent. We have promised him a transfer at the end of the season."
Kristof's expert view
Cheikhou Kouyate is one of the better defenders in Belgium. He was a defensive midfielder but has moved a row backwards. Sometimes he still has some strange attacking movements and the last six months weren't the best of his career. He's tall, quick and powerful but rather inconsistent. He knows how to play football but he's not technically brilliant or the best passer.
Kouyate has been linked to Premier League clubs for ages, but he couldn't apply for a work permit, as he hadn't played enough international games. In September, he finally obtained a Belgian passport, so now he's free to move wherever he wants. In July some agents tried to push him to Dynamo Kiev, but he chose to stay for one more year as he's waiting for a Premier League team to make a move.
He can fit in the Premier League as he has all the qualities to make it over here - but not with a top club. Arsenal used to scout him, but I can't think they're still interested in him. He's not even a consistent performer in the Belgian league so why would he be in a top team? Last summer there was interest from Southampton, West Ham and Fulham, and while Anderlecht are not keen to sell Kouyate this winter, if a team pays €8million - the full price - they could be tempted to negotiate.
Dennis Praet
Age: 19
Nationality: Belgium
Club: Anderlecht
Position: Midfielder
Good fit for: Not quite ready
The word
Praet has been tipped for stardom for several years now and was linked with Arsenal, Chelsea and Liverpool as long ago as 2011. Brendan Rodgers is believed to have maintained that interest from the Reds, while Tottenham are also rumoured to be eyeing the youngster. Belgium international Axel Witsel is a fan, telling Het Laatste Nieuws: "Dennis Praet is a good player. He has good technique and can easily go past an opponent. In my opinion, he has plenty of room for improvement."
Kristof's expert view
Everyone expected him to be Anderlecht's playmaker this season, but Praet had a difficult start. He's been touted as one of our next big things, but his progression has stagnated a bit. Praet has good vision, an excellent technique and skills as well as good passing. He likes to play simple and to dictate the tempo. He's a smooth operator. The intelligent boy sometimes lacks determination and he lacks aggression. Also his endurance needs improvement and he needs to bulk up. In the beginning of the season the CEO of Anderlecht, Herman van Holsbeeck, urged him to work a little harder.
While there was lots of transfer talk when he made his first appearance last season, it has become quiet. Arsenal wanted to sign him when he was 16 and Manchester United have sent scouts to watch him, but at this moment he may be physically (and mentally) not ready for the tough battles in the Premier League.
Youri Tielemans
Age: 16
Nationality: Belgium
Club: Anderlecht
Position: Midfielder
Good fit for: Chelsea; Manchester City
The word
Tielemans is regarded as the next big thing in Belgian football, having established himself in the Anderlecht first team at the age of 16. Tottenham are believed to be keen to add to their Belgian contingent at White Hart Lane but could face stiff competition from the Premier League and beyond as the biggest clubs in Italy have also been linked with a move for the youngster.
Kristof's expert view
Another bright talent from the Anderlecht academy, he made his debut this season and already has three starts in the Champions League. All English top teams have already sent scouts to watch him, as he's a very promising central midfielder. He has an excellent technique, passes balls over 40 metres with his left and his right foot, dictates the tempo, has a sharp vision, has a good kick, good actions forwards and intercepts lots of balls. For his age he's also physically strong.
The boy with a Belgian father and a mother with Congolese roots, is a natural born leader and versatile. In the youth ranks he played as a number 10, but he can play as a 6, an 8, as a left back, as a left midfielder or as a right midfielder. He normally won't move abroad before he's 18 years old, as his parents want him to finish his education in Belgium.
Thorgan Hazard
Age: 20
Nationality: Belgium
Club: Zulte Waregem (on loan from Chelsea)
Position: Winger
Good fit for: A Premier League loan move
The word
Hazard is hoping to follow in his brother's footsteps at Stamford Bridge but he is aware that a loan switch elsewhere is likely to be his next move. "After one-and-a-half years at Zulte Waregem I feel I'm getting closer to the level of Chelsea's first team, but I'm not there yet," he told Sport Voetbal Magazine. "I don't think Chelsea will be the next step in my career. If you see the difficult times Kevin De Bruyne, a Belgian international, is having at Chelsea, if you see how many other stars they have on loan all over Europe. I hope my next step will be one abroad, on loan."
Kristof's expert view
The brother of Eden is the best midfielder in the Belgian league this season, scoring nine times and assisting 10. He's a different type of player as his brother, who's an explosive winger. He's less talented, but more determined and physically stronger than Eden. He plays as a real number 10, has a good technique, dribbles well, has excellent passing and scores goals. He also has pace and dictates the tempo.
He has a good chance of winning the Golden Boot, the award for the best player of 2013 in the Belgian League. He really is the beating heart of Zulte Waregem. He is likely to play there for the rest of the season unless Chelsea decide to call him back (which he doesn't expect) although Anderlecht are also keen to take him for six months. Next year he wants to join a team outside of Belgium on loan and his ultimate dream is to play with his brother in the same team.