Paul Merson is back with his latest round of Premier League predictions.
The live action on Sky Sports kicks off on Saturday evening with Tottenham going to Wolves, before Chelsea host Crystal Palace on Super Sunday. And on Monday Night Football, Huddersfield host Fulham in a huge clash at the bottom of the Premier League.
Elsewhere, Manchester United go to Bournemouth at Saturday lunchtime, Arsenal host Liverpool at teatime, and Manchester City face Southampton at the Etihad on Sunday.
Read on to see who the Magic Man is backing this week...
Wolves vs Tottenham, Saturday 7.45pm, live on Sky Sports Premier League
Spurs' win at West Ham was a good result, considering the changes, but Monday night's game against Manchester City was strange. It felt like an exhibition game.
Tottenham are fighting for top four, that's where they are at the moment, so this is a big game for them. I think Wolves have hit a brick wall, if I'm honest. We wax lyrical about how great they are at passing it around, but I worry for them in front of goal.
They keep the ball, but don't look like scoring. They keep it in nice places, but I just think Tottenham will be miles too good for them.
PAUL PREDICTS: 1-3 (16/1 with Sky Bet)


Chelsea vs Crystal Palace, Super Sunday 4pm, live on Sky Sports Premier League
I thought Palace did well against Arsenal, but Chelsea are in a different league. They'll be too good, too strong for Palace at the Bridge.
Chelsea are playing well - they're not the finished article but you can see smatterings of brilliance and the way Maurizio Sarri wants them to play. He's getting the best out of certain players.
I'm going for a Chelsea win, and for all three top teams to stay unbeaten still, which is unbelievable.
PAUL PREDICTS: 3-0 (7/1 with Sky Bet)
Live Renault Super Sunday


Huddersfield vs Fulham, Monday Night Football 8pm, live on Sky Sports Premier League
It's a cup final.
I can't go for Fulham. I just think defensively they're all over the place. They let in four against Cardiff!
I watched them play against Arsenal last month - a 5-1 defeat - and they played the way Arsenal would play against Barcelona. They just literally went for it; we have a shot, you have a shot. You've got to have more than that in the Premier League.
I'm going for Huddersfield, who I think have been bang unlucky this season. Their luck should change, and defensively Fulham are as bad as I've seen. If Huddersfield don't win this game I think they're down because this is as winnable as they come.
PAUL PREDICTS: 2-1 (17/2 with Sky Bet)


Bournemouth vs Manchester United, Saturday 12.30pm
This is a bit of a level game, isn't it? Over the years you'd say these types of games are a walk in the park for Manchester United, but this is a hard game now.
It's a hard one to call, too. I went with Manchester United last week 2-1 against Everton because they're Manchester United. It's very hard to go against them. But I'm going for a draw here, and it's a massive compliment to Bournemouth. That's how far they've come, and also where Manchester United have gone too.
United are sometimes better away, but Bournemouth will have a right go at them, and United are all over the place at the back.
PAUL PREDICTS: 2-2 (12/1 with Sky Bet)
Cardiff vs Leicester City, Saturday 3pm
I just don't know about this game. I don't know if it's too soon for the players, only they will know. It's one of them; Leicester could go out like a team possessed and win, or it could go the other way. It's a really difficult one to call.
PAUL PREDICTS: 2-1 (12/1 with Sky Bet)
Predict the scoreline for Cardiff v Leicester with Sky Sports Super 6 this Saturday for a chance to win £250,000.
Everton vs Brighton, Saturday 3pm
I know Brighton won at Newcastle but they tend to struggle away, so I'm going for an Everton victory. In patches at Old Trafford, Everton were good and could have got a result.
Brighton are quite solid, but only really at home, and I just think this Everton team have a bit about them with Richarlison, Gylfi Sigurdsson and Bernard. That's enough to open Brighton up.
PAUL PREDICTS: 2-0 (6/1 with Sky Bet)
Predict the scoreline for Everton v Brighton with Sky Sports Super 6 this Saturday for a chance to win £250,000.
Newcastle vs Watford, Saturday 3pm
Newcastle fans won't be happy with this, but I've got to go for Watford. At the moment I just can't see where Newcastle are winning a game or even scoring a goal.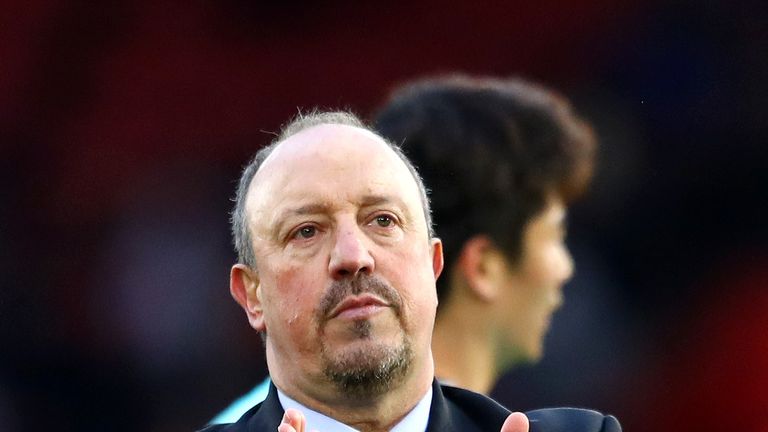 I think Watford are the most underrated team in the league, alongside Bournemouth; both very good. They're fast on the counter-attack, they're big and strong. Newcastle have to come out and try to beat somebody at some point, but I'm going 2-0 Watford.
PAUL PREDICTS: 0-2 (12/1 with Sky Bet)
Predict the scoreline for Newcastle v Watford with Sky Sports Super 6 this Saturday for a chance to win £250,000.
West Ham vs Burnley, Saturday 3pm
Wednesday was a shocking result for West Ham, losing to a Spurs team who made 10 changes. That was a big chance for them.
I'm going for West Ham in this, though. Burnley are coming off the back of a 4-0 and a 5-0; they're not the Burnley of last season. People will say they've played two good teams, but they weren't getting beat like that last season.
There's very little consistency about West Ham at the moment, they need a run of games and I think it might start here. They rely on Marko Arnautovic so much, and Andriy Yarmolenko's injury could be a big blow for them in the long run.
PAUL PREDICTS: 2-0 (13/2 with Sky Bet)
Predict the scoreline for West Ham v Burnley with Sky Sports Super 6 this Saturday for a chance to win £250,000.
Arsenal vs Liverpool, Saturday 5.30pm
I can't see anything but a Liverpool win. I think this is the day Arsenal show some big cracks.
I just think the defence is terrible, all over the place, and no different to what it was before. If Hector Bellerin is injured, you're talking about Granit Xhaka at left-back, a central midfield player, and Stephan Lichtsteiner at right-back, who has been a good player but is nearly 35 now. How many 35-year-old's are there in the Premier League?
We saw Leicester rip Arsenal to shreds for 30 minutes; they scored, Harry Maguire missed a sitter, they had a stonewall penalty turned down. Leicester's front three aren't even in the same class as Liverpool's. I just cannot see how Arsenal will live with them.
People will say: 'Oh Arsenal will score goals...' but Liverpool's defence has been superb. I watched Arsenal win 11 games on the trot, and they could have easily lost four of them, let alone drawn them.
PAUL PREDICTS: 1-3 (14/1 with Sky Bet)
Manchester City vs Southampton, Sunday 3pm
What score do you want? Seriously.
I'm going to go 4-0. This could be any score. Southampton haven't scored since I was 11, I don't think. I've watched Manchester City play second gear against a good Tottenham team and win 1-0 away, with a fair few chances too.
I saw them playing second gear against Burnley and beat them 5-0.
PAUL PREDICTS: 4-0 (15/2 with Sky Bet)