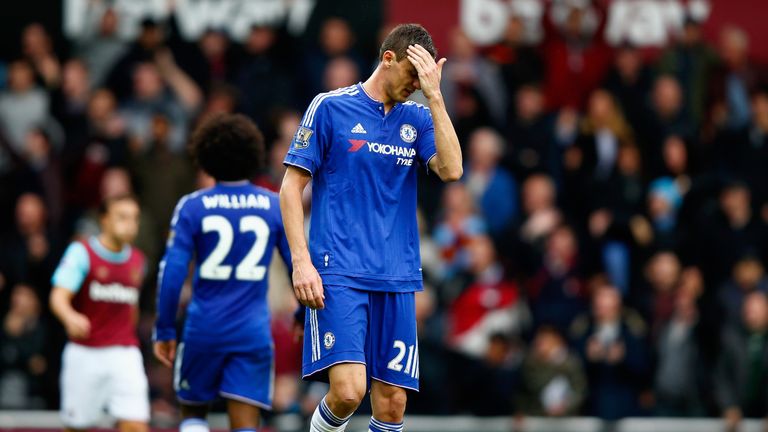 Chelsea can complain about inconsistent refereeing but not Nemanja Matic's red card at West Ham, according to Dermot Gallagher.
The former Premier League referee dropped by the Sky Sports News HQ studio on Monday for his regular look at some of the weekend's most controversial calls, and first on the agenda were several big decisions at the Boleyn.
Matic's dismissal sparked further bookings for two of his team-mates and ultimately saw Jose Mourinho and one of his assistants sent to the stands, while the Goal Decision System and an offside call denied Chelsea goals on the day.
Read on to find out Gallagher's verdict on that lot, plus disputed calls from the Wear-Tyne and Manchester derbies, and Everton's defeat at Arsenal...
INCIDENT: Nemanja Matic sent off for two bookable offences as Chelsea lose 2-1 at West Ham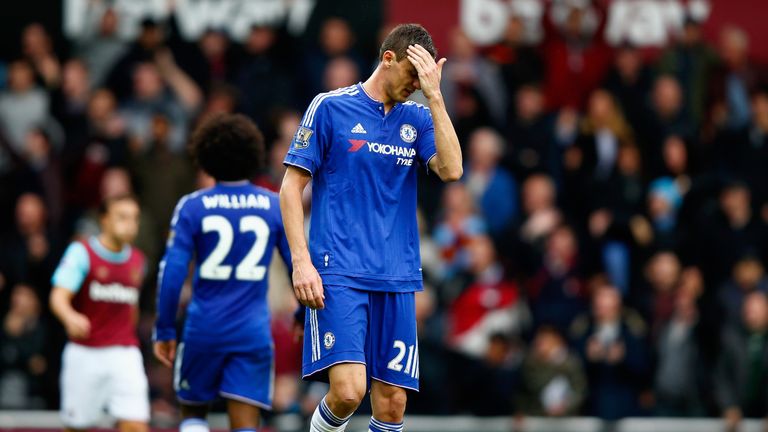 THE SCENARIO: Matic is shown two yellow cards inside nine minutes towards the end of the first half, the first for a pull on Cheikhou Kouyate and the second for grabbing Diafra Sakho with two hands. West Ham's Manuel Lanzini had earlier escaped a booking for grabbing Willian with two hands.
GALLAGHER'S VERDICT: Red card correct, but inconsistent refereeing from Jon Moss.
GALLAGHER SAYS: I don't think there's any argument over either of the Matic bookings. The first we see week-in, week-out. For the second, the assistant referee Harry Leonard has called Jon Moss over and you quite clearly see him say 'he's grabbed him with both arms'. Once you do that it's a yellow card, or should be. There shouldn't be any room for leniency, but I did notice watching the game there was an incident early on where one went awry. The Lanzini one is 100 per cent wrong and 100 per cent a yellow card. Jon Moss has caused himself problems - a guy's been sent off for doing something that another guy hasn't had a yellow card for. I can defend the sending-off, because it's right, what I can't defend is not giving the yellow card. I won't even try.
INCIDENT: Cesc Fabregas and John Terry booked for protesting Matic red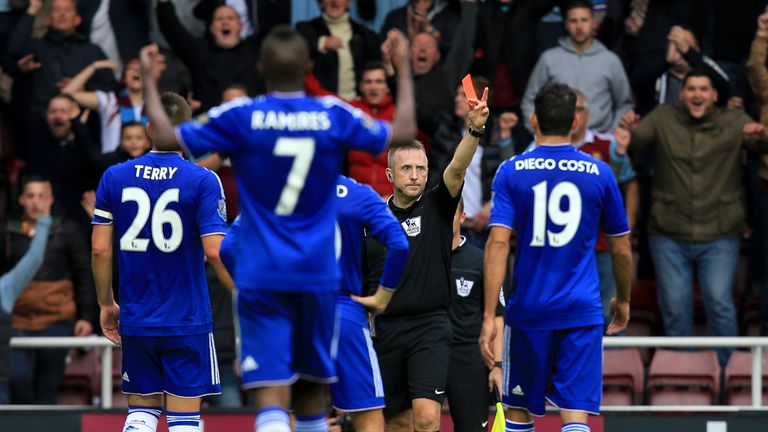 THE SCENARIO: Chelsea's captain and midfielder are both given yellow cards after arguing with the officials over their team-mates sending-off.
GALLAGHER'S VERDICT: Correct decisions.
GALLAGHER SAYS: I think the players will defend their own team-mate, that's how football is. When that happens it depends what the player does or says. John Terry and Fabregas have got yellow-carded, they've obviously said something the referee's taken exception to.
INCIDENT: Fabregas has a first-half 'goal' disallowed for offside
THE SCENARIO: Fabregas beats West Ham goalkeeper Adrian with a low shot, but his celebration is cut short by a linesman's flag. Replays show a tight call, but suggest Fabregas is marginally ahead of the final man when the ball is played.
GALLAGHER'S VERDICT: 'Brilliant decision'.
GALLAGHER SAYS: It's a very tight decision. Benefit of the doubt to the attacker is not a myth, it's a guidance, if you like. But if you draw a line across the pitch there, I can show you that he is offside. He's done brilliantly, the assistant ref. You can't criticise somebody for getting something right.
INCIDENT: Jose Mourinho and assistant Silvino Louro sent to the stands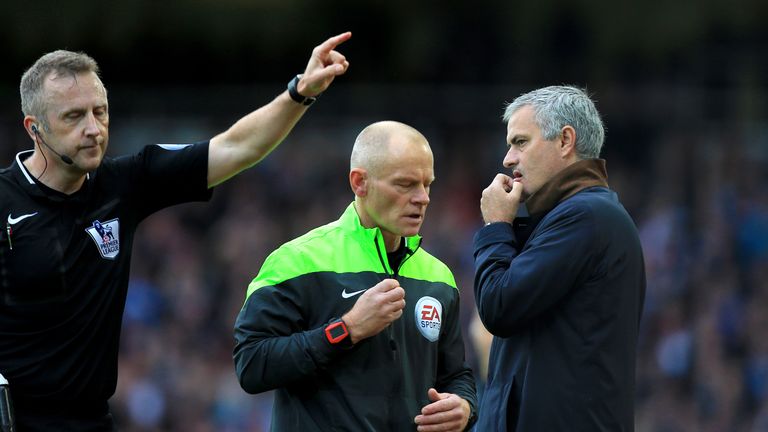 THE SCENARIO: Louro's reaction to Matic's red card sees him sent from the bench before half-time, and Mourinho follows him after an altercation with the referee during the break.
GALLAGHER'S VERDICT: Correct decisions.
GALLAGHER SAYS: Jose Mourinho waited to confront the ref at half-time. Whatever he's said or done the ref's taken umbrage. Whether he's used insulting or abusive language I don't know, but he's obviously done something irresponsible for a person in his position, and the referee has deemed that he's got to go upstairs. The process after the match is he would submit all the yellow cards, red cards and extraordinary incidents, of which there were two - Silvino Louro running on the pitch and Mourinho being removed at half-time.
INCIDENT: Kurt Zouma 'goal' disallowed as technology shows ball did not cross line
THE SCENARIO: Zouma's header is hacked out by Lanzini and, although to the naked eye the ball appears to have crossed the goal-line, the Goal Decision System proves Lanzini intervenes with millimetres to spare.
GALLAGHER'S VERDICT: Technology great for referees.
GALLAGHER SAYS: I think it's done refs a massive favour. You can imagine two or three years ago nobody would believe it hadn't gone over the line. When you see it sideways on it looks to all intents and purposes like it's over the line. When you see the graphic, it's not. What would happen then is the referee would be under pressure all game - 'you know it was in' - and we'd have to live with that. Now the ref says 'I know it's not'. It's quite conclusive.
INCIDENT: Fabricio Coloccini sent off for a professional foul on Steven Fletcher as Newcastle lose at Sunderland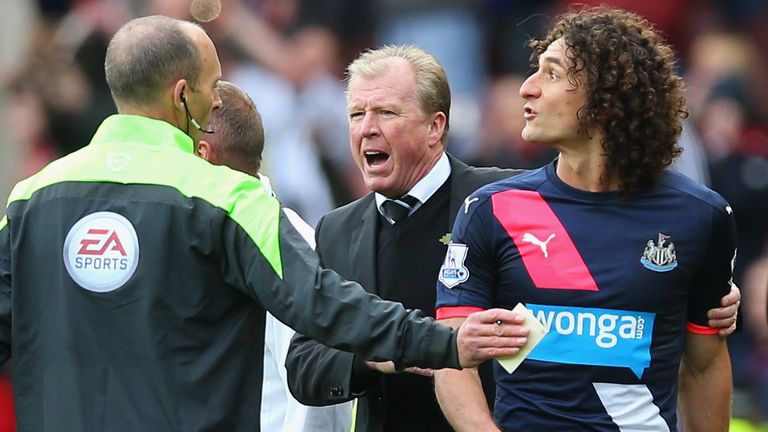 THE SCENARIO: Moments after Gini Wijnaldum and Lee Cattermole collide in the Sunderland box, Sunderland break and Fabio Coloccini barges into Steven Fletcher as the pair chase a through ball. Ref Bobby Madley awards a penalty and shows Coloccini a straight red. Newcastle have since appealed the decision.
GALLAGHER'S VERDICT: Penalty, red card debatable.
GALLAGHER SAYS: Bobby Madley clearly sees what people are saying is a foul on Wijnaldum and doesn't give it, so I would back him on that. I don't think anybody can argue the Coloccini one is not a foul - he's taken a risk, he hasn't gone shoulder-to-shoulder, he's gone with his arm also. There are lots of things you could debate about it - I think it's harsh, but it is a foul. What I think is very, very debatable is that it's a red card, and I'm not surprised Newcastle have appealed. I wouldn't know which way the appeal will go, because to win an appeal you have to show the referee has made a clear and obvious error. They can't say it's not a foul, they will base the appeal on a belief keeper Robbie Elliot will get to the ball first. That is the crux of the matter. If they can prove that I think they'll win, if they cant prove that - and I think it will be very difficult - then they will lose. The ball's running away from Fletcher, but when Coloccini hits him that stops Fletcher's momentum so it's debatable at what point Elliot will field the ball.
INCIDENT: Everton's Gareth Barry sent off for two second-half bookings at Arsenal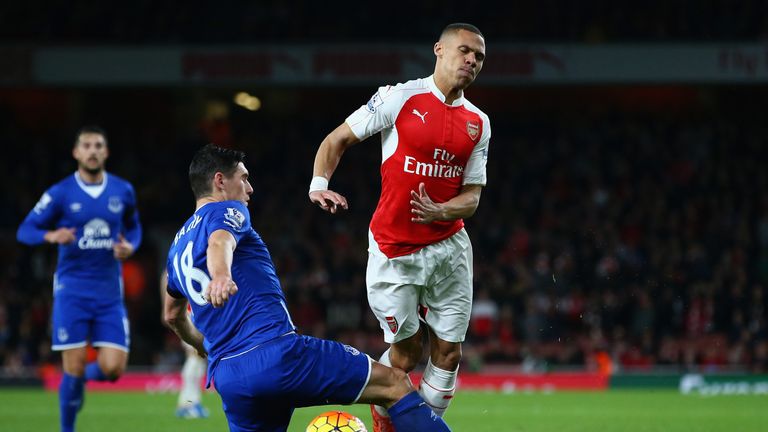 THE SCENARIO: Barry is sent off in second-half injury-time at the Emirates after he is booked twice. Ref Lee Mason shows the first yellow for a pull on Mesut Ozil's shirt and the second for a late tackle on Kieran Gibbs.
GALLAGHER'S VERDICT: Correct decision.
GALLAGHER SAYS: I think the first one is a booking. You ask for consistency, and that's three out of four shirt pulls we've shown that have resulted in bookings. The second one is a yellow card all day long, and he pays the price for the shirt pull.
INCIDENT: Artur Boruc not booked or sent off for bringing down Harry Kane during Tottenham's win at Bournemouth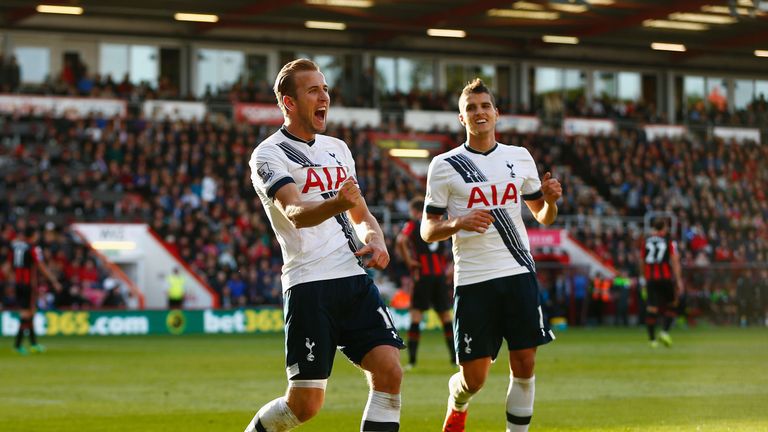 THE SCENARIO: Kane beats Boruc to Christian Eriksen's pass and is fouled by the Bournemouth keeper as the ball runs over the byline. Ref Roger East awards a penalty but does not punish Boruc further.
GALLAGHER'S VERDICT: Booking.
GALLAGHER SAYS: I think it's a yellow card. He got nothing. The reason I thought it was yellow is he's gone with his feet and it's reckless. It's not a red card because Kane has taken the ball wide and there are defenders covering.
INCIDENT: Ander Herrera's penalty appeal rejected during goalless Manchester derby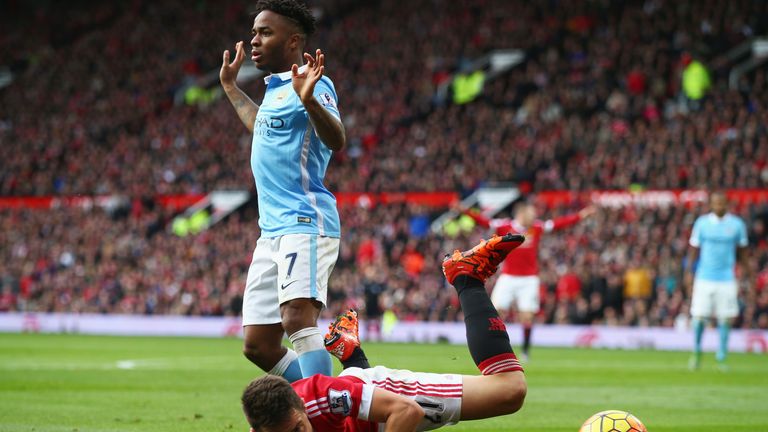 THE SCENARIO: United midfielder Herrera goes down in the City box after toeing the ball away from Raheem Sterling and tangling legs with the England forward. Mark Clattenburg turns down United's appeals, and Louis van Gaal later claims it should have been a penalty.
GALLAGHER'S VERDICT: Correct decision.
GALLAGHER SAYS: It's a coming-together, a tangle of legs. I think Herrera makes contact with Sterling - it's Herrera who comes from behind Sterling, and it's Herrera's legs tangling with Sterling's. Sterling can't make himself invisible. There's no doubt Herrera gets the ball and goes over, but for me it's not a penalty.