Manchester United team bus attacked ahead of West Ham game at Boleyn Ground
By Matthew Treadwell
Last Updated: 11/05/16 8:36am
Manchester United captain Wayne Rooney has revealed how their team bus was attacked trying to make its way into the Boleyn Ground on Tuesday night.
Kick-off for the Premier League meeting before West Ham move to the Olympic Stadium in the summer, was delayed until 8:30pm after United's players did not reach the ground until 7:10pm.
The coach had to battle through throngs of home fans gathering outside the stadium and as the driver manoeuvred his way through the car park gates, the coach was pelted with glass bottles and other missiles - breaking and damaging the tinted windows.
"It wasn't nice. The coach got smashed up, but we are here now," Rooney told Sky Sports.
"I'm sure you'll see the images. It's not for me to say, but it was disappointing of course.
"It's a big night for West Ham, but I'm sure West Ham as a club will be disappointed with what the fans have done."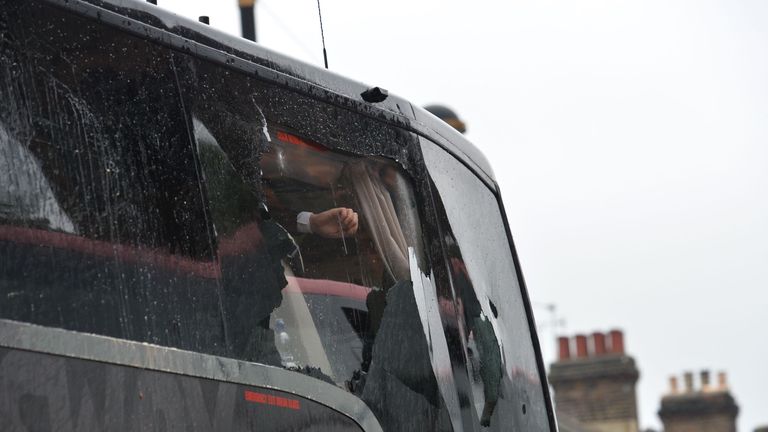 The Metropolitan Police confirmed that one officer and a member of the public sustained minor injuries in the trouble. 
A statement from the force said: "We are aware that a number of items were thrown towards Manchester United's coach this evening. One police officer and a member of the public sustained minor injuries.There have been no arrests."
West Ham co-chairman David Sullivan was unhappy with the delayed kick-off, claiming their opponents should have arrived early for such a high-profile match.
"I'm gravely disappointed, more for our supporters," said Sullivan.
"What people forget is they've got trains and buses to get home and we've got a wonderful, wonderful show after the game for them. Many just can't stay any more.
"Man United should have got here at 4pm. They know it's our last game. They had the same problem at Tottenham a few weeks ago.
"I think the police and officials have been kind. I'd make them kick off at 7.45pm if I was in charge."
Also speaking ahead of the match, Manchester United boss Louis van Gaal said it was "not so nice" as his side prepared for a second delayed kick-off in the capital this year after their clash at Tottenham was put back following traffic problems.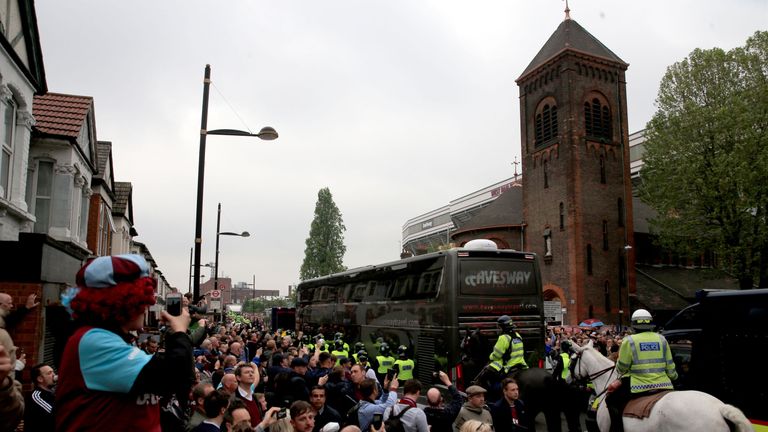 "What do I have to tell? The images tell everything," the Dutchman told Sky Sports.
"I have seen also the police were taping. It is also a lot of emotions for people but for us it is the second time in London we have to start later. It is better than last time because we have received our preparation time.
"It is not the first time I have seen that. It is not so nice. The way we have been received is not the proper way, of course. That makes all the influence on the players and that is a pity."
Sky Sports News HQ reporter Gary Cotterill is at the ground and he described the scene.
"The bus driver says nine windows in total have been smashed, all down the driver's side," said Cotterill.
"I can see all the lower deck windows on the right-hand side have been smashed. Luckily they are double-glazed so although the outer windows are pretty much smashed in, most of the inner windows have stood firm.
"Otherwise, it could have been far worse in terms of injuring Manchester United players.
"The driver's window is completely smashed through and some injury to humans could have been done but as I understand it, that isn't the case, although the driver looks shaken."