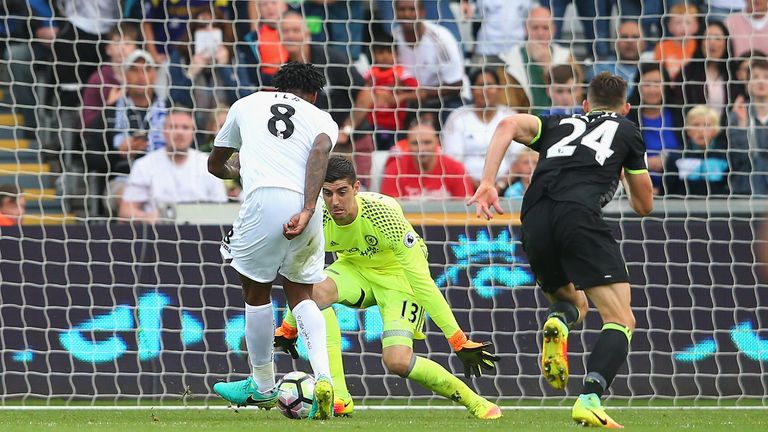 Ref Watch is back to debate another selection of controversial decisions from some of the weekend's Premier League matches.
Former top-flight official Dermot Gallagher has been in the Sky Sports News HQ studio to analyse a number of contentious calls from weekend.
From debatable goals and penalty decisions, to red cards, overzealous goal celebrations and managerial reactions, we have it all covered in this week's edition.
MATCH: Swansea City v Chelsea, Premier League, Sunday
INCIDENT: Gary Cahill is tackled from behind by Leroy Fer, who then goes through to score.
SCENARIO: Chelsea's central defender loses the ball to the Dutchman in the build-up to Swansea's second goal, with referee Andre Marriner allowing play to continue.
DERMOT'S VERDICT: Incorrect decision
DERMOT SAYS: The referee has gone to what is a natural position, expecting the ball to be cleared up field. It is played across the park, Cahill has dwelt on the ball and he thinks Leroy Fer has poked the ball between his legs from where he is. But he has not and he [Marriner] has completely misread it, so it is a foul.
MATCH: Swansea City v Chelsea, Premier League, Sunday
INCIDENT: Thibaut Courtois fouls Gylfi Sigurdsson in the area with a lunging tackle.
SCENARIO: Chelsea's goalkeeper brings the Iceland midfielder down with a rash tackle, with Marriner pointing to the spot, but the referee opted against sending Courtois off.
DERMOT'S VERDICT: Correct decision
DERMOT SAYS: Definitely a penalty, and I believe the assistant has triggered that as he is the one looking right across the line. I do not even think that would have been a red card last season.
MATCH: Arsenal v Southampton, Premier League, Saturday
INCIDENT: Jose Fonte drags down Olivier Giroud in the penalty area.
SCENARIO: The Southampton central defender pulls down the France forward, with referee Bobby Madley awarding a penalty.
DERMOT'S VERDICT: The incident should never have got this far.
DERMOT SAYS: I think this should never have got that far - I can understand from the ref's point of view why he thought it was a shirt pull, but for me the key issue is at the start of the move.
This player is obviously injured - he is a defender and a defender would not stop on the opposition six-yard line, unless he was seriously injured and the evidence afterwards showed he had a facial injury. Secondly, he has directly affected the goalkeeper, who you can see was concerned about him, and when the ball came in, he was in the goalkeeper's eye line, so you could stop that for any number of reasons.
The debate about whether Fonte or Giroud created the foul then goes away, so the key issue there is understanding not to put yourself in that position.
MATCH: Stoke City v Tottenham, Premier League, Saturday
INCIDENT: Mark Hughes is sent off for verbally abusing the fourth official.
SCENARIO: The Stoke boss is dismissed by referee Anthony Taylor after disagreeing with a number of the official's decisions at the Britannia Stadium.
DERMOT'S VERDICT: Correct decision.
DERMOT SAYS: His reaction is not acceptable under the guidelines and in fairness to him he came out post match and I thought his interview was fantastic. Under the current climate, if a manager reacts like that, it was so obvious to everybody that the fourth official had no alternative but to call the referee over and the referee remove him.
MATCH: Aston Villa v Nottingham Forest, Championship, Sunday
INCIDENT: Hildeberto Pereira was given a second yellow card after celebrating with his own fans following his side's late equaliser.
SCENARIO: Having earned his first caution just moments before, Pereira is given his marching orders after jumping into the away section at Villa Park after Henri Lansbury's late equaliser.
DERMOT'S VERDICT: Correct decision.
DERMOT SAYS: He is in a terrible position as he has to do it and the unfortunate thing is that had he not already had a yellow card, then we would not be standing here talking about this. But the fact that he has had a yellow card seven minutes earlier and the impact of having a red card, and the poor old ref is really the victim in this as it is a mandatory yellow card.
MATCH: Celtic v Rangers, Scottish Premier League, Sunday
INCIDENT: Philippe Senderos receives a second booking for a deliberate handball.
SCENARIO: The Rangers defender gets a red card on his debut for the club after receiving two yellow cards in the space of 12 minutes. The first was for a tackle on Scott Sinclair, before the former Arsenal man handled ball in the middle of the pitch.
DERMOT'S VERDICT: Correct decision.
DERMOT SAYS: I think that if you were in a highly charged local derby and you had to send a player off, this is heaven sent as nobody can argue - he is already on a yellow card and it is so obvious and blatant that nobody, not even the staunchest Rangers fan, would say the referee could not do anything else.