Arsene Wenger says Arsenal's fluency back 'in patches' after players questioned themselves
By Gerard Brand
Last Updated: 27/11/16 5:41pm
Arsene Wenger says Arsenal's fluency is back "in patches" after the players "questioned themselves" following three straight draws.
Arsenal remain three points behind leaders Chelsea following their hard-fought 3-1 win over Bournemouth on Sunday, earned thanks to a double from Alexis Sanchez and Theo Walcott's strike.
Wenger praised Bournemouth for their performance, but said Arsenal deserved the win at the Emirates.
Asked if Arsenal's fluency had returned, Wenger said: "In patches, it's always a different game after CL, mentally it's so demanding. The players questioned themselves after a few draws.
"We got better during the game but Bournemouth played well. They started with high intensity physically and when I saw that I thought they would drop a little bit in the second half.
"After that we were a bit unlucky because I think there was a second penalty on Sanchez and the penalty for them is another questionable one. After that, we had to improve our level in the second half and we did."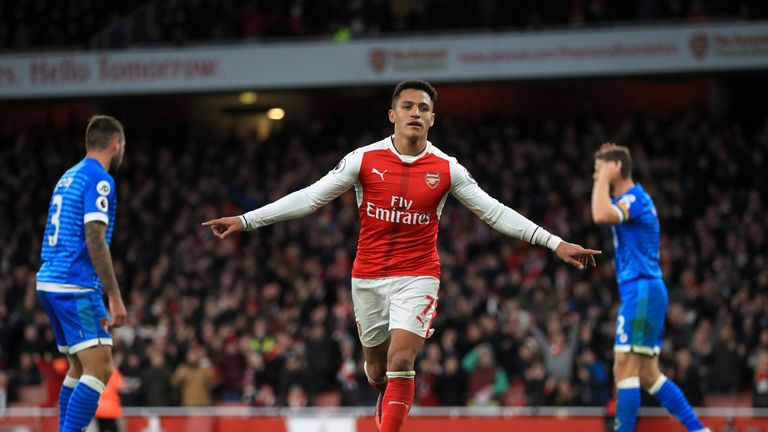 Bournemouth were denied a penalty in the second half after Nacho Monreal's handball in the area, but Wenger says that type of handball is not deemed punishable these days.
"They don't give that anymore because it has to be deliberate handball. It's along his body.
"I personally don't complain when we don't get these kind of penalties but I'm maybe not a rule specialist."
Jack Wilshere was ineligible for Bournemouth against his parent club, but was in the stands watching, and Wenger insists the midfielder is in very safe hands with the south coast outfit.
"In very safe hands, because I feel they are a team who can have as much possession as the top teams and play well as well, and that's what they did today. They are a top side.
"I never forget when they came up from the Championship they scored over 100 goals and that's never a coincidence, that means the quality is in the side.
"I saw him before the game and he told me he'd come in after the game."
Upgrade to Sky Sports now and get 12 months half price. Hurry, offer ends December 4!