Jose Mourinho's disciplinary record at Inter Milan, Chelsea, Real Madrid and Man Utd
Last Updated: 27/11/16 5:23pm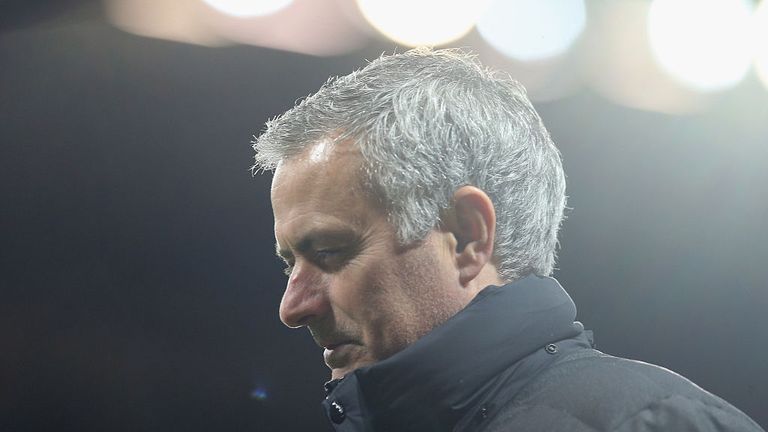 Jose Mourinho could find himself in hot water with the FA once more after being sent to the stands during Manchester United's Premier League match with West Ham on Sunday.
The United boss was incensed by referee Jon Moss booking Paul Pogba for simulation and kicked a bottle on the touchline. 
Moss sent Mourinho out of the technical area for that action - meaning the Portuguese could be facing punishment from the FA for the third time since he was appointed United manager in the summer. 
Here, we take a look back his chequered record...
February 23, 2005
After watching his Chelsea side lose 2-1 to Barcelona in a Champions League last-16 tie at the Nou Camp, Mourinho accused Frank Rijkaard of influencing referee Anders Frisk at half-time. He was slapped with a £8,900 fine and a two-match touchline ban.
February 20, 2010
In his second season at Inter Milan, Mourinho received a €40,000 fine and a three-game touchline ban after making handcuff gestures during a goalless draw with Sampdoria. Inter had Walter Samuel and Ivan Cordoba sent off, and Mourinho was convinced there was a refereeing conspiracy against his side.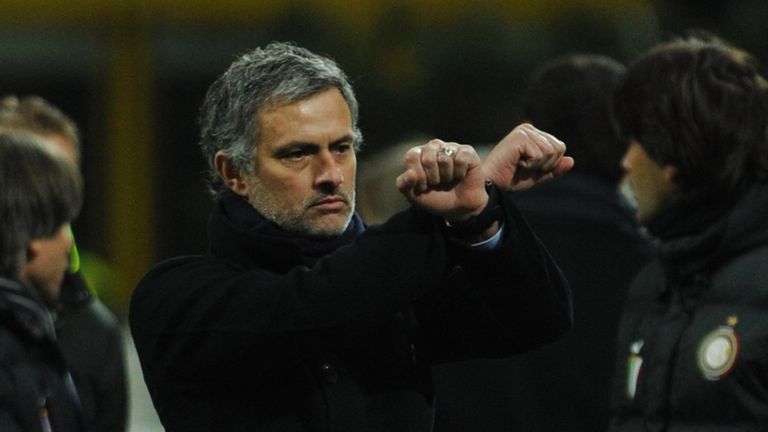 April 27, 2011
Mourinho's first major indiscretion as Real Madrid manager came with an angry tirade at UEFA and Barcelona after a 2-0 defeat to the Catalans in the first leg of their Champions League semi-final. The Portuguese said teams have "no chance" when they face Barca. He was given a five-match ban by UEFA, although it was reduced on appeal.
August 17, 2011
Real Madrid's Spanish Super Cup meeting with Barcelona at the start of the 2011/12 season brought another major flashpoint. Mourinho was seen poking his finger into Barcelona assistant coach Tito Vilanova's eye during a touchline melee. He was widely criticised, but his two-game suspension was eventually lifted.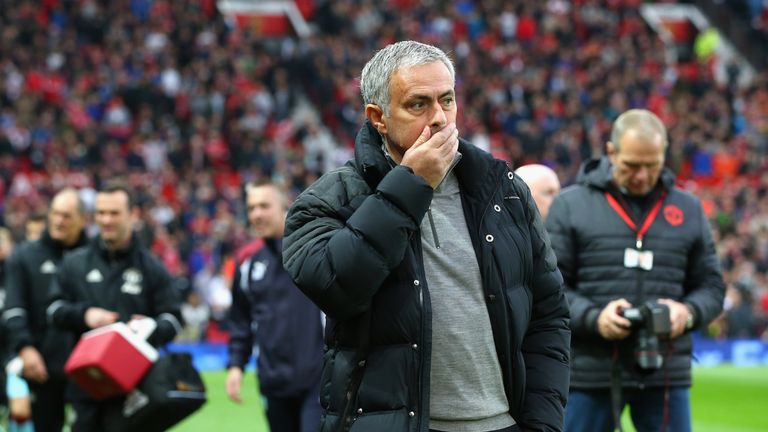 October 19, 2013
Mourinho landed himself in hot water soon after his return to Chelsea in 2013 when he was sent to the stands by Anthony Taylor for angrily protesting on the sidelines during a 4-1 win over Cardiff City at Stamford Bridge. Mourinho was charged with improper conduct and accepted an £8,000 fine.
March 15, 2014
Another charge of improper conduct and another £8,000 fine followed in March 2014, when Mourinho was banished to the stands by Chris Foy during a stormy 1-0 defeat by Aston Villa. Mourinho was incensed by decisions during the defeat, which came as a major blow to Chelsea's title hopes.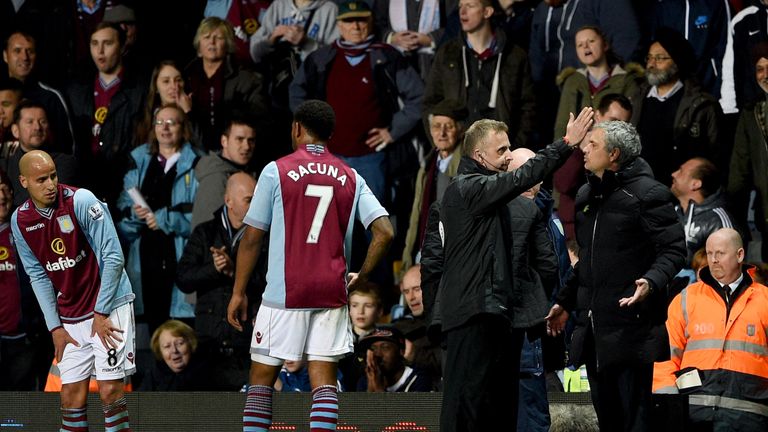 April 19, 2014
Mourinho courted controversy again when he sarcastically praised Mike Dean and referees' chief Mike Riley after Sunderland ended his 77-game unbeaten run in Premier League games at Stamford Bridge. Mourinho contested the charge but ended up paying a £10,000 fine.
December 28, 2014
Mourinho said there was a "clear campaign" against Chelsea after Cesc Fabregas was denied a penalty and yellow carded for diving during a 1-1 draw with Southampton. After contesting a charge of improper conduct, he was hit with a £25,000 fine.
August 8, 2015
Mourinho berated his medical staff for entering the pitch in the closing stages of a 2-2 draw with Swansea on the opening day of the 2015/16 season. He avoided punishment from the FA, but he later had to appear at a tribunal as former club doctor Eva Carneiro claimed constructive dismissal relating to the incident.
October 3, 2015 
Mourinho criticised referee Robert Madley following a 3-1 loss to Southampton, alleging that officials were "afraid" to give Chelsea penalties in an extraordinary post-match interview with Sky Sports. An independent panel ruled that his comments implied bias, and Mourinho received a £50,000 fine and a suspended one-match stadium ban after failing with an appeal.
October 20, 2015
Echoing comments made by Arsene Wenger, Mourinho described a decision not to award Chelsea a penalty in a Champions League game with Dynamo Kyiv as "weak and naive". Mourinho was highlighting the fact that Wenger had avoided punishment. On this occasion, the Chelsea boss also avoided a sanction.
October 24, 2015
Mourinho was sent to the stands during a 2-1 defeat by West Ham after it emerged he had launched an explicit rant at Jonathan Moss in the referee's dressing room at Upton Park. Mourinho was incensed by Moss' decision to send off Nemanja Matic. He was given a one-match stadium ban and fined £40,000 after accepting a misconduct charge.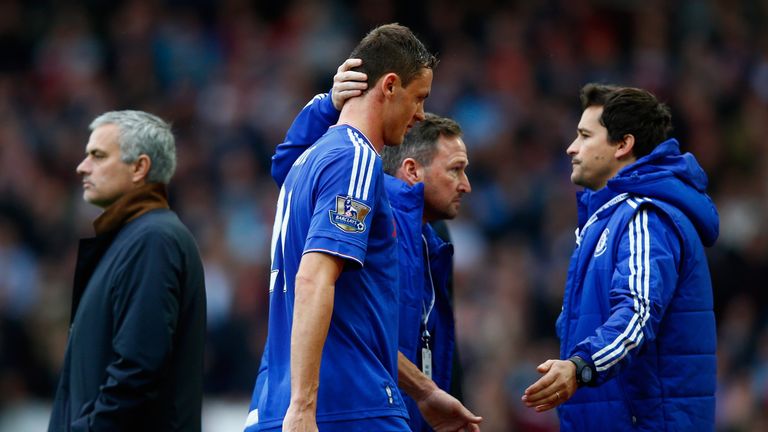 October 27, 2016
Almost a year to the day since that ill-tempered afternoon in east London, Mourinho was hit with another misconduct charge for comments relating to Anthony Taylor ahead of Manchester United's 0-0 draw with Liverpool. Mourinho accepted his comments constituted improper conduct but denied they brought the game into disrepute - although the FA ruled otherwise. He was fined £50,000 and warned as to his future conduct.
October 29, 2016
Mourinho was sent to the stands for the first time as Manchester United manager midway through his side's goalless draw with Burnley. The Portuguese was furious after United were denied a penalty for an apparent trip on Matteo Darmian and was later alleged to have used "abusive and/or insulting words towards a match official" in the tunnel at half-time. Mourinho admitted the charge and was given a one-match touchline ban, as well as a fine of £8,000.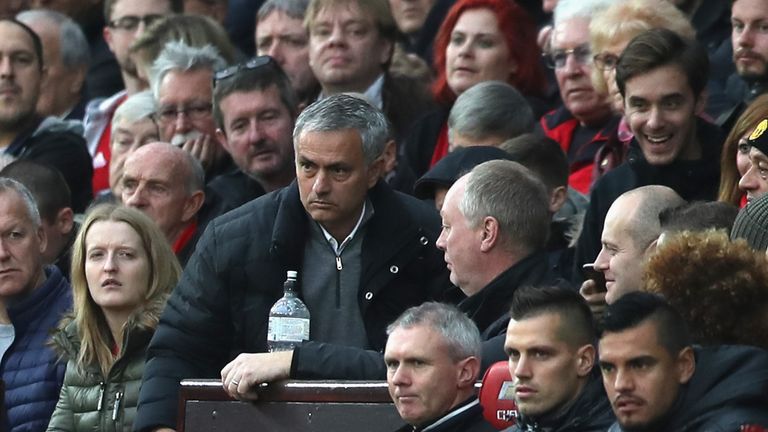 November 2, 2016 
Mourinho was charged with misconduct for comments about referee Anthony Taylor in the build-up to Manchester United's game against Liverpool two days before being sent to the stands at Burnley. An independent regulatory commission heard that Mourinho accepted the comments he made about Taylor ahead of the game against Liverpool constituted improper conduct but denied they brought the game into disrepute, in contravention of Rule E3(1). The commission found the disrepute element of the charge proven and as well as being fined £50,000, Mourinho was warned as to his future conduct.