Southampton's "immense" Virgil van Dijk is the best centre-back in the Premier League, says Jamie Redknapp.
Van Dijk helped Saints to a 1-0 victory over Liverpool in the EFL Cup semi-final first leg on Wednesday with an assured display, following a fine first half to season.
He has been linked with a move away from the club in the summer, and Redknapp told Sky Sports after the game that the 25-year-old Dutchman is getting "better and better".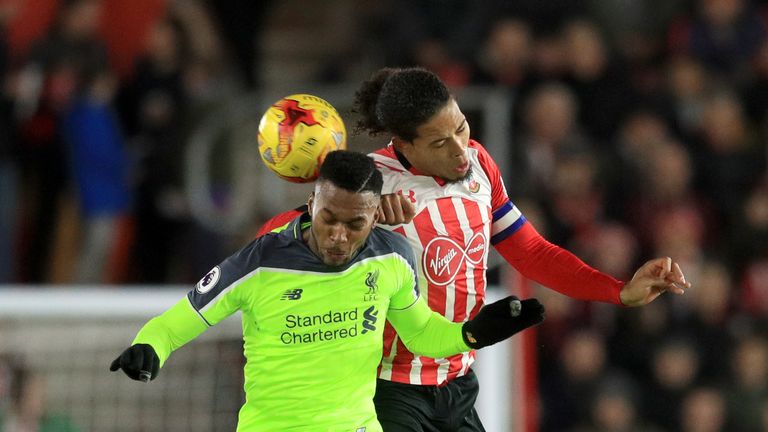 "He's immense, I say it every time I watch him. He gets better and better. It was like watching a man play against a little boy in Daniel Sturridge, he bullied him all game.
"He never gave him a sniff. He's got the after-burners, he's so comfortable on the ball. Whoever decides to buy him, he is a fantastic player.
"There's not a better centre-back in the Premier League."
Former Southampton striker Matt Le Tisier echoed Redknapp's words, saying he is the best central defender in the division alongside Tottenham's Toby Alderweireld.
Also speaking on Sky Sports, Le Tissier does not believe Van Dijk will be sold by Southampton this January, and added that Jose Fonte's transfer request meant he could not be expected to play alongside Van Dijk on Wednesday evening.
"I like Alderweireld, and those two are the best two centre-backs in the Premier League.
"Jose will be missed, he's been a terrific servant for the club, but once you've put in a transfer request I don't think he can be expected to play tonight."
Asked if they will keep hold of Van Dijk in January, Le Tissier said: "I think so, I think when you look back at all the players we have sold, I can't remember one of them going in January.
"I thought they organised themselves really well. I watched the last round up at the Emirates and they did the same thing there, a terrific defensive performance."