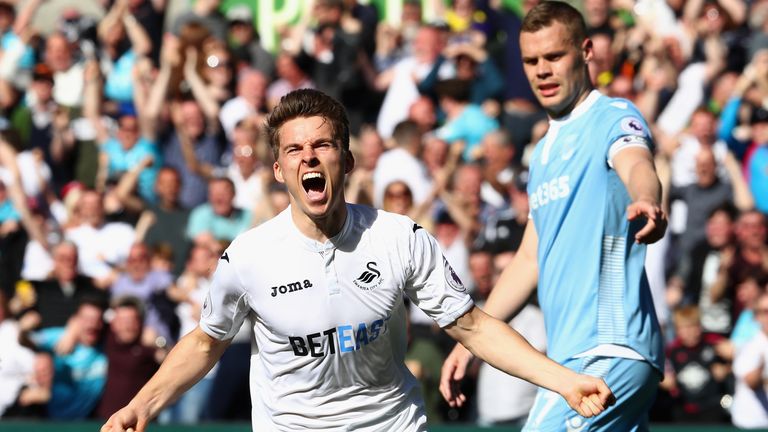 Tom Carroll has promised relegation rivals Hull that Swansea will fight to the bitter end to stay in the Premier League.
Carroll scored only his second Premier League goal - and his first for Swansea - as Paul Clement's side claimed a first win in seven games with a precious 2-0 home victory over Stoke.
But Swansea remain in the relegation zone after Hull's 2-0 win against Watford kept them two points adrift of the Tigers with four games to play.
Bottom two Middlesbrough and Sunderland appear doomed to be playing in the Sky Bet Championship next season, with either Hull or Swansea likely to fill the final relegation place.
"Hull will look at this result and know we are not going to be giving up without a fight," Carroll said. "We will be scrapping right to the end.
"Obviously they had a good result, but it is a small gap and they are still within touching distance.
"There is a lot of football left to play and enough points there to be picked up. Two points is nothing, we are right on their heels."
Swansea head coach Clement had described Stoke's visit as "must-win" ahead of remaining home games against Everton and West Brom and trips to Manchester United and Sunderland.
Hull's final four matches see them play Sunderland and Tottenham at home and visit Southampton and Crystal Palace.
"The last five or six performances have not been good enough," Carroll said. "This was more of what we are about, and what we have been about since the start of the new year.
"It was like a cup final out there and the atmosphere reflected that.
"We played some good football, created good chances and kept a clean sheet. So all in all it was very positive."