As the Premier League season draws to a close, Jamie Carragher and Gary Neville dished out a few accolades on Monday Night Football.
The Sky Sports duo chose their top player and manager from the 2016/17 Premier League season, as well as picking their ultimate XI from the campaign.
They also chose their goals of the season - plus their top young player and signing from the campaign - as well as a player they can't wait to watch next term...
Player of the Season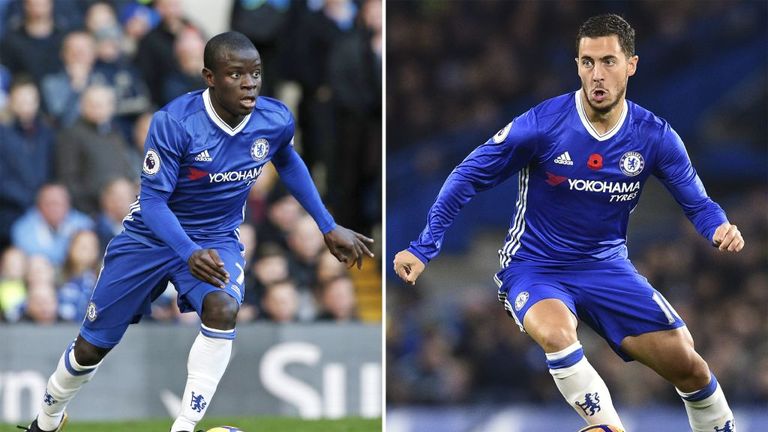 Carra's pick: Eden Hazard (Chelsea)
He's the best player in the league. There's no doubt he had a massive drop off last season but over the last three years - he was player of the season in the first year and this year N'Golo Kante's won it. It's difficult to argue with that because he's been outstanding, but I'm just going with the player that gets you off the edge of your seat and that's Hazard.
Nev's pick: N'Golo Kante (Chelsea)
He's a huge influence on this Chelsea team. I saw the way they celebrated winning the title with him on Saturday night - they threw him up in the air amongst a couple of other players - but it just seemed like a thank you because they realise the job he's done. For me, he's been the player of the season.
Manager of the Season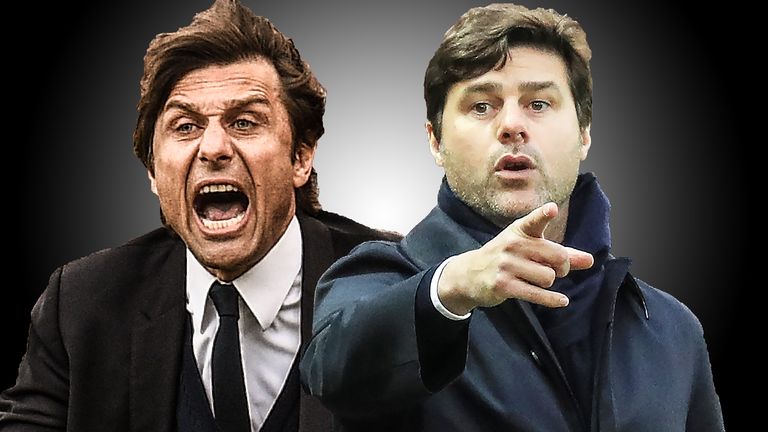 Carra's Pick: Antonio Conte (Chelsea)
Without a doubt it's Conte. It's his first year in the Premier League and to do what he's done - they are probably favourites to now win the Premier league and FA Cup double - is brilliant. If you think of Pep Guardiola, he knew at Christmas he was coming into Manchester City but Conte had Italy in the summer and his pre-season would have been interrupted. It wouldn't have been easy going straight in at Chelsea. And the change in system, it is inevitable people will always talk about that but getting top players to go to something and succeed when they've never played that way before is a great achievement. He's made some big decisions and they've paid off.
Nev's pick: Mauricio Pochettino (Tottenham)
Special mention to three English managers for what they've done: Sean Dyche, Eddie Howe and Paul Clement. They deserve that. You can always look at the manager that's won the championship but I've gone for an alternative.
At the start of the season I thought Tottenham would dip. I thought they would go backwards purely because of their squad and playing in the Champions League and the lack of investment compared to others. For Mauricio Pochettino to achieve what he's done this year and to get Tottenham into second with a record points haul in the Premier League, it's an outstanding managerial achievement. Ultimately I've gone for him but I couldn't disagree with Conte and you could also make cases for the three Englishman I mentioned as well.
Young Player of the Season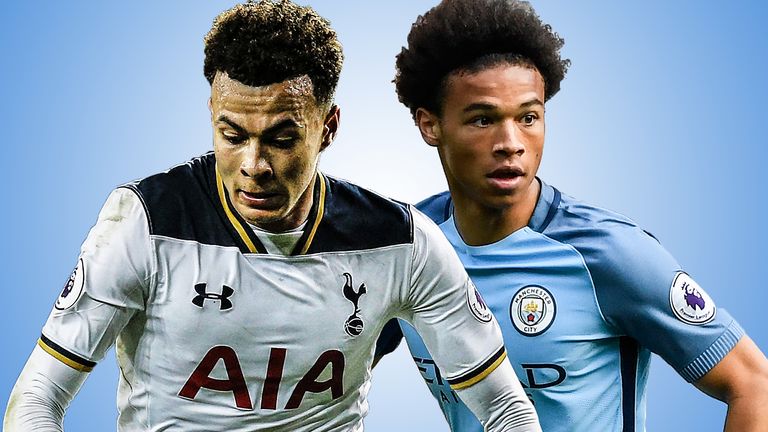 Carra's Pick: Dele Alli (Tottenham)
Easy for me that. One day we'll be talking about him winning Player of the Year, no doubt. I think Steven Gerrard won Young Player of the Year at that age as well and then went on to win Player of the Year, and I see little difference with Alli when I see him play.
He's getting to that stage now already where he wouldn't be that far away from being Player of the Year, I think that's always a great sign for a young player.
Nev's pick: Leroy Sane (Man City)
I couldn't argue with Dele Alli. He's an amazing player, who I loved watching against Manchester United on Sunday. He was absolutely brilliant. I just think because he's known to the Premier League he's expected to reach that level so the emerging young player of the year is Sane.
Signing of the Season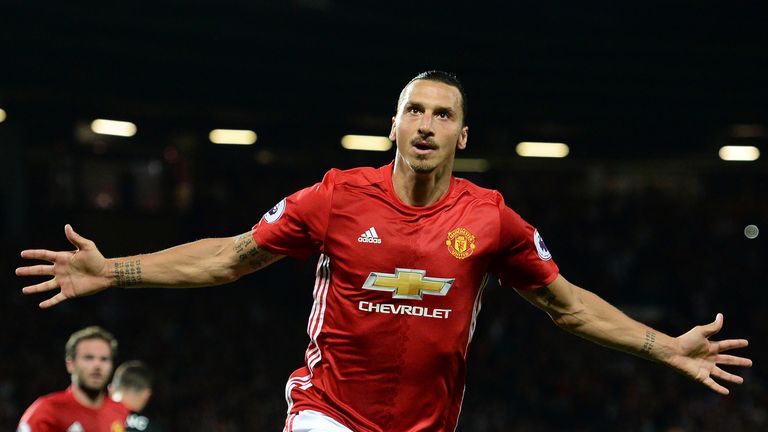 Carra's Pick: N'Golo Kante (Chelsea)
Kante has been a revelation since he came to England, first with Leicester and now with Chelsea. He has been the best central midfielder in the Premier League this season.
Nev's pick: Zlatan Ibrahimovic (Man Utd)
Zlatan's made a huge impact on United. It was said on MNF a couple of months ago that he could have been player of the season until he got injured. I still think he's the signing of the season. In that EFL Cup final he carried United through it.
Goal of the Season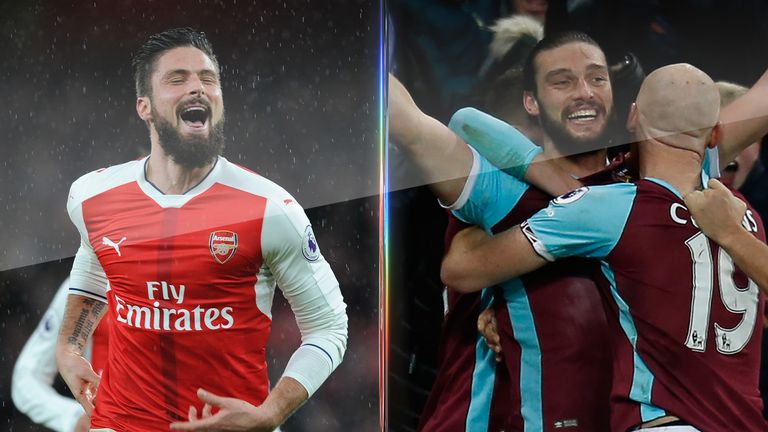 Carra's Pick: Andy Carroll v Crystal Palace
Emre Can's was a great one, but I think this was better. Carroll is never the most supple of men, so to get himself up high and it's how hard he hit it. I don't know why the goalkeeper dived, to be honest. There's power, connection and it's right in the top corner. An unbelievable goal.
Nev's pick: Olivier Giroud v Crystal Palace
I've gone for this one based on two things; the height of the ball - and also he is further out. I was commentating on that game. All the other types of goals we've seen before and they are great goals, but it's uniqueness. For me, that wins goal of the season.
One to Watch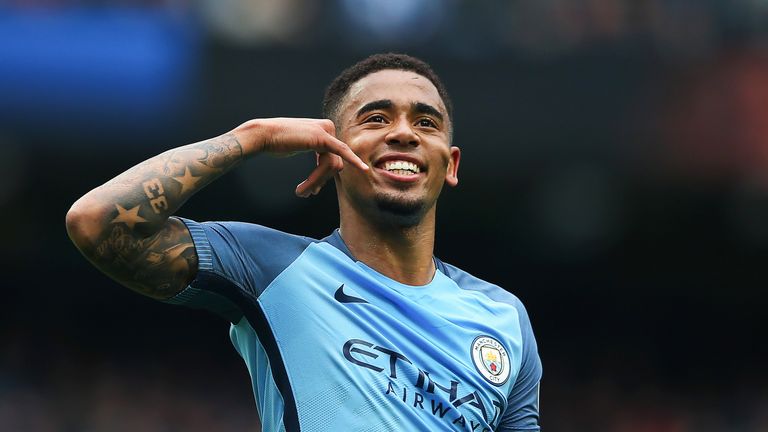 Carra's Pick: Gabriel Jesus (Man City)
He's going to be a star. I think Sergio Aguero has a problem. I don't know what will happen in the summer, whether Aguero will stay or go. You would think with a player of that quality you would keep him but two or three months into the next season Jesus will be the first choice striker at Man City. Can they play together? I think Aguero has a bigger problem than Jesus.
Nev's pick: David Luiz (Chelsea)
He's had an outstanding season. He's been dependable and reliable - everything you could have questioned him about in the past. John Terry's leaving now so can David Luiz come back next season and be the John Terry for Chelsea in the next two or three seasons. It will be very interesting to watch.
Team of the Season
Carra's XI: Courtois; Azpilicueta, Alderweireld, David Luiz, Rose; De Bruyne, Kante, Alli, Hazard; Costa, Kane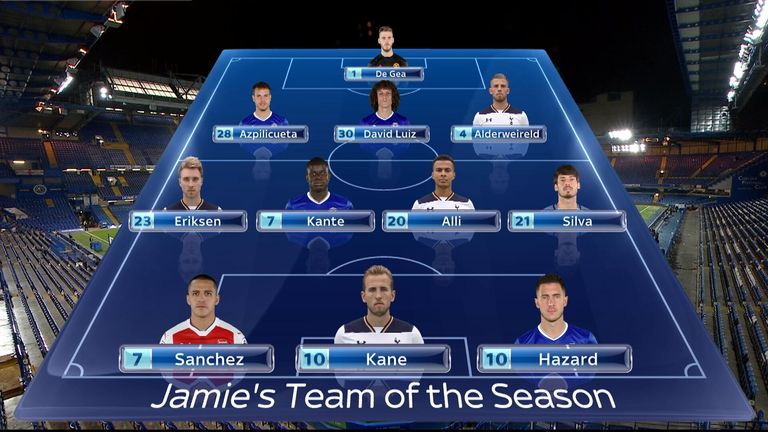 Nev's XI: De Gea; Azpilicueta, David Luiz, Alderweireld; Eriksen, Kante, Alli, Silva; Sanchez, Kane, Hazard