Stopping the supply: How understanding passing sequences helps win games
Last Updated: 24/08/17 12:43pm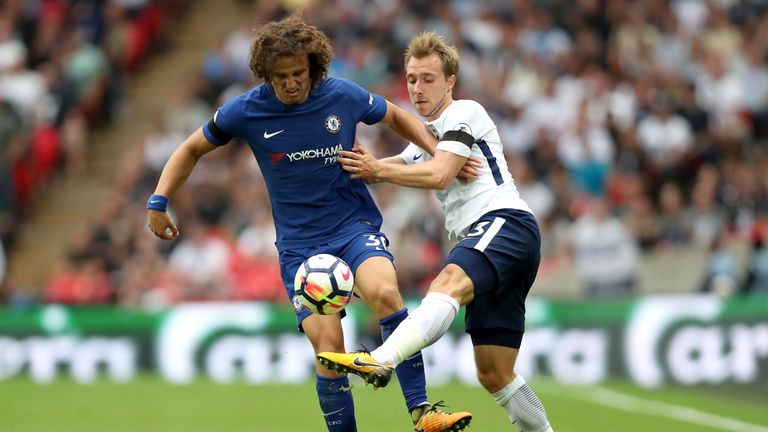 Chelsea's win over Tottenham was just the latest example of why understanding an opponent's passing sequences can be crucial. Teams are using technology to study it more and more, writes Adam Bate.
David Luiz was at the heart of another Antonio Conte tactical masterstroke as Chelsea beat Tottenham on Sunday. Stepping into midfield, the Brazilian won praise for shutting down the creative flair of Christian Eriksen and Dele Alli. "They always play very well between the lines so I was trying to close this gap and not leave space for them to create," he explained.
The decision to deploy David Luiz in midfield was purportedly due to limited options, but as Sky Sports' Gary Neville pointed out, it may well have been the plan all along. It certainly paid off. No doubt many of Conte's fellow Premier League managers will have taken note of how he was able to shut down Spurs' supply lines at Wembley.
This concept of cutting off the supply to the strikers is nothing new in football. But clubs are now going to greater lengths than ever before to establish just how their opponents are able to create opportunities. In doing so, it is taking them beyond goals and assists, beyond even chances created, and into the world of passing patterns, sequences and networks.
It is not too long ago that the assist was considered an exotic statistic best left to fantasy football enthusiasts. Now it is held in suspicion by many club analysts, not because of its geekiness but because the small sample size can mislead. Better to look to chances created for the greater quantity of data or even 'expected assists' for the greater quality of it.
And yet, this information, for all its detail, can only reveal what is happening in the pass prior to the shot. Opta have introduced the concept of the second assist - a pass or cross that is instrumental in creating a goalscoring opportunity - but those at the sharp end still crave more information. Passing sequences provide that added layer of detail.
Opta's latest model records this data. Sequences are defined as uninterrupted passages of play where the ball is in possession of one team. They are ended by defensive actions, stoppages in play, or a shot. On this metric, it is revealed that Arsenal's Alexis Sanchez was involved in the build-up to more goals from open play than any other player last season.
But sequencing allows a deeper look into the networks that a team uses. The list of players most frequently involved in all passing sequences last season was topped by Cesc Fabregas, with Jordan Henderson, James Milner, Granit Xhaka and Paul Pogba not far behind. Stop the ball reaching those players, and a team's pattern of play could be disrupted.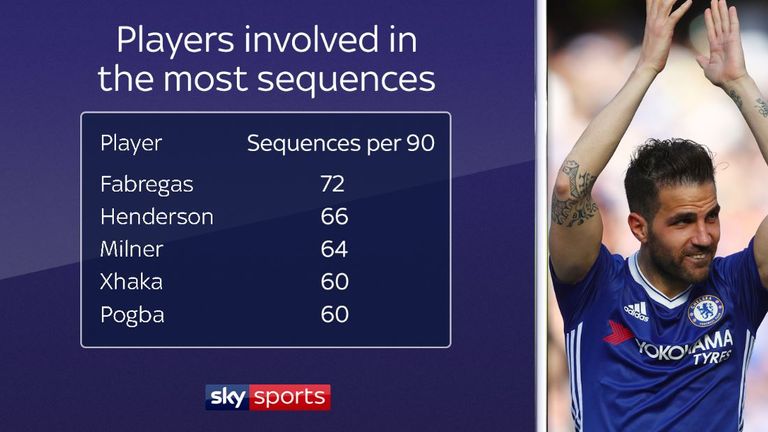 If this all seems like an abstract concept, the preserve of maths professors and best kept away from the football training ground, think again. As long ago as 2014, an age away in analytics terms, Pedro Marques, Manchester City's first-team performance analyst at the time, was speaking freely about these ideas and how they are delivered to players.
In a presentation at the invitation-only OptaPro Forum in 2014, Marques offered an insight into how a team like City analyse passing patterns and explained how this influenced their scouting of the opposition. If a coach knows how an opponent looks to build their attacks, then he is better able to position his own players to cut out those favoured options.
Stopping the supply to a creator such as Tottenham's Eriksen might seem obvious but it was overlooked in Chelsea's 2-0 defeat in the corresponding fixture last season. More surprising perhaps is the fact that this desire to prevent an opponent creating is not limited to the final third. Analysing exactly how and from where a side develops their attacks can be crucial.
Pep Guardiola views his goalkeeper as the first part of the process. His role as coach is to build a system that delivers the ball into the final third as effectively as possible. Details matter. Johan Cruyff became exasperated by then Ajax coach Frank de Boer's insistence on using the right-sided defender to construct attacks rather than the man in the centre.
The subtleties of Ajax's build-up play had significance for De Boer's successor Peter Bosz in the Europa League final in May. Manchester United manager Jose Mourinho deliberately left Davinson Sanchez free on the left, encouraging Ajax to play the ball to him by blocking the path to the more technically-proficient Matthijs de Ligt on the right.
The concepts as explained to the players can be simple. The best instructions often are. But the data that drives them can be complex. What is clear is that passing patterns matter to football's decision-makers and the stories that they reveal can bring us that little bit closer to understanding what makes the top coaches do what they do.