Should David Luiz have been sent off earlier against Arsenal? Were Tottenham unlucky to have three penalty claims turned down? Was Mohamed Salah wrongly denied a penalty?
Ref Watch is here to debate a number of the weekend's controversial talking points from the Premier League.
Former top-flight official Dermot Gallagher has been in the Sky Sports News studio to give his view on several incidents…
INCIDENT: David Luiz booked for hitting Laurent Koscielny with a high boot
SCENARIO: The Chelsea defender is shown a yellow card in the 52nd minute for catching Koscielny with his boot while attempting an overhead kick. Sky Sports pundit Graeme Souness said he thought it should have been a red.
DERMOT'S VERDICT: Right decision
DERMOT SAYS: It's a not a red for me. I have heard many people say it is, but I disagree because it's totally different to any of the others we have seen over the last few weeks.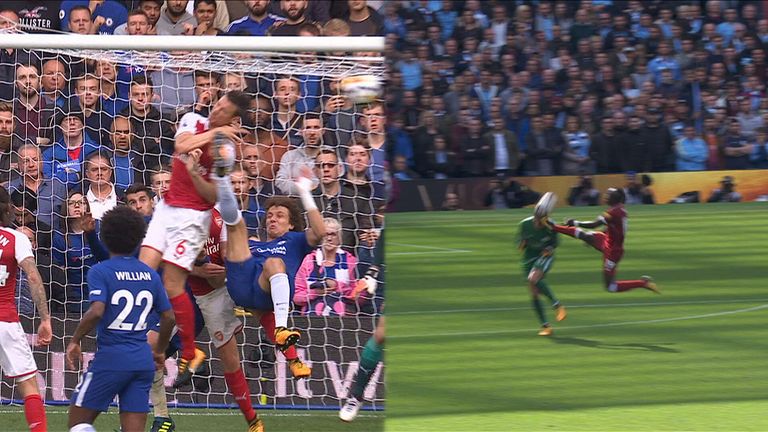 He catches him on the arm, his boots are high, and it's a foul, but he is in a position to play the ball, he hasn't gone towards the ball, the ball has come towards him, and the speed is different. Koscielny has come to attack the ball and the fact Luiz's boot is so high means it's a foul.
We saw two different incidents with bicycle kicks this weekend. There was one at Newcastle from Joselu where the ball was played on for a goal, which was ultimately disallowed. In that instance his opponent isn't near to him. With David Luiz there is no doubt that he caught him on the arm. Joselu's opponent is two yards behind, that's the difference. Does it impact on an opponent? Will it endanger his safety? Is it reckless?
INCIDENT: Luiz sent off for late tackle on Sead Kolasinac
SCENARIO: Having escaped dismissal earlier in the game, Luiz is sent off in the 87th minute after a late challenge on Kolasinac that saw his original yellow over-ridden by a straight red card
DERMOT'S VERDICT: Right decision
DERMOT SAYS: It's a definite red for me. I haven't seen many people who think any differently. The pictures are quite damning. He's high, he's late, it's dangerous, he's gone with too much force; it ticks every single box for a red. It's a red card and I don't think anything excuses the end product, which was the tackle.
INCIDENT: Everton goal ruled out for offside
SCENARIO: Tom Davies has a header saved and the rebound is turned in, but the flag has gone up against Davies for offside
DERMOT'S VERDICT: Right decision
DERMOT SAYS: It's a great call. When I saw this first time I couldn't understand why it had been disallowed, but you see it sideways and it's a terrific spot.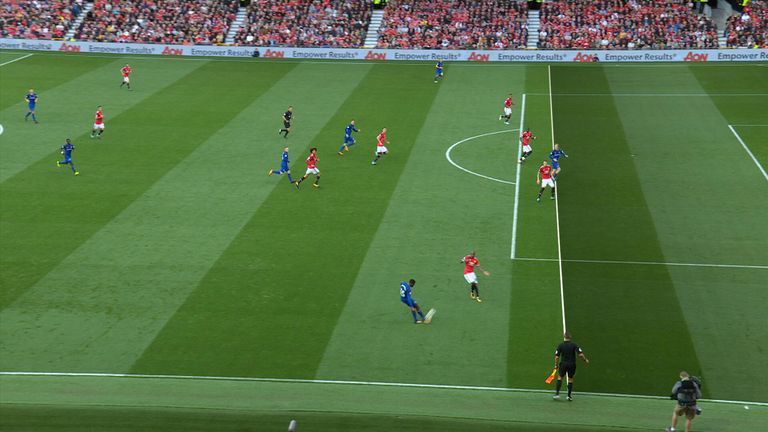 INCIDENT: Morgan Schneiderlin gives away a penalty for handball
SCENARIO: The Everton midfielder slides to make a block in the box and the ball hits his arm
DERMOT'S VERDICT: Right decision
DERMOT SAYS: Everybody accepts that's a penalty because his arm is out so far it's blocked the ball. I think Morgan Schneiderlin knows what he is doing...It's going to go through to Jesse Lingard, who will have a chance to score.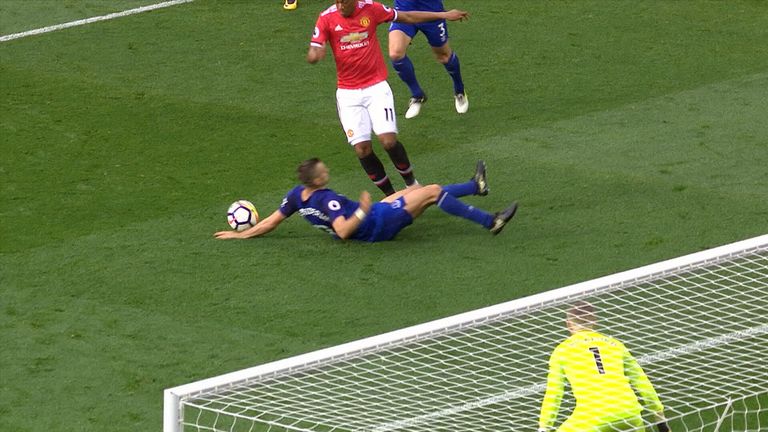 INCIDENT: Two Man City goals stand despite close offside decisions
SCENARIO: Sergio Aguero heads in and then sets up Gabriel Jesus to score, but replays show both players were offside
DERMOT'S VERDICT: Wrong decision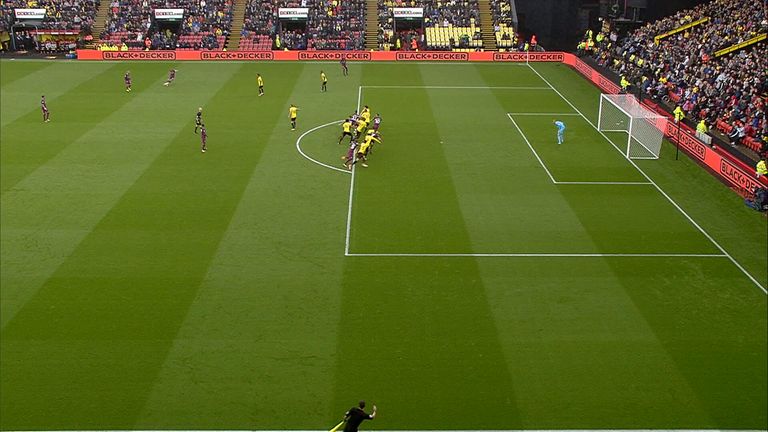 DERMOT SAYS: The VAR [Video Assistant Referee], if it was in use, would show both are offside. In defence of the assistant, the first is extremely tight. That could go either way and he isn't convinced it's offside so keeps his flag down. I can fully accept that.
For Gabriel Jesus, it's half a body. It's not as tight as Aguero and it would be given by the VAR, but it's difficult to get.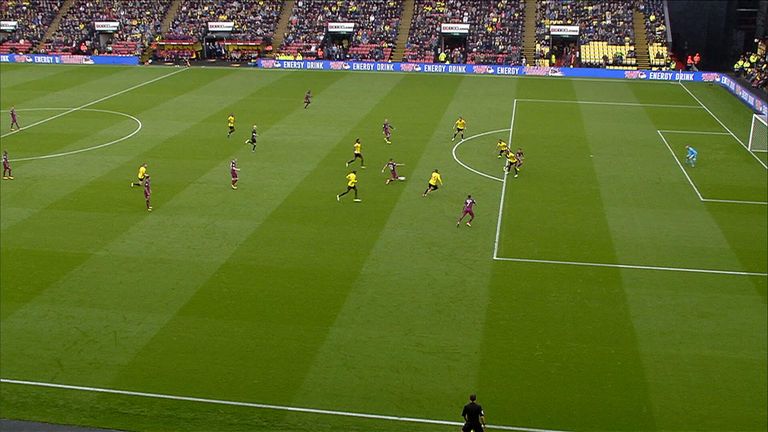 INCIDENT: Kyle Walker catches Nathaniel Chalobah with a high challenge in the box
SCENARIO: From a Watford corner, Walker goes in late on Chalobah and catches him without playing the ball, but no penalty is given
DERMOT'S VERDICT: Right decision
DERMOT SAYS: I think this is the most interesting decision of the weekend. I don't think it's a penalty because nobody expects it. It's just a challenge you see in every penalty area. If you look at the law you say it probably is a penalty because he catches him high and doesn't play the ball. But you see it every day of the week and the referee plays on. It's a very tough decision.
INCIDENT: Tottenham are denied three penalties
SCENARIO: Martin Olsson appears to block off Toby Alderweireld as he knocks the ball past him. Spurs then appeal for penalties as a cross hits Olsson before Serge Aurier goes to ground under a challenge from behind - although the referee had already blown for handball against Aurier
DERMOT'S VERDICT: Right decision
DERMOT SAYS: The first one with Alderweireld comes back to my saying 'where can he go?' Alderweireld can't get by but Olsson can't make himself invisible. He hasn't moved into line with him and hasn't moved across and taken him out, so it's a no for me.
The Olsson 'handball' has got to be the best spot the referee can make. That is an incredible spot. I didn't think it hit him on the hip but it did.
With Aurier, he actually trips himself.
INCIDENT: Liverpool's Mohamed Salah is denied two penalties
SCENARIO: Salah goes down under a challenge from James Tarkowski and then, later in the game, is challenged by Ben Mee in the box. Neither is given as a penalty


DERMOT'S VERDICT: One right, one wrong
DERMOT SAYS: I don't think the first one is a penalty. I don't think it's a foul.
Why is the second one not given? Because of where the referee is. From his angle it looks like Mee gets the ball but it is actually Salah that gets it. It's impossible to see from where the referee is.
INCIDENT: West Brom goalkeeper Ben Foster shown yellow for challenge outside the box
SCENARIO: Foster comes sliding out of his area and brings down Javier Hernandez. He is only shown a yellow card
DERMOT'S VERDICT: Right decision
DERMOT SAYS: The first thing you need to establish is that, as soon as he leaves his penalty area, he is not a goalkeeper. He is an outfield player. So in effect he is a full-back. If you see a full-back make that tackle it's not denying a goalscoring chance because the ball is going away from goal. That would be a foul challenge so it's a yellow card. The argument was he's a goalkeeper who has committed a foul outside his area, but that's not true in the laws of the game.
INCIDENT: Elias Kachunga turns in a shot but is adjudged to be offside
SCENARIO: A shot from Mathias 'Zanka' Jorgensen is headed in by Kachunga, but the flag goes up for offside
DERMOT'S VERDICT: Wrong decision
DERMOT SAYS: It's a bit unfortunate. It comes so quickly that Kachunga is just onside as it's played. By the time the ball comes through everybody the assistant thinks he is offside but his starting position was onside.