With less than three months until video technology becomes a reality in English football, preparations for its arrival are going up a gear.
In the televised games in this season's FA Cup third round at Premier League grounds, and the EFL Cup semi-finals and finals, the on-field referee will be assisted by a second official watching the action unfold on a bank of screens.
It is the latest major change to the sport as significant as the awarding of three points for a win or the backpass rule.
But there is resistance to video technology, from those who feel incorrect calls are part of the curious fabric of the sport; that memorable refereeing errors are a key component of football's ongoing storylines, and that it will simply slow the flow of the game down too much.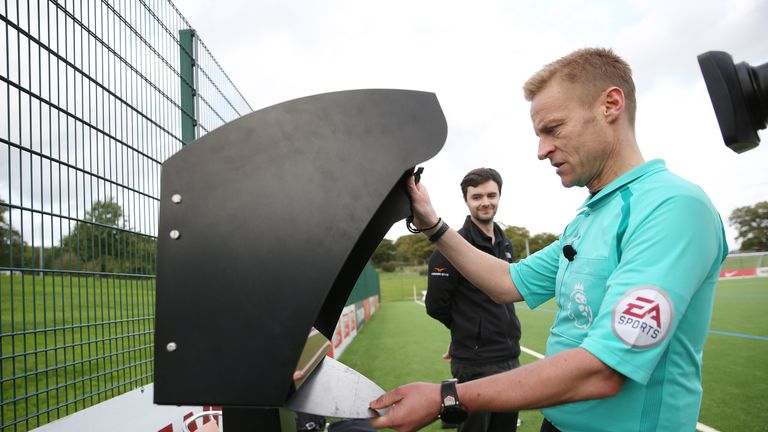 The argument that rugby and cricket use a television replay system is often dismissed by those in opposition, who argue rugby does it sparingly and only for big decisions, and cricket is a slower-paced game often spread out over many days and not a high-energy 90-minute sprint.
As it stands, however, VAR will only be used in football for four things - goals, red cards, penalties and cases of mistaken identity.
The rest of the decision-making will continue to be handled by the man on the pitch, and referees chief Mike Riley, who oversaw a trial of the system at a three-day tournament for under-18 sides at St George's Park in Burton, feels the sport will not be negatively altered by the proposals.
"Most fans can think of a decision either for or against their team last season which was a clear black-or-white decision which could have been corrected quite easily by a video assistant looking at the footage," he said.
"We're going around to all 20 Premier League clubs at the moment; we were in Stoke on Wednesday and a player scored a goal which to the naked eye looked like a really good goal.
"It was a tight offside but it looked a good goal - it was only when we looked back at the footage that you saw his leg, the leg he scored with, was offside. If you stopped it at the right time, you couldn't fail to see it.
"So there are lots of situations where you think, yes, this will work, and part of the understanding is that the majority of the time the referee's decision will stand.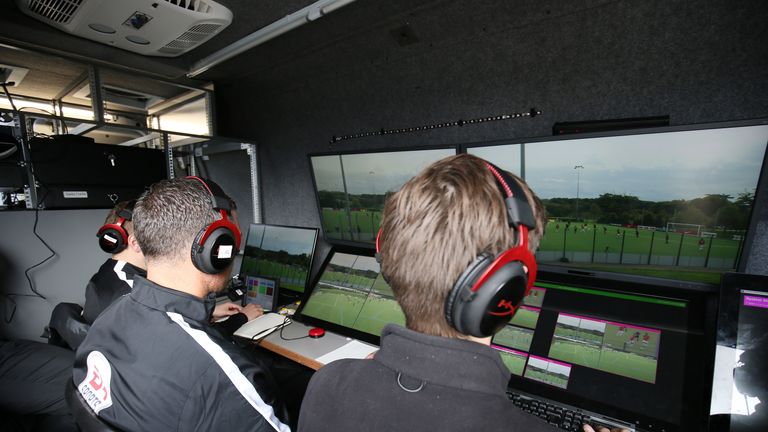 "We don't want to kill the speed or the spontaneity of the game and part of this training is so that we can do it as efficiently as possible."
And he added: "VAR only intervenes if the referee has made a clear error," he said. "It's part of our training to narrow down what is a clear error so we have less subjectivity.
"Football being what it is, it will still have that element to it."
Having been fully briefed in the theory, it was time to see the practice. In the mid-morning match on the second day of the tournament, Mike Dean was on shorts-and-whistle duties while Kevin Friend sat in the TV truck and watched the action unfold on a huge bank of screens.
Friend watched the live feed of the match on one screen but flicked his attention to a four-way screen beneath it whenever anything of note happened, usually referring to a feed which was two seconds behind the main one, providing a constant stream of instant replays.
The third and fourth screens are feeds of cameras shot from the 18-yard line and with lines superimposed over them to make offside decisions easier.
Referees don't watch matches like everyone else does; Friend was vocalising his stream of consciousness throughout the whole thing, spotting potential offsides and infractions that your average viewer wouldn't even contemplate.
To emphasise both that point and the crystal-clear zoom power of the cameras, he at one stage picked up on the fact that one of the players may be wearing studs not suitable for the pristine St George's artificial pitch.
No hugely controversial incidents arose but one of the goals did have a minor feel of offside about it. Friend's eyes flickered to the delayed feed and he was easily able to see the goalscorer was onside, and relay that information to the assistant at pitchside.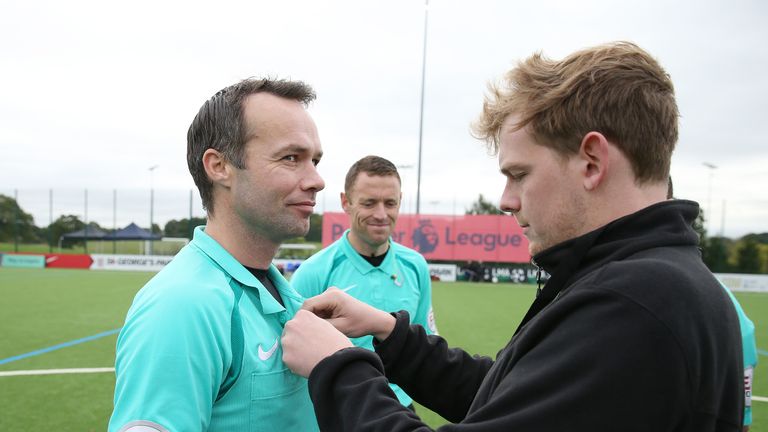 The whole process took no more than 10 seconds, during which time the players hadn't even made it back to their own half for the restart, and the game wasn't held up at all.
But the system has proved far from perfect in reality, and those difficulties were writ large at the Confederations Cup in the summer, where Chile defender Gonzalo Jara was given only a yellow card after elbowing Germany's Timo Werner in the face, a punishment which was still not upgraded to a red even after a video review.
It was enough for co-commentator Lee Dixon to describe the VAR system as "a shambles" and say "compared to other sports that use it, we (football) are a laughing stock".
Premier League official Andre Marriner, who passed his refereeing exam in 1992, accepts there will be criticism and that when the system is introduced in the Premier League it will lead to another layer of pressure on the men in the middle.
"The players are asked not to come over to the review area," he said. "Now, obviously in an environment like this there's no spectators and they are young players who have got a lot of respect for the officials.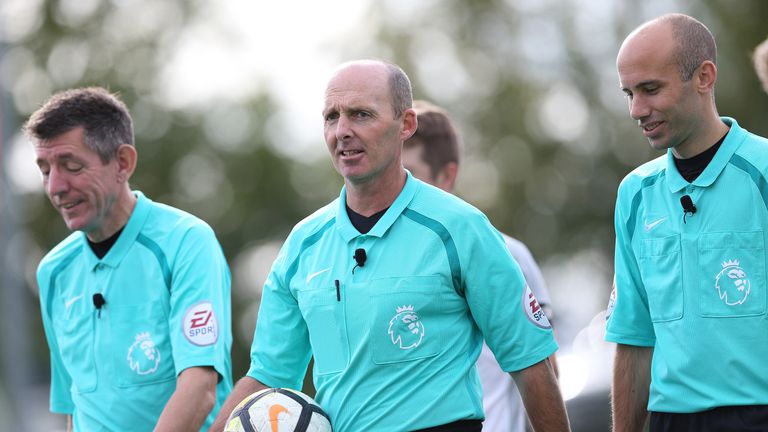 "The incident took close to two-and-a-half minutes in total. That's from stopping the play to going over and having a look at the monitor and making the decision.
"You take that incident in front of 75,000 at Old Trafford and there may be issues over what the players are doing and what the crowd are doing.
"You would be making decisions like that under a huge amount of pressure."
The added pressure is a necessary evil as far as Marriner is concerned. Around the referees in Burton there was no dissent about the new system, no grumblings in the lunch room that anyone's authority was being undermined.
And the public view too, was completely positive as football braces itself for its latest, and perhaps most controversial, modernisation.
"I've been a big part of the fifth and sixth official behind the goal thing in Europe and I never visualised that, never mind somebody with a TV monitor watching every replay from every angle," Marriner said.
"It's massively welcome. We've been crying out for help."