Arsene Wenger says Tottenham must hold their nerve if they are to win trophies
Last Updated: 17/11/17 1:44pm
Arsene Wenger has told Mauricio Pochettino that Tottenham must overcome the "fear" of failure if they are to land silverware in the future.
Tottenham have undergone a transformation since Pochettino became manager at White Hart Lane in 2014. Spurs finished second in the Premier League last season and above Arsenal for the first time during Wenger's 21-year reign.
But despite earning plenty of plaudits for their free-flowing style of play, Tottenham have not been able to win a trophy since the League Cup in 2008.
Ahead of Saturday's north London derby at the Emirates, live on Sky Sports Premier League, Wenger has offered some words of advice to his Argentinian counterpart.
Asked how he got over the line to deliver his first trophy as a manager, Wenger replied: "By keeping your nerves and getting the players to focus on what is important.
"At some stages, by fighting a little bit against your inhibitions - the fear that you won't get over the line. Basically you need to focus on what is important and not focus on the trophy too much."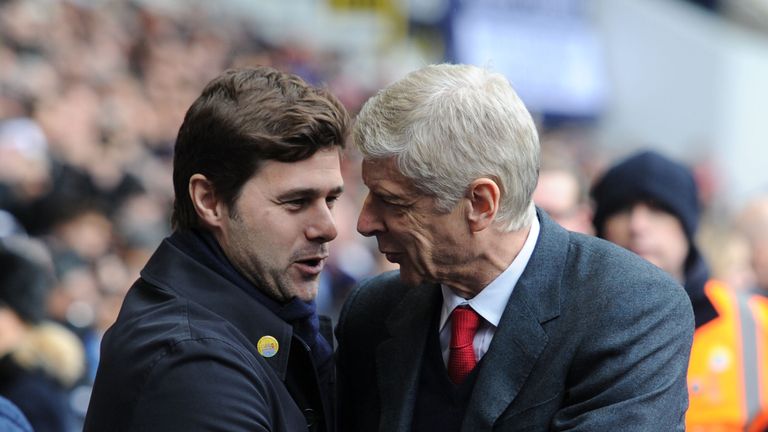 Despite winning the FA Cup, Wenger faced criticism and calls to leave the club at the end of last season as Arsenal fell off the pace in the league, finishing 11 points adrift of Spurs.
But the 68-year-old Frenchman is not concerned by suggestions that they are now a weaker side than their north London neighbours and says his focus has always been on his own side's fortunes.
"I was always more focused on finishing in the Champions League," he said.
"When we had less resources financially I knew that we needed the money to pay the stadium back, so I was more focused on that than on Tottenham. I was never too focused on Tottenham.
"Today, people always take one situation and it is permanent. The judgement is definite, permanent and forever.
"It is down to us to change the opinions of people with our performances, I cannot say much more. If they have a perception like that they have a perception like that but how can you respond? Not by me talking here, we need to show on Saturday that it's not true."
Watch Arsenal v Tottenham live on Saturday from 11.30am on Sky Sports Premier League and Sky Sports Main Event.